From Nothing to a Blooming Community
When you hear of Chinese Garden, what do you think of? Many people would probably think of Chinese-style bridges, pavilions and statues. However, did you know there is a padi field and a butterfly garden at the Chinese Garden, and that they are maintained by a small group of Community in Bloom gardeners?


2CG is one of the largest community gardens in Singapore with about 150 members, of which about 40 are active gardeners who tend to the gardens every morning and evening.


These gardeners are from 2CG, which recently won the Best New Community Garden Award given out by Community In Bloom. It is located near Jurong Lake at Chinese Garden and has at least five different theme gardens.
Looking at the beautifully decorated, neatly arranged plots, it is hard to believe that this community garden started only last year with a patch of green grass and zero members.



Uncle Tony, the pioneer leader of 2CG.
The pioneer of this garden is Tony Yau (or Uncle Tony to his fellow gardeners), a semi-retired businessman and a grandfather of seven, who was appointed by PA HQ Active Aging Council as the leader of 2CG. Uncle Tony wanted to offer a variety of sights to different groups of people who visit Chinese Garden. Hence, at 2CG, there are a range of gardens such as bonsai and vegetable,and even a butterfly garden and padi field!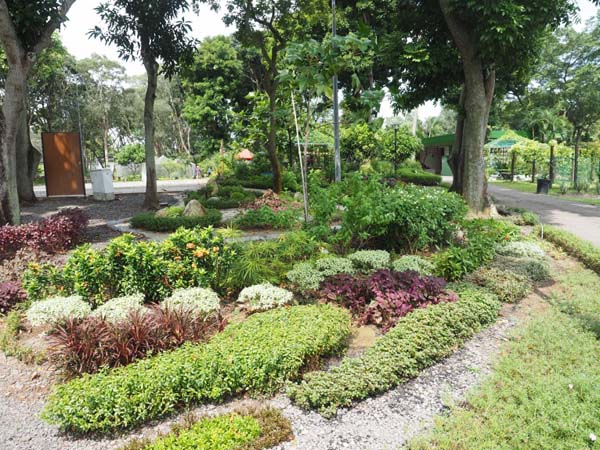 The bonsai garden is one of the first theme gardens set up at 2CG. It is also a popular theme for classes 2CG organises for the community.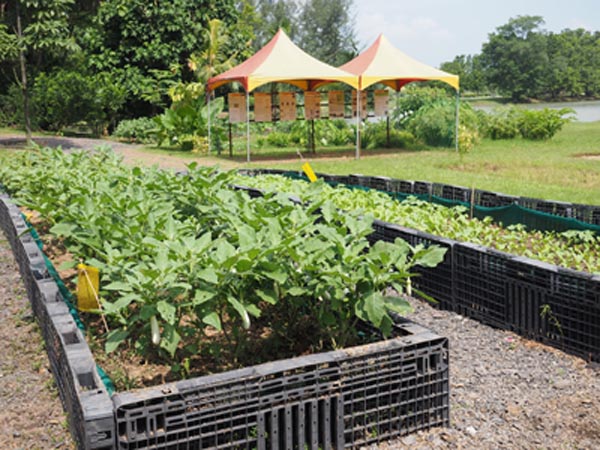 Natural pesticides and organic fertilisers are used in the vegetable farming garden.

A Padi Field for Learning
The land that 2CG was presented with was initially bare except for a small padi field near the lake. Uncle Tony thought the padi field would make an interesting and unique feature in the new garden. However, the harvest from this field is usually insufficient for consumption due to birds and squirrels feasting on the grains.
Nonetheless, this section remains valuable as it has become a space for education and learning. Uncle Tony opened up this field for nearby schools to conduct outdoor lessons and educational tours. Lakeside Primary School is also collaborating with 2CG to maintain the padi field.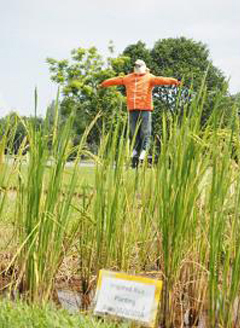 The gardeners made a scarecrow to try and scare away the birds and squirrels from the padi field.

A Garden of Recycled Gems
The creative recycling garden used logs from fallen trees Uncle Tony saw JTC's contractors clearing. He thought it would be good to recycle and form a new theme garden with the trunks. Many people who hear of this recycling garden showed their support by donating used items such as old pots, basins and children's bicycles. Sometimes, members of the public would leave the items at the garden anonymously after knowing that the garden needs them.



At the recycling garden, plants are beautifully displayed even though the resources used are as simple as plastic bottles.



When residents move or renovate their homes, they would donate their old items to the gardens to be recycled as gardening tools and materials.
Aflutter Over the Butterfly Garden
The pride of 2CG is the butterfly garden. In an enclosed section of 2CG, host plants for caterpillars such as passion fruit plantsare grown. When the caterpillars are in their pupal stage, the gardeners would carefully place a hat over the branch with the pupae and shelter them. The gardeners would watch the butterflies emerge from their chrysalises and invite passersby to release the fully-grown butterflies. This process of releasing the butterflies would also be shared online via the garden's Facebook page.
2CG welcomes visitors to their garden any time the Chinese Garden is open. People interested in gardening can also join the garden.
For visitors in groups, arrangements for a tour can be made with Uncle Tony in advance. Each one-and-a-half tour costs $50 per bus load of people and includes a show-and-tell segment on, for example, the art of kokedama and the methods of propagation. The money goes to the maintenance of the garden.
The gardeners also organise various classes, ranging from growing kitchen plants to bonsai, for the nearby RCs and CCs, and also for the public. The 2CG gardeners are strongly motivated to reach out to the community and hope to run their beautiful garden like a community centre without a roof.
By Hilary Fong
Community in Bloom

Community in Bloom (CIB) is an initiative led by NParks which aims to promote a gardening culture among Singapore residents by encouraging and facilitating gardening efforts by the community. If you and your neighbours are interested in gardening, how about setting up your own community garden, too? Visit the CIB website for information on how to get started. The biennial CIB Awards is organised by NParks to recognise gardening efforts by community groups in housing estates, educational institutions and organisations. Through this friendly competition, it is hoped that best practices in community gardening can be fostered and shared among various community groups, leading to the improvement in quality of gardens and a more enjoyable gardening experience.