Explore Nature's Wonders at the Jacob Ballas Children's Garden
'Fly' like an agile colugo, discover how everyday edibles are grown and get your hands wet in a gentle stream.
Sounds enticing? Now you can enjoy all these, and more, at the Jacob Ballas Children's Garden in the Singapore Botanic Gardens. The garden, which re-opened in late November 2017 after a 2 hectare extension, is now the largest children's garden in Asia, standing at 4 hectares.
Boasting new farm, orchard, forest and stream zones, the garden offers children even more exciting spaces for exploration, adventure and nature play. Children can also look forward to upgrades to key amenities in the existing four zones of the garden, which includes a new family gathering place with a hands-on kitchen classroom where they can experience firsthand how plants are incorporated in our food. We follow Ms Lyn Chow's family, including her three children and baby niece, aged between one and 14, as they explore the wonders in the children's garden.
The gardens have something for every child, whether he or she is a young adventurer, gardener or naturalist.
Nature Play Areas
Young adventure seekers can explore the suspension bridge and nature play areas. Lyn says, "My three older children love experiencing new things and being in the outdoors, so this adventure zone will be great fun for them."
Enjoy the flying fox and glide along a zipline connected to tall tree houses. Also do not miss the swing rope bridge, which requires a good amount of balance to cross without falling.
The garden also features inclusive play equipment for children with special needs, including a wheelchair trampoline and five metallic 'chairs' which children can play as percussion instruments. These can help children with autism concentrate and focus as they learn repetitive tunes.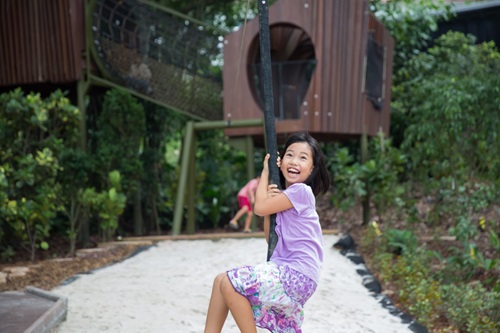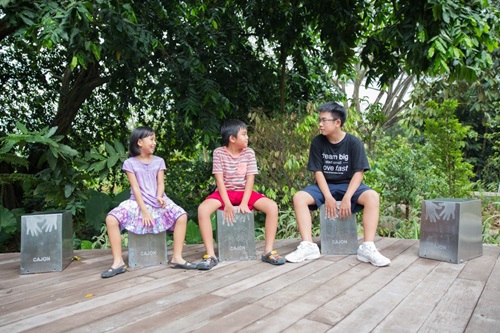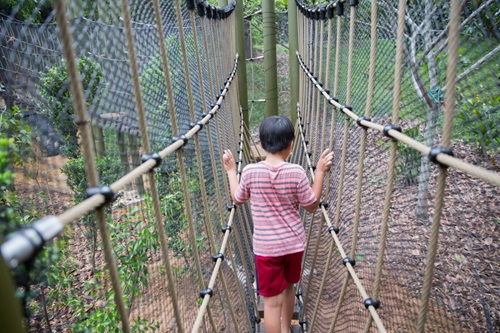 Experiencing Farming Firsthand
In the farm zone, young urban gardeners have opportunities to observe how different fruits and vegetables grow, and may even pick up some invaluable gardening tips! They can touch and feel firsthand certain varieties of everyday edibles, such as corn and basil, and gain a newfound appreciation of these commonly found foods. "My children are starting to learn how to cook at home, so they now know where some of their veggies come from!" Lyn says.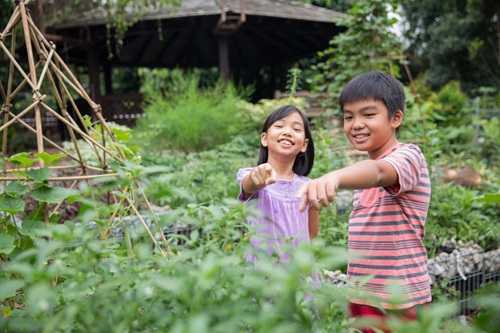 A Good Learning Environment
"I also like that the garden is a complete nature learning environment, where children can delve deeper into the ecology of plants and our environment through discovery and experiential learning," Lyn adds.
Children can walk along a stream and climb into tree houses as they encounter all sorts of flora and fauna along the way. The garden helps bring to life the various lessons taught in school, and will surely delight budding naturalists.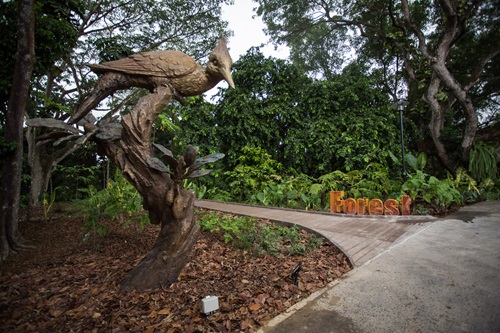 Older kids in lower secondary can also join in the fun. While the garden previously catered to children aged 12 and under, it is now designed for youths aged up to 14.
"I'm glad the garden is open to older children as it makes it more inclusive." Lyn says. "My oldest son, who is in Secondary 2 this year, gamely tagged along with his two younger siblings. While the other two identified specific things they were interested in, he said he enjoyed all parts of the garden."
Having explored the gardens herself, Lyn says she would definitely recommend for her friends to make a visit too, as it makes for a good family bonding activity. "It's good to have a special place catered just for children," Lynn adds. "And the Jacob Ballas Children's Garden has such a lovely environment for all of us to enjoy!"
Getting to the garden
The Jacob Ballas Children's Garden is open from 8.00 am to 7.00 pm (last admission is at 6.30 pm) and is closed on Mondays, except on designated public holidays. Admission is free.
Children aged 12 and below must be accompanied by an adult, and to promote a safe environment for children, adults are permitted entry only if accompanying a child.
The garden is a ten-minute walk from the Botanic Gardens MRT Station (Circle / Downtown Line). Alternatively, if you intend to take a bus, alight at the 'NUS Bukit Timah Campus' bus stop along Bukit Timah Road or the 'After Kheam Hock Road' bus stop along Dunearn Road. The garden is a five-minute walk from either bus stop. If you drive, you may park at the garden's carpark, but do note that limited parking lots are available.
For more information, do check out our website here.
Text by Elizabeth Kamaldin