The Gifts of Nature
It is vital to get a soothing dose of greenery at the end of a long busy week to relax our mind, body and soul. At the Singapore Botanic Gardens, there are plenty of enjoyable activities that connect you to nature.

You can soak in the stunning flora displays to inspire yourself before the weekend or embark on a walking trail to fulfil your adventurous spirit. And why not discover the Healing Garden which showcases over 400 varieties of medicinal plants? Spread over 2.5 ha, you will encounter a tranquil retreat with medicinal plants traditionally
used in Southeast Asia.

Be sure to pick up memorable souvenirs from the Gardens Shop at the end of your stroll. From botanical-inspired merchandise to delicious local snacks, each is a unique treat to enjoy.

Renanthera Cushion Cover



Add a touch of style and sophistication to your living room with these soft cushion covers that transform your sofa into a snuggle-friendly oasis. The Renanthera Orchid print cushion cover features Renanthera Orchids from the Gardens' archive, printed on a black cushion cover. Toss a few cushions on to your sofa and get ready to lounge around all day!

Admire these scarlet beauties at the National Orchid Garden found within the Singapore Botanic Gardens. Look out for the Renanopsis Lion's Splendour which was created in the Gardens in 2001 and is a cross hybrid between Renanopsis Lena Rowold and Renanthera Kalsom.


Swarovski Mirror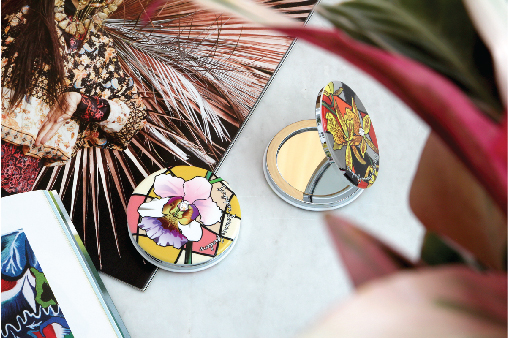 The pocket mirror is the perfect addition to your makeup bag as an everyday essential for when you are on the go! Besides the convenience it brings, this item is also a beauty! Each mirror features various Orchid prints and is adorned with a Swarovski crystal, making it a delightful fashion accessory too.

Check these items out at the Gardens Shop in the Singapore Botanic Gardens or view them at www.botanicgardensshop.sg. Find the perfect spot and grab a quick caffeine fix at the Tea Bar, found exclusively at the Gardens Shop Nassim Gate and Tanglin Gate. Have it hot or cold, each unique brew is a perfect pick-me-up!