Back
Tectona grandis
| | |
| --- | --- |
| Family Name: | Verbenaceae |
| Common Name: | Teak, Jati, Indian Oak |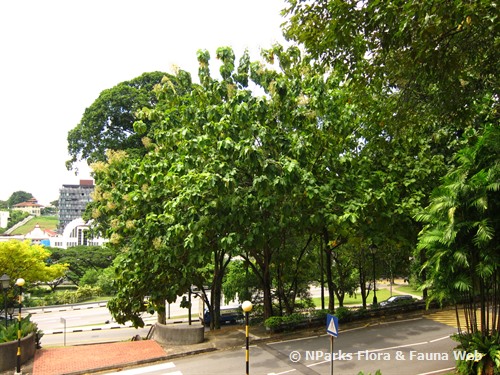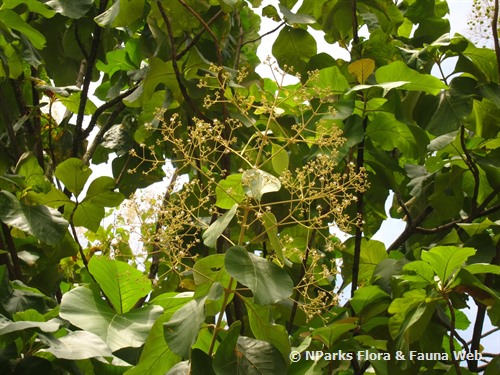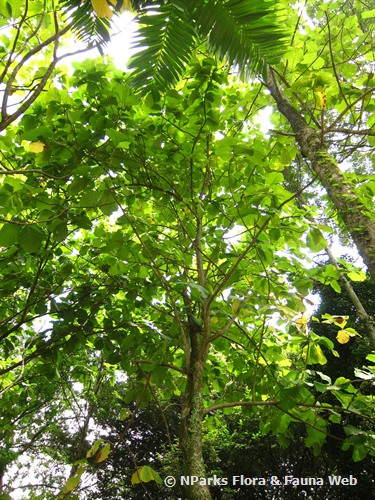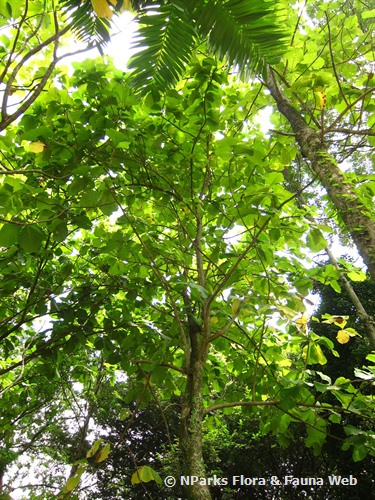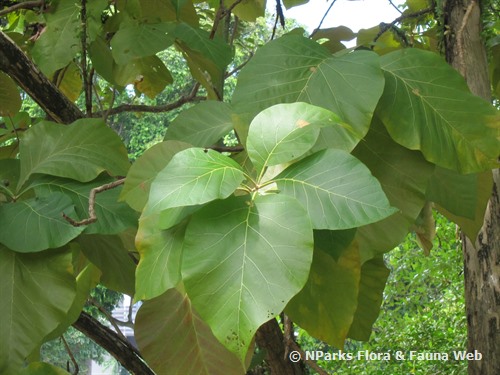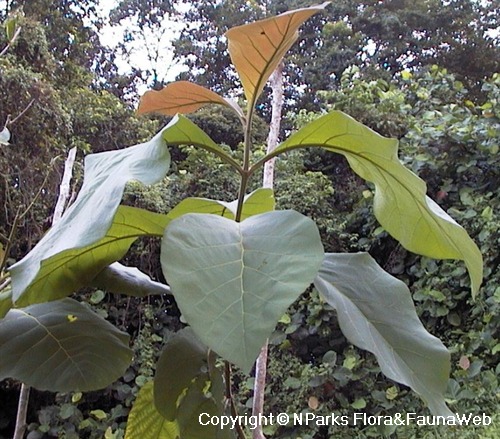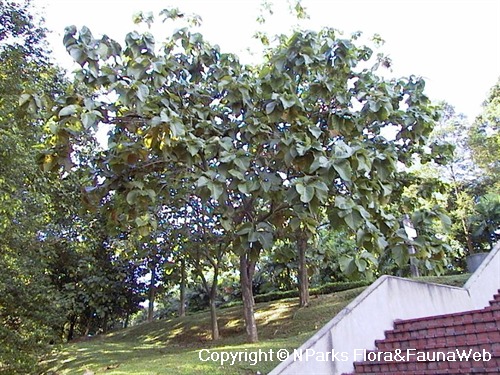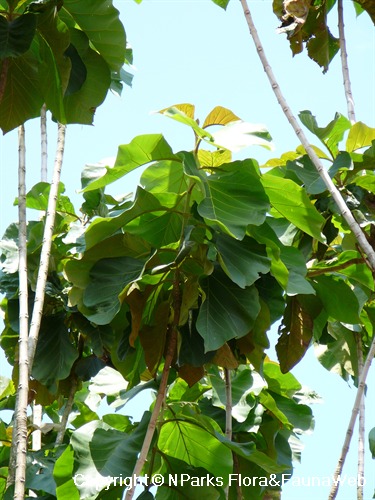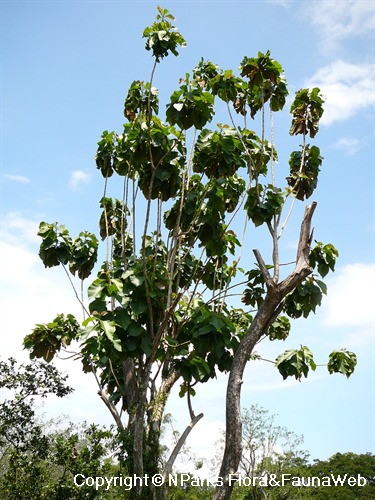 Name
| | |
| --- | --- |
| Family Name | |
| Genus Epithet | |
| Species Epithet | |
| Name Status (botanical) | |
| Common Names | |
| Comments | |
Classifications and Characteristics
| | |
| --- | --- |
| Plant Growth Form | Tree (Big (>30m)) |
| Maximum Height | 40 m |
Biogeography
| | |
| --- | --- |
| Native Distribution | Indochina, Malesia, Myanmar, India, Thailand |
Description and Ethnobotany
Growth Form
A large and deciduous tree with an open, wide spreading crown which can grow to a maximum height of 40m.
Foliage
Large, simple leaves which are elliptic to ovate. Abaxial surface pubescent and is also densely covered with red glandular dots. Adaxial surface is glabrous when mature. Leaf arrangement is opposite. Each leaf is up to 75cm long, and up to 4cm wide.
Flowers
Flowers are small and pinkish-white, and have partially fused petals, forming a corolla about 2cm in diameter. They are borne at the ends of the stems, in large branching panicles, and are fragrant. They are bee-pollinated.
Fruits
Fruit is a drupe and contains up to 4 seeds. It is pale yellow in colour, up to 2cm diameter, and covered with star-shaped hairs. Seeds are oval and white in colour.
Habitat
Occurs naturally in wet/dry monsoonal rainforests, but has become more widespread due to cultivation for the timber trade, where the wood's beauty and resistance to water as well as insect attack have made it a major timber product.
Cultivation
Prefers full sun and moderate watering. Avoid over-watering. Thrives best in well-drained, fertile soil. Current plantation propagation techniques include seeds, semi-hardwood or hardwood cuttings, grafting and budding. For seed propagation, seeds must be scarified to overcome dormancy arising from the thick seed coat. Scarification is performed by alternately wetting and drying the seeds for 12-hour intervals over a period of 10 to 14 days. After this seeds are sown and germination takes place after 2 to 4 weeks, but the germination rate is low (30% - 50%).
Ethnobotanical Uses
Timber & Products ( Teak timber is prized for its lustre and resistance to termites and other insect pests. It is used for outdoor furniture, parquet flooring, beams, ship building, cabinet work etc.. )
Cultural / Religious ( Heritage Trees : There is currently one individual of Tectona grandis listed as a Heritage Tree in Singapore. It can be found at Singapore Botanic Gardens. To find out more about these trees, please visit the Heritage Tree Register.)
[Others]: The leaves also produce a dye which can be used for dyeing cotton and wool.
Landscaping Features
| | |
| --- | --- |
| Landscape Uses | Roadside Tree / Palm |
Plant Care and Propagation
| | |
| --- | --- |
| Light Preference | Full Sun |
| Water Preference | Moderate Water |
| Plant Growth Rate | Moderate |
Foliar
| | |
| --- | --- |
| Mature Foliage Colour(s) | Green |
| Leaf Area Index (LAI) for Green Plot Ratio | 2.5 (Tree - Open Canopy) |
Others
| | |
| --- | --- |
| Master ID | 1885 |
| Species ID | 3178 |
| Flora Disclaimer | The information in this website has been compiled from reliable sources, such as reference works on medicinal plants. It is not a substitute for medical advice or treatment and NParks does not purport to provide any medical advice. Readers should always consult his/her physician before using or consuming a plant for medicinal purposes. |
Species record last updated on: 18 February 2022.