Total no. of Flora Species & Cultivars
Total no. of Fauna Species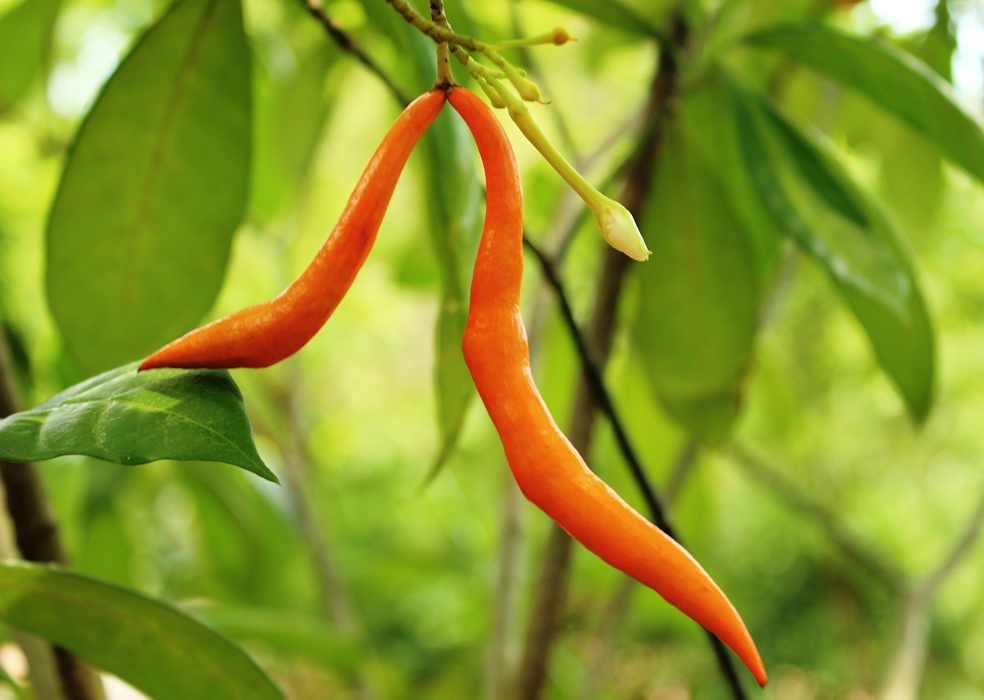 Tabernaemontana aurantiaca Gaudich.
Tabernaemontana aurantiaca (Orange Milkwood) is a tree that can grow up to 15 m tall and is sometimes grown as a shrub. Its night-flowering, white, star-shaped flowers release a sweet fragrance and the plant is free flowering throughout the year. The long, ornamental orange-red fruit look like chillies, but are not edible. Native from the Moluccas (E. Indonesia) to West Pacific, it thrives in Singapore's tropical climate.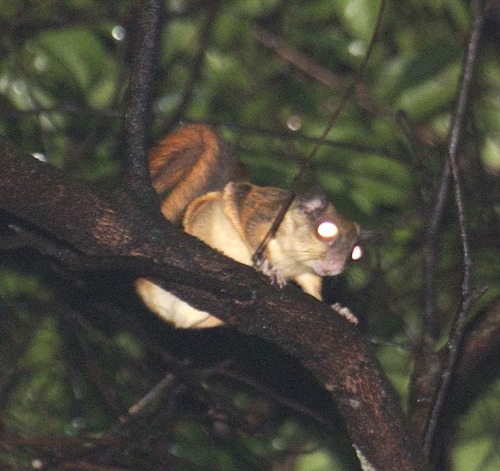 Iomys horsfieldii (Waterhouse, 1838)
The endangered Horsfield's Flying Squirrel is one of three species of flying squirrel recorded from Singapore. A nocturnal animal, it emerges from its tree hole to forage mainly on fruits during the night, returning to its tree hole to sleep in during the day. The squirrel glides amongst trees on its gliding membrane which stretches across its four limbs, and its tail which is flattened.)
Video
Sunda Pangolin
Video of wild Sunda Pangolin in Singapore, captured on Night Vision Equipment.
Flora & Fauna News
View All
Nurturing a new generation of plant scientists
NParks has teamed up with local universities to develop new courses on plant science and diversity in Southeast Asia. Students will learn taxonomic and molecular biology techniques which are essential skills to the modern day botanist. Understanding plant systematics and evolution is crucial for plant conservation and the sustainable management of the region's natural resources. This collaboration aims to nurture a new generation of plant scientists to safeguard the future of our tropical biodiversity.
14 Nov, 2022
Flora of Singapore – A revised checklist and bibliography
For the first time in more than a decade, a comprehensive catalogue of the wild-growing plants in Singapore was published as part of the Flora of Singapore project. This publication was produced by a collective of researchers from around the world co-ordinated by NParks. The work highlighted the number of native, naturalised and casual plant species in Singapore and helped to clarify and opened discussions on taxonomic and nomenclatural issues, thereby shaping the future of local conservation efforts.
19 Sep, 2022
Rediscovery of Mucuna gigantea subsp. gigantea in Singapore
Recent floristic surveys around Singapore have yielded interesting finds for the genus, Mucuna, including rediscoveries of previously thought to be extinct species like the Mucuna gigantea subsp. gigantea – A small population of this critically endangered vine, was rediscovered near the coast of the remote island, Pulau Brani, Singapore. This genus from the legume family is predominantly made up of lianas and known for the irritant hairs present on the surface of fruit pods. Mucuna gigantea subsp. gigantea was first described in the late 1900s and thought to be extinct due to habitat disturbances by land reclamation, until its rediscovery in 2018 . This has given researchers opportunity to thoroughly describe the species' detailed characteristics, and allow collection of plant materials for propagation, with the aim of one day reintroducing the species into Singapore's landscape.
01 Aug, 2022