Total no. of Flora Species & Cultivars
Total no. of Fauna Species
Malvaviscus arboreus Cav.
The Sleepy Mallow is part of the Hibiscus family and originates from Central and North America. It is loved for its bright red flowers; when fully opened, the flower petals are wrapped around its stamen, looking like an unopened hibiscus flower. It blooms all year, grows well in Singapore's tropical climate and is easily propagated via seed or stem cutting. This evergreen plant attracts sunbirds which enjoy the sweet nectar and serves as a beautiful addition to attract wildlife to gardens!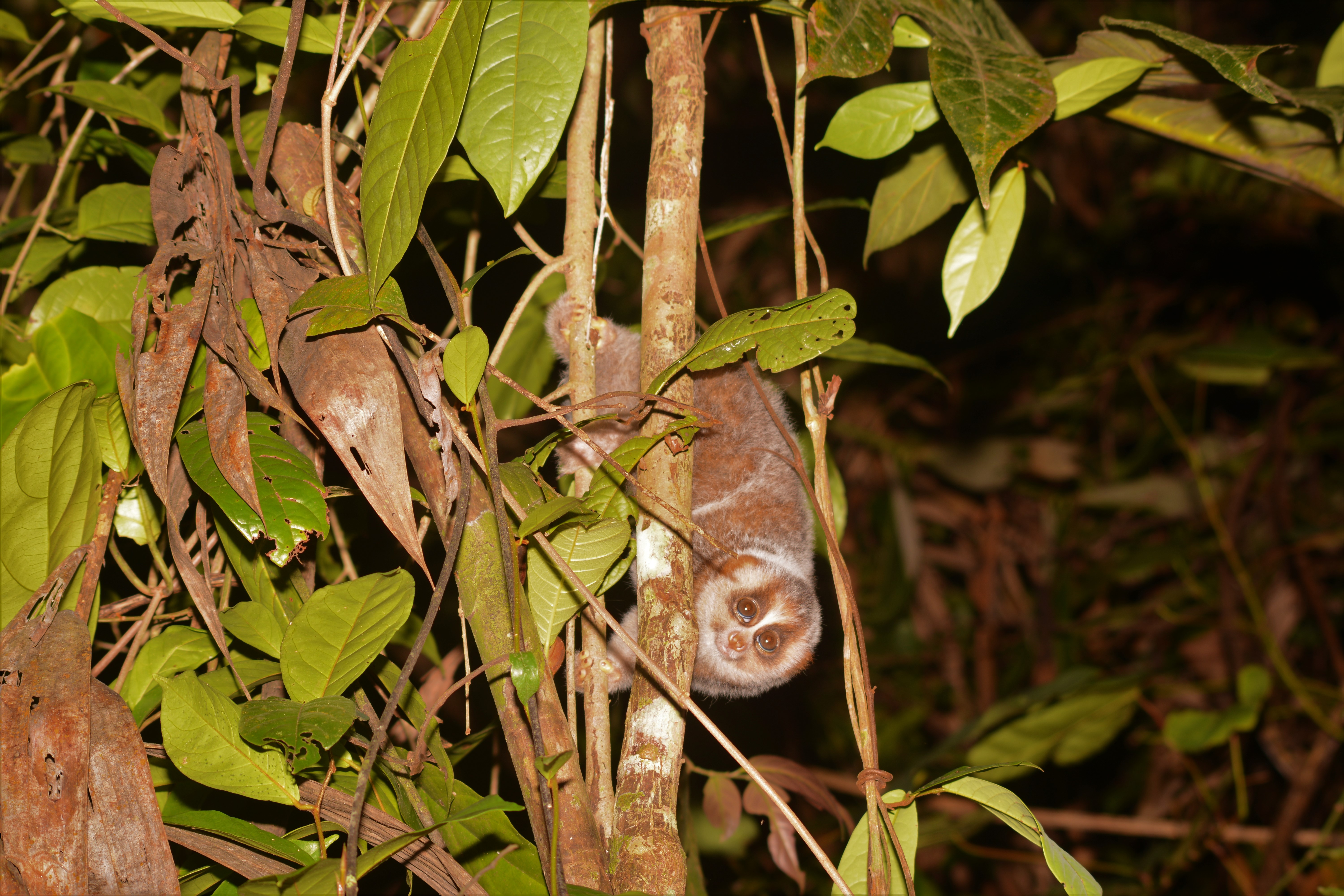 Nycticebus coucang (Boddaert, 1785)
The critically endangered Sunda Slow Loris is the only venomous primate in Singapore. It produces a yellow secretion from glands on the insides of its elbow, which combines with saliva to form venom. During the day, it sleeps on branches or in tree holes by tucking its head into its belly and rolling into a ball. Globally, the population size of Sunda Slow Loris is decreasing due to habitat loss and illegal pet trade.)
Video
Sunda Slow Loris
Video of wild Sunda Slow Loris in Singapore, captured on Night Vision Equipment.
Flora & Fauna News
View All
Flora of Singapore
The Singapore Botanic Gardens is spearheading an important and botanically meaningful project; Flora of Singapore, a catalogued description of all the plant species that can be found locally. Featuring more than 3000 species, three volumes have been published and the full project will take botanists the next 10 years to complete. Flora of Singapore is the first comprehensive effort, following in the footsteps of the great works of Henry Ridley's Flora of the Malay Peninsula (1922-1925). With collaboration from experts worldwide, the first three volume were published in 2019, and is a great resource for formulating conservation policy and future reintroductions. Click here to read the ongoing efforts on the Flora of Singapore.
16 Jan, 2020
World's First Plant Selfie
Say hello to Pete – the Maidenhair Fern in London Zoo. Pete has taken a photo of itself – the world's first for a plant! This groundbreaking work is part of ongoing research by scientists to develop technology to monitor remote rainforests. This is done by harnessing and storing electrical energy produced by soil bacteria associated with the plant's photosynthesis. Click here to learn more.
06 Nov, 2019
A Mimosa that learns
Researchers from Kew Gardens studying the Mimosa pudica (Touch-Me-Not) have indicated that the species displayed signs of learned behaviour. Every day, hundreds of curious visitors touched the sensitive plant, the constant disturbance has stopped this publicly accessible specimen from responding to touch. This learned behavioural response is fascinating to researchers and encourages all to rethink plant intelligence. Click here to read more.
02 Oct, 2019