A Touch of Singapore Flora Style
As Singapore turns 56 this National Day, how about celebrating our nation's birthday in style, by sporting chic accessories that are adorned with Singapore's national flower, the Vanda Miss Joaquim orchid?
Known for its vibrant colours and resilience, the Vanda Miss Joaquim (Papilionanthe Miss Joaquim) is an icon that reflects the Singapore spirit. On 15 April 1981, it was selected from among 40 flowers, out of which 30 were orchids, to become Singapore's national flower. Henry Ridley, the first scientific director of the Singapore Botanic Gardens, credited Agnes Joaquim, a horticulturalist of Armenian descent residing in Singapore, for creating the hybrid. It was also the first registered plant hybrid from Singapore. Find out more about the orchid here!
After exploring the Singapore Botanic Gardens, pick up an exclusive gift from the line of Vanda Miss Joaquim-themed merchandise, only available at the Gardens Shops. Each exquisite item has a simple, classic look that fits all occasions.
Vanda Miss Joaquim Cosmetic Pouch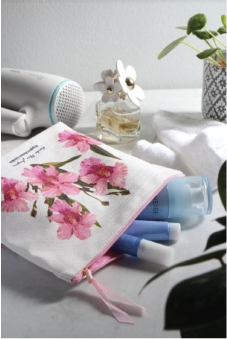 Carry your beauty essentials in style, using this cosmetic pouch that features the Vanda Miss Joaquim in its understated elegance. The flowers are a sight to behold at the National Orchid Garden, and you can continue to enjoy the beauty of these blooms through this printed pouch. Designed with functionality in mind, it is the perfect size for storing your cosmetics.
Vanda Miss Joaquim With Monarch Butterfly Umbrella
Living in this tropical climate, we have all had our fair share of dealing with the capricious weather. Rain or shine, the Miss Joaquim with Monarch butterfly umbrella will keep you cool and dry! Protect yourself from harmful UV rays during your tranquil stroll around the Gardens. This compact umbrella is also graced with interesting Monarch butterfly prints, making it a charming personal accessory that will instantly brighten your mood.
You may check these items out at The Gardens Shop in the Singapore Botanic Gardens or view these products on www.botanicgardensshop.sg.