Vanda Miss Joaquim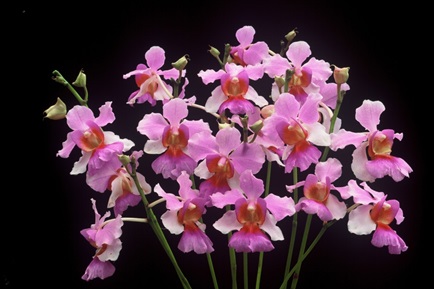 On 15 April 1981, Vanda Miss Joaquim (Papilionanthe Miss Joaquim) was selected as Singapore's National Flower. It was selected from among 40 flowers, out of which 30 were orchids. Among the several varieties of Vanda Miss Joaquim, the variety "Agnes" was chosen in particular for its vibrant colours, hardiness and resilience – qualities that reflect the Singapore spirit.
Vanda Miss Joaquim originated from the garden of Agnes Joaquim, an Armenian lady residing in Singapore. In 1893, the first scientific director of the Singapore Botanic Gardens H. N. Ridley recorded the following in the Gardeners' Chronicle: "A few years ago Miss [Agnes] Joaquim, a lady residing in Singapore, well-known for her success as a horticulturist, succeeded in crossing Vanda Hookeriana and V. teres, two plants cultivated in almost every garden in Singapore."
Read his account of Vanda Miss Joaquim in the Gardeners' Chronicle on 24 June 1893 here.
As a result of recent taxonomic research, the genus of the parents of the national flower has been changed to Papilionanthe. This orchid is now accepted as Papilionanthe Miss Joaquim.