Oh, Those Lovely Plants!
Love is in the air with Valentine's Day just right around the corner! But besides giving or receiving roses and more roses on this special day, let us introduce you to some plants that can be found in Singapore and are also closely related to "love".
1) Love Vine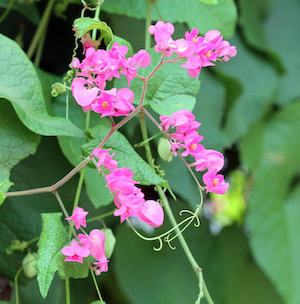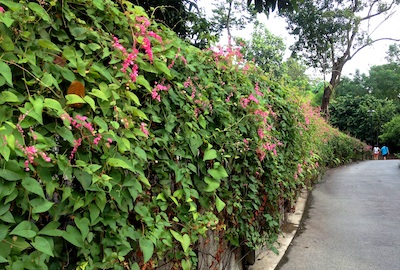 The vibrant pink flowers of the Love Vine that is a climber that can form a dense canopy over trellises.
Photo credit: Pauline Tay and Jessica Teo


The Love Vine (Antigonon leptopus) is a prolific bloomer that thrives under bright sunlight. This plant produces vibrant pink flowers that are rich in nectar, making it a great food source for butterflies and bees. The flowers will turn dull pink and eventually brown as the plant ages.

In Singapore, this plant usually only produces flowers on the top of its growth. This climber has soft, light green, heart-shaped leaves that drape over trellises, forming a dense canopy. Its heart-shaped leaves are said to have medicinal properties and have been used to treat high blood pressure, diabetes, flu and even menstrual pains.
2) Love Plant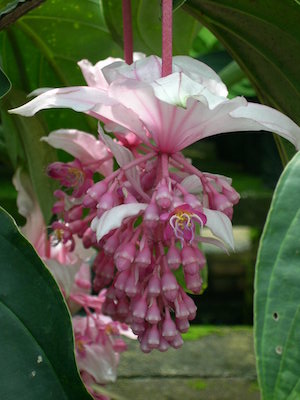 The Love Plant produces dark green glossy mature leaves while its pinkish, coral flowers cluster together, resembling a bunch of grapes.
Photo credit: Vicky Lim

The Love Plant (Medinilla magnifica) is a shrub that can grow up to 2.5 m tall. This plant produces dark green glossy mature leaves that are about 30 cm long and 20 to 25 cm wide. Its stems are succulent, and its heavy inflorescence make it appear droopy.
The Love Plant produces small pinkish, coral flowers which cluster together to grow like a bunch of grapes. This plant is often found growing on tropical rainforest trees or on the forest floor.
3) Sweetheart Hoya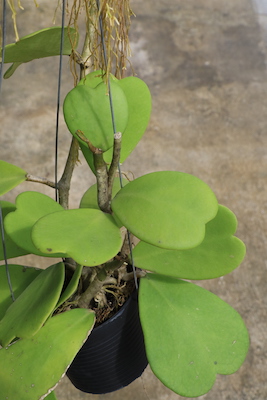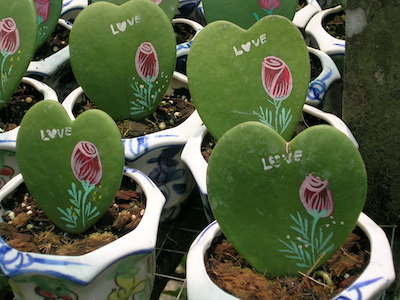 The Sweetheart Hoya has attractive heart-shaped leaves. Relatively easy to care for, children sometimes draw or paint on these thick leaves.
Photo credit: Pauline Tay

The Sweetheart Hoya (Hoya kerrii) is an epiphyte with succulent leaves and a woody stem. It gets its common name from its heart-shaped leaves and the sweet fragrance released by its flowers at night. This is a very popular indoor plant and children especially enjoy growing it for its pretty look. It is also relatively easy to care for and children even often paint on its thick leaves.

While the plant is usually resistant to pests, it may occasionally attract scale insects and mealybugs. Take care if you cut the plant as a latex sap will leak out which has poisonous compounds. The Sweetheart Hoya does have medicinal properties – it is used to treat skin ulcers and to help reduce swelling.
4) Purple Heart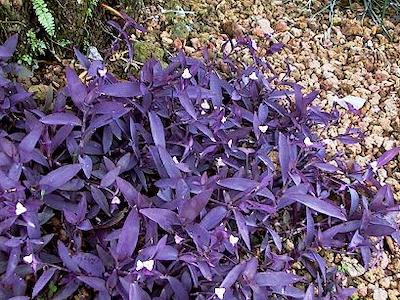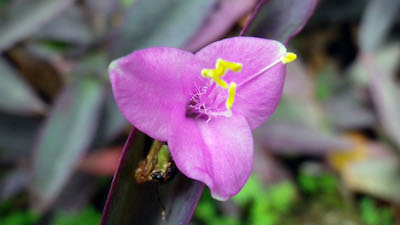 The Purple Heart produces vivid purple coloured leaves while its light pink flowers bloom only in the morning.
Photo credit: Lily Chen


The Purple Heart (Tradescantia pallida) is a low-growing succulent that has a sprawling growth habit. Its leaves are covered in soft, fine hairs and the plant produces the most vivid purple coloured leaves when grown under full sun. Oblong shaped, the leaves resemble purple hearts.

This plant also produces light pink flowers that can be found at the stem tips, blooming only in the morning. The Purple Heart is often grown for ornamental purposes and it thrives in fertile, sandy soil.
5) Bleeding Heart Vine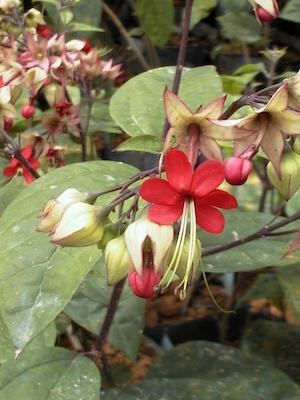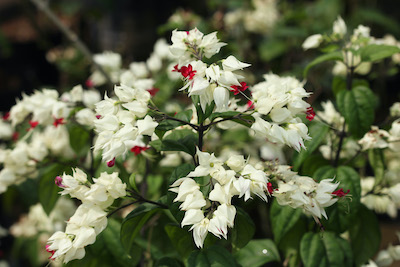 The eye-ctaching red-on-white flowers of the Bleeding Heart Vine are hard to miss.
Photo credit: Pauline Tay

The Bleeding Heart Vine (Clerodendrum thomsoniae) is an evergreen shrub that can grow up to 7 m in length. This plant produces flowers that have four white calyces, five dark red obviate petals and long, white stamens. Because of the plant's vivid red-on-white colour, the flowers look like they are bleeding and thus, its common name.

This vine has dark green glossy leaves that are elliptic, and it produces drupe-like black fruits. While it is usually grown for ornamental purposes, it can also be found in the wet lower areas of the forest as well as on weedy flat grounds.
6) Heart Pea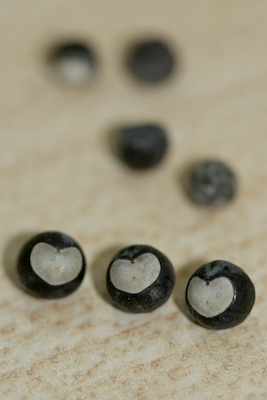 While the foliage and flowers of the Heart Pea may not be very striking, the seeds of its fruits have a prominent heart-shaped hilum scar.

The Heart Pea (Cardiospermum halicacabum) is a vine with slender, downy stems that often trail with tendrils up to 3 m on support. This vine produces fruits that look like inflated capsules of about 2.5 cm across. The seeds of the fruits are hard, 0.5 cm in size and are black with a prominent heart-shaped hilum scar and thus its namesake. The seeds are green when fresh and white when dry.

Seed oil harvested from the Heart Pea is also reportedly effective as an insect repellent. This vine produces small, inconspicuous milky white flowers and is usually found in grasslands, shrublands and cultivated areas. The Heart Pea is considered an invasive weed in many parts of the world and it grows wild in the interior and coastal wastelands of Singapore.
Learning More
If you are heading to our green spaces, do the right thing and be socially responsible. Maintain a safe distance from other park goers and keep to not more than eight persons in a group, with no intermixing between groups. Always wear a mask except when you are engaged in strenuous exercise or when consuming food, drink or medication.

Do check out the visitorship levels of our parks using our safe distancing portal before you head down and avoid the ones with high visitorship. Learn about some simple do's and don'ts when visiting our Nature Reserve and Nature Parks here.
Visit NParksSG, our refreshed YouTube Channel that serves as a one-stop repository for close to 300 video resources. It also provides you a platform for existing and future digital outreach including DIY gardening and related crafts, virtual tours of our green spaces, and livestream events.
For more information about the flora and fauna found in Singapore, please visit NParks Flora and Fauna Web.
If you like what you read, follow us on Facebook, Instagram and Telegram to get the latest updates.

Text by Melissa Lee