Otters On Orchard Road!
For 2010, the International Year of Biodiversity, My Green Space will feature different perspectives on local biodiversity.This article is part of a year-long series.
Between 22 May 2010 and 20 June 2010, a parade of local flora and fauna invaded the pedestrian malls of Orchard Road. These included insects, birds, monkeys and even an otter – all of which were featured in vivid nature photographs, displayed outside the Mandarin Gallery.
The photo exhibition, titled 'BiodiverCity', displayed works by local photographers that showcase the variety of flora and fauna of our urban environment. It brought to life the reality that Singapore is truly a haven for biodiversity, as well as a Garden City. This exhibition was made possible with the contributions of main partners, Banyan Tree Holdings and PICO Art, as well as supporting partners, Mandarin Gallery, Sharp Electronics and the Singapore Tourism Board.
What is biodiversity?
Biodiversity refers to the variety of all living things, be it plant or animal species, and the ecosystems in which they interact. It plays an important role in sustaining life on Earth and all of us depend on nature for our daily needs.
The collection of 55 print photographs and slide show featuring another 100 photographs were selected from 2,200 entries, including a student category. These photos had been submitted for a competition organised by the National Parks Board (NParks) and The Photographic Society of Singapore in January 2010.
Pedestrians from all walks of life found the BiodiverCity exhibition most fascinating. Cheryl Lim, 23, was passing by on a Saturday afternoon when she stopped to look at the photos. "It's quite amazing to see such rich biodiversity in Singapore," she said. "And this is a good place for taking a break while shopping."
The photos at this exhibition showcase the extent to which Singapore, a highly urbanised city, has conserved a rich heritage of biodiversity across various ecosystems. These include the lowland tropical rainforest, mangroves, freshwater swamp forest, seagrass beds, mudflats and coral reefs.
Our conservation efforts would not be possible without the active support of the public, private and the people sectors. Everyone plays an instrumental role in safeguarding Singapore's biodiversity for the benefit of our future generations.
You can do your part for the environment by planting a tree under the Garden City Fund. Visitwww.gardencityfund.org/PAT for more information. Another way to help protect our native flora is by contributing to the Orchid Conservation Fund – every donation of $50 and above enables a native orchid to be planted in our city. You can also get involved by volunteering with NParks. Visit this page for more information on how you can help to make Singapore our garden.
Did you know?
Forests such as those in our nature reserves play important roles like cleaning our air, lowering ambient temperature and providing shade.

Insects function as important pollinators, fertilising flowers to produce the fruits that we enjoy.

Birds act as seed dispersal agents, and help to sow new plants.

Coral reefs are home to several of the creatures we eat as seafood.

In the biomedical industry, pharmaceuticals derived from nature remain a mainstay for today's medical practice.
By Lim Wei Ling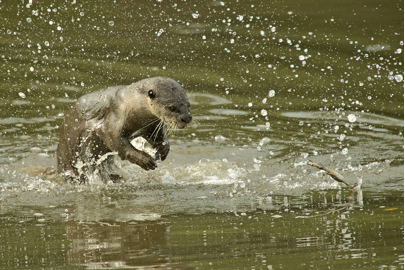 "Otter Jump" by Steven Tor – Grand Prize Winner, Open Category
Smooth Otters are a critically endangered species in Singapore. This one was photographed while leaping out of the water to catch a crab.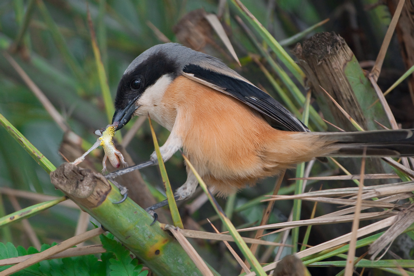 "Impaled Meal" by Pan Ken Nie – Grand Prize Winner, Student Category.
This Long-Tailed Shrike was caught in the act of attacking its prey, a lizard.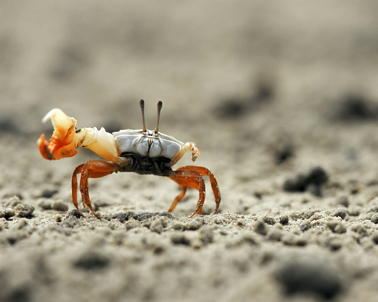 "Crab Defence" by Endy – Merit Winner, Open Category.
The Orange Fiddler Crab uses its enlarged claw to defend its burrow, and to fight male rivals while courting female crabs.

"Raising A Family" – by David Tan Siah Hin, Merit Winner, Open Category
A family of Little Grebes rests at Lorong Halus, a former landfill site that is home to this endangered bird and many other local fauna.