A Marine Marvel: The Return Of Neptune's Cup
Singapore's coastal environment is simply amazing. Despite the immense changes in the last century which have transformed and expanded the southern coastline and southern islands, the inter-tidal and sub-tidal habitats are incredibly resilient. Pockets of high diversity continue to thrive in many areas.
This 'never-say-die' characteristic of our natural heritage is exemplified by the Neptune's Cup sponge. Scientifically known as Cliona patera, the Neptune's Cup sponge was first seen in Singapore waters in 1822.
Larger Than Your Average Sponge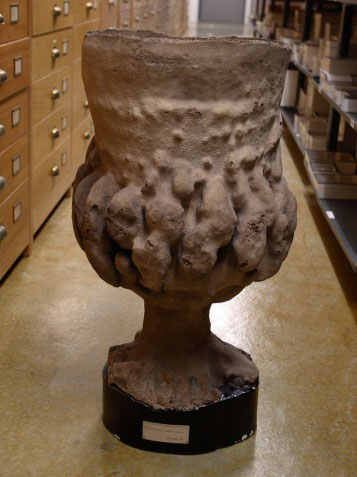 A Neptune's Cup sponge specimen at the Leiden Museum, The Netherlands
In its mature adult form, the sponge would have cut an imposing figure. Standing at over one metre in height and half a meter in diameter on a robust stalk, the sponge was a giant of our seafloor. It towered majestically over other marine life, firing the imagination of many European collectors in the 1800s who regarded these sponges among the biological treasures of the east.
According to historical records, the Neptune's Cup sponge was common during the time of Sir Stamford Raffles, An account by a British official in 1830 said "those gigantic sponges" were brought to them "in great numbers."
However, the Neptune's Cup sponge population declined rapidly in our waters, and was last sighted in the 1870s. It seemed to also have disappeared from other coastal waters too - it was last collected off Bantam in West Java, Indonesia, in 1908. This led many scientists to believe that sponge had become extinct globally.
Since the 1990s, however, the Neptune's cup sponge started to reappear in dredge samples collected off the northern coast of Australia, and the Arafura and Timor Seas. However, no live specimens were ever recorded or observed underwater. As such, scientists could not study the biology and ecology of the sponge in its natural environment.There was great interest to rediscover the Neptune's Cup sponge, given its recent reappearance in the coastal waters of the region and its historical link to Singapore. But despite extensive efforts to search Singapore's coastal waters under an NParks-supported project, the Neptune's Cup sponge remained elusive.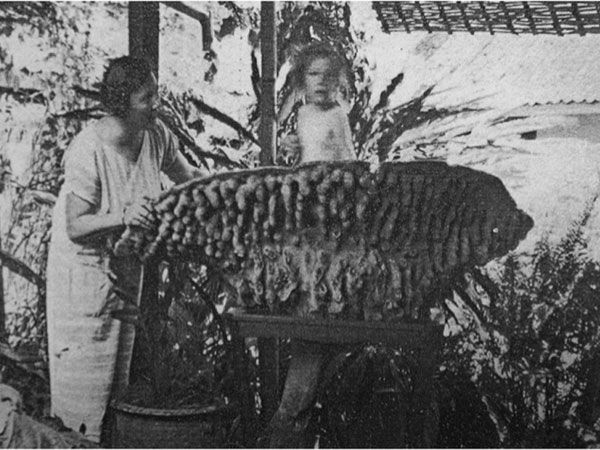 Adult Neptune's Cup sponge used as a child's bath tub
An Exciting Discovery
In March 2011, during a routine survey dive, marine biologists from DHI Water & Environment (S) Pte Ltd encountered a unique-looking sponge off Singapore's southern islands. It was later identified by Singapore's sponge expert, Mr Lim Swee Cheng, as a young Neptune's Cup sponge.
This exciting news represented the first ever in-situ record of the sponge since its description in 1822. Its phoenix-like re-emergence, after disappearing for over a century, made the discovery even more special.
In fact, two young Neptune Cup sponges were found within a 50m radius. They were pale yellow to white, and resembled shallow bowls standing on robust stalks. Each measured around 20cm in diameter. Unlike other sponges found in Singapore waters, the Neptune's Cup sponge felt firm and leathery.
This discovery means that scientists finally have the opportunity to study the species in its natural habitat, and gain insights into its growth rates, habitat preferences, abundance and distribution. This information will help us to understand the threat to the species and determine its conservation status.
It is heartening that the continued preservation and conservation of our natural heritage now benefits from growing awareness among the resource management agencies, coupled with support from the general public.
This knowledge, coupled with exciting rediscoveries of 'extinct' species like the Neptune's Cup sponge, gives added meaning to the work that we do. It keeps us constantly engaged in studying and understanding our coastal habitats.
A young Neptune's Cup sponge (Cliona patera), discovered within the shallow coastal waters of Singapore on 23 March 2011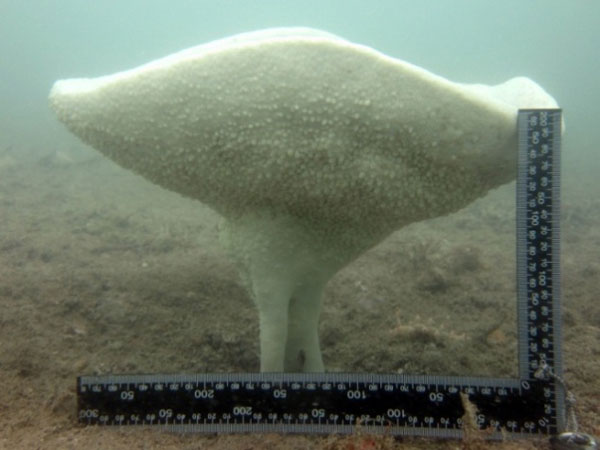 The second and slightly larger sponge recorded within a 50m radius of the first sponge
By Karenne Tun and Eugene Goh
Photos of Neptune by Mr Lim Swee Cheng, F.C. van Heurn, 1925 and Eugene Goh
Author notes:
Karenne Tun and Eugene Goh are marine biologists with over 25 years of combined experience. They are avid divers who enjoy exploring the silent underwater world. With over 5,000 hours of diving time in Singapore's waters alone, they have the privilege of experiencing Singapore's marine life in all its biological glory, and are firm believers that despite extensive development pressures on Singapore's marine environment, they are still unique and special places with many biological wonders yet to be discovered. Both are currently working at the environmental consultancy DHI Water & Environment (S) Pte Ltd.