A Muddy Wilderness
Nature is not only all that is visible to the eye, it also includes the inner pictures of the soul. - Edvard Munch
Nature is always underlooked as we pursue our busy life. When we rush around, we never know how our interpretation of nature will change if we pause to see and feel it. "Before the field trip, I always thought that nature was all about 'Oh look at that tall tree' or 'Yuck! Look at all that mud', that kind of idea," said Bryan Wijaya, a volunteer for the Comprehensive Marine Biodiversity Survey (CMBS) of Singapore.
Bryan, who will be 15 this year, started volunteering in November last year. He has participated in one field survey and two lab studies so far. "Now I think 'inside that mud, there are many living things!' and 'Wow! Imagine what animals live on the tree!' Now after witnessing the tiny organisms living in those beautiful or disgusting places, I feel more knowledgeable about nature," he adds.
Getting muddy is part of the job
The field trip to Pulau Semakau in November last year was Bryan's first experience volunteering for a nature group, as well as his favorite activity of the marine survey. His previous volunteering stints were as part of his school activities.
At Pulau Semakau, together with a small team of volunteers, Bryan sampled a patch of mudflats between the mangrove trees that had been planted on the island. It was not easy to get to the location. Where the mud was very soft, the volunteers needed to walk on their knees to help spread out their weight so that they wouldn't sink so much. If they got really stuck, they had to crawl out. "Sometimes the mud gets really deep and people get stuck, it's really funny just watching how hopeless they are when they attempt to get free," said Bryan.
But Bryan quickly learnt it is never good to laugh too early at others - he stepped straight into the thickest spot of mud and coated himself with sludge. Soon, Bryan found himself stuck in the mud a second time when he tried to help a teammate trapped in the mud.
When he wasn't mired in mud, Bryan trawled the mudflats for samples to take back to the lab - he was very excited when he pulled out a Horseshoe Crab using a fishing net, as well as separate worms in a container by their body shape and size. After the field survey, Bryan also helped out at the laboratory. While he found laboratory work quite interesting, he very much prefers being out in the field.
Turning into a convert
While Bryan now says that his favourite part of volunteering is "just the joy of being with nature", he admits he is not a self-motivated volunteer. His parents felt he was wasting his time just sleeping or playing the occasional online game, so they searched the Internet and found him a volunteer position with CMBS. But after his experience at Semakau, he has now turned into a nature volunteer enthusiast.
When his mother came to pick him up from the ferry terminal, he said he rambled on non-stop about how great volunteering was and how much he wanted to do more of it. If his friends are willing to get down and dirty, Bryan would definitely ask them to give it a shot. So far, while he has spoken to some of them, their responses had been "yuck!", but a few did think the work was cool. He hasn't converted any of them yet to join him on future CMBS field trips, but he's not going to give up.
By Erin Wang Pictures by Ria Tan
Comprehensive Marine Biodiversity Survey
The Comprehensive Marine Biodiversity Survey (CMBS) is a project sponsored by Shell Companies in Singapore, the Care-for-Nature Trust Fund and Asia Pacific Breweries. It aims to discover all the fauna and flora that can be found in all of Singapore's marine habitats, ranging from mudflats, rocky shores, coral reefs and the seabed.
Other than tertiary institutions, the survey also engages the community in the form of volunteers to increase the awareness of our marine natural heritage. Volunteers will be participating in the mudflat surveys that are currently being conducted (what Bryan was helping out with).
During these surveys, the volunteers spread out along a transect line along the mudflat, use simple tools to dig into the mud and sieve it to uncover organisms within the mud. If you are interested in volunteering for the next CMBS, do contact Jonathan Ngiam at jonanthan_ngiam@nparks.gov.sg.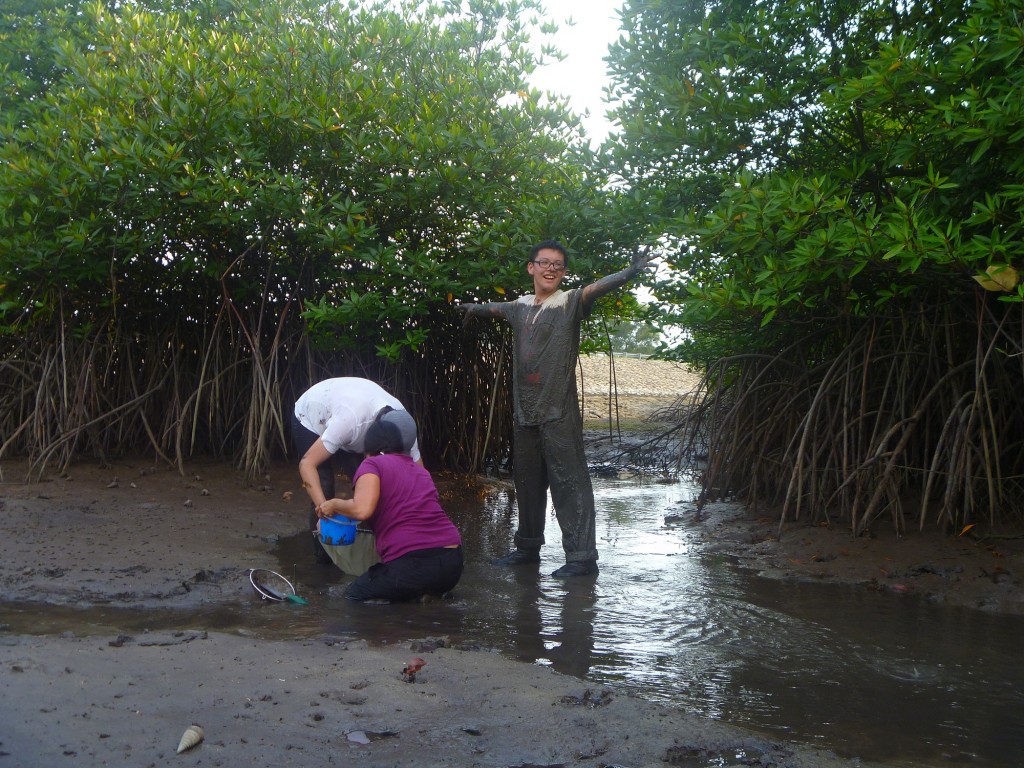 At the mudflats, Bryan slipped on the mud twice, but took it all in his stride.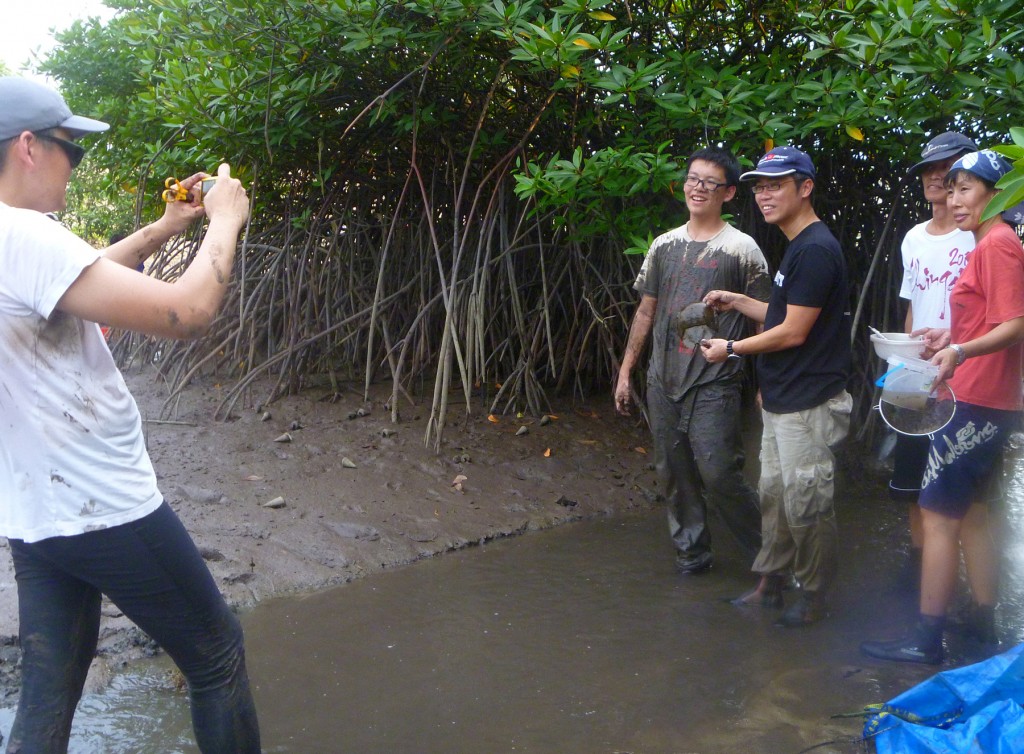 Bryan gamely poses for a picture after falling into the mud. The other volunteers are holding the equipment they used for trawling for specimens in the mudflats.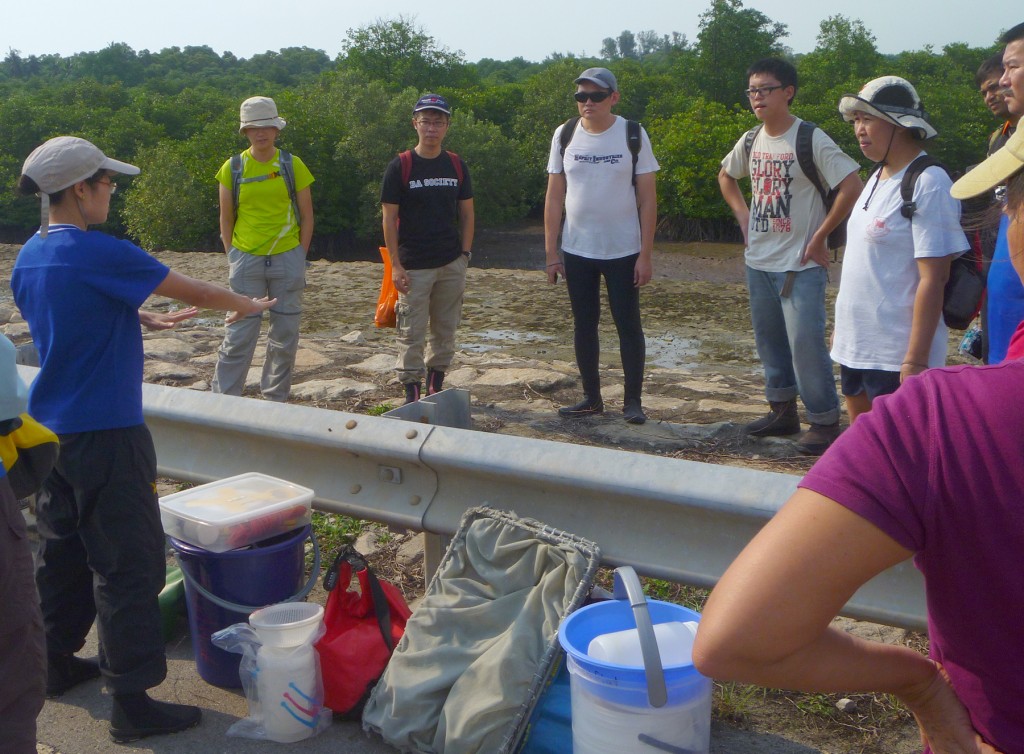 Bryan (fifth from left) at the briefing that took place at the start of the survey.