Introducing the "Green Grass Jelly" Plant
Most Singaporeans are familiar with the grass jelly dessert which is black in colour and made from the plant,Mesona procumbens. This dessert is popular in China and various Asian countries including Singapore.
The process of making this dessert, called 'chinchow' (spelt 'cincau' in Malay), is somewhat complicated as the plant material is usually dried first before it is boiled in water containing potassium carbonate. The decoction is allowed to cool and set into a jelly.
In Indonesia, a green version of this dessert can sometimes be found. Known most commonly as "Cincau Hijau", or green grass jelly, the dessert is made from a plant that is botanically known as Cyclea barbata. A member of the Menispermaceae family, the plant is a slender vine with a hairy stem and spade-shaped leaves. The mature plant sometimes develops a tuberous root. The tiny flowers of the Cyclea barbata plant are borne in round clusters which collectively grow on a pendulous branched stem.
In the garden, this plant is best grown in a sunny and well-draining location. It should be well-watered and is relatively pest- and disease-free. It is, however, not a common plant in Singapore. Propagation of new plants is achieved via stem-cuttings but with some difficulty. The nursery at the National Parks Board is in the process of propagating this plant. Look out for it in future gardening bazaars held in HortPark! Like the common black grass jelly, the green grass jelly makes a refreshing dessert on a hot day and is best served chilled. It has medicinal properties and is used traditionally to treat stomach complaints and high blood pressure.
How to Make Green Grass Jelly (serves 4 to 6 persons)
Ingredients needed:
50 mature cincau leaves (harvested from lower parts of the vine)

50 g of white sugar

1.5 litre boiled water (cooled to room temperature)
Steps:
1. Soak leaves in water at room temperature for 10 minutes.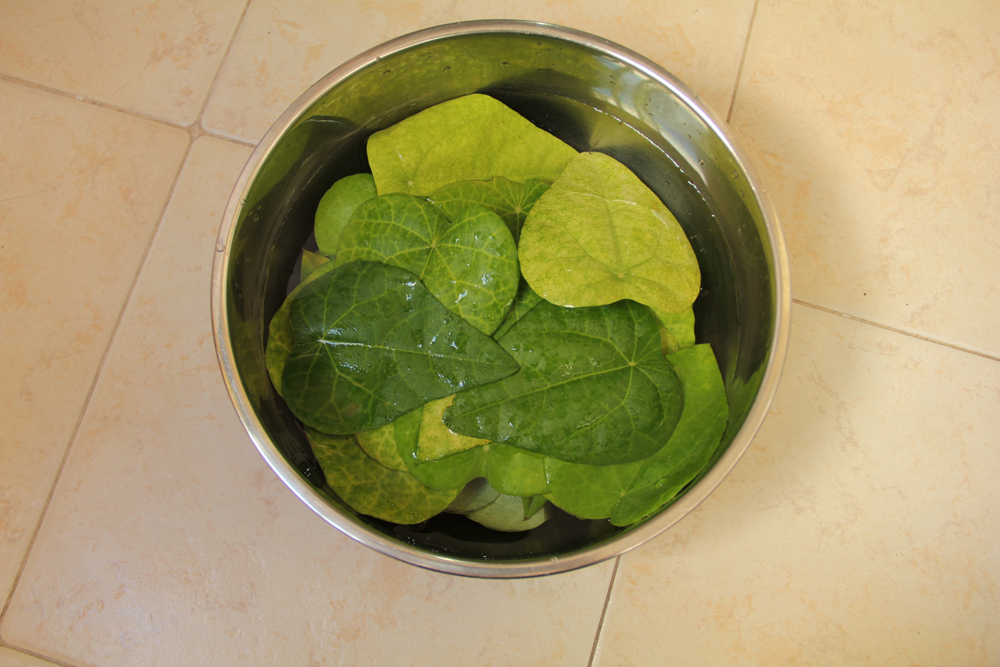 2. Remove the stiff leaf stalk from each leaf.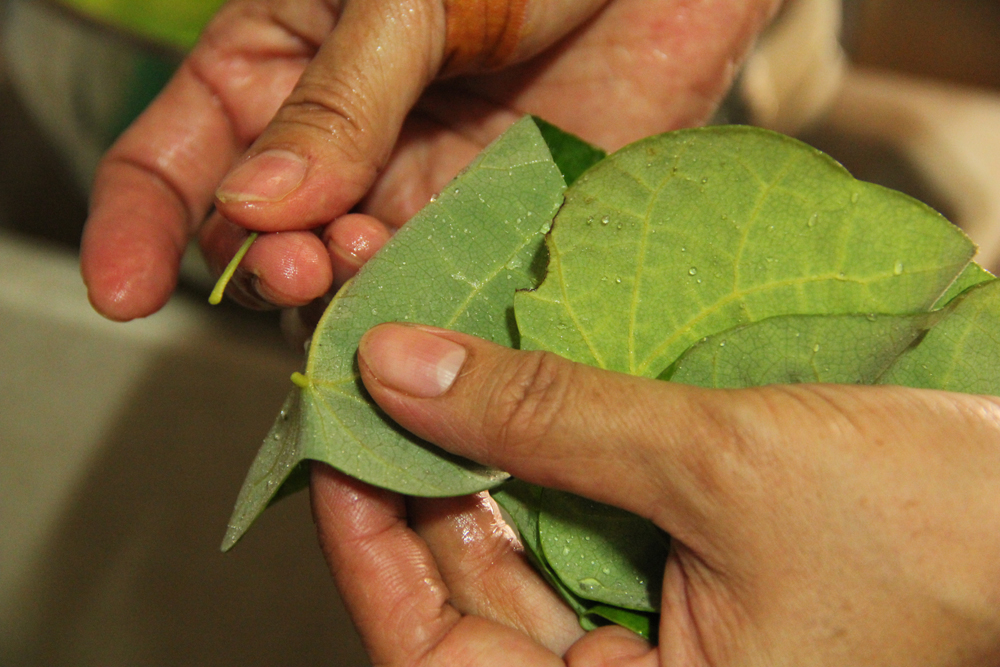 3. Rinse the leaves twice under running water. Then, rinse the leaves one last time using boiled water cooled to room temperature.
4. Cut the leaves into small pieces.
5. Blend the leaves, white sugar and boiled water using a fruit juice blender.
6. Sieve the solution twice.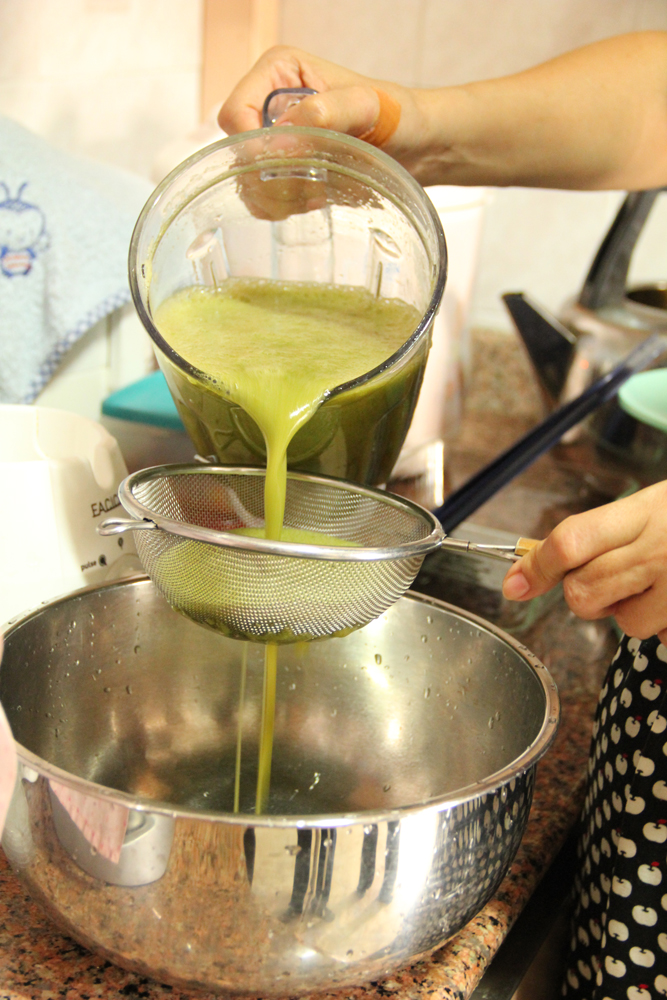 7. Pour the solution into serving containers, such as, small cups according to your preference and allow the jelly to set inside the refrigerator.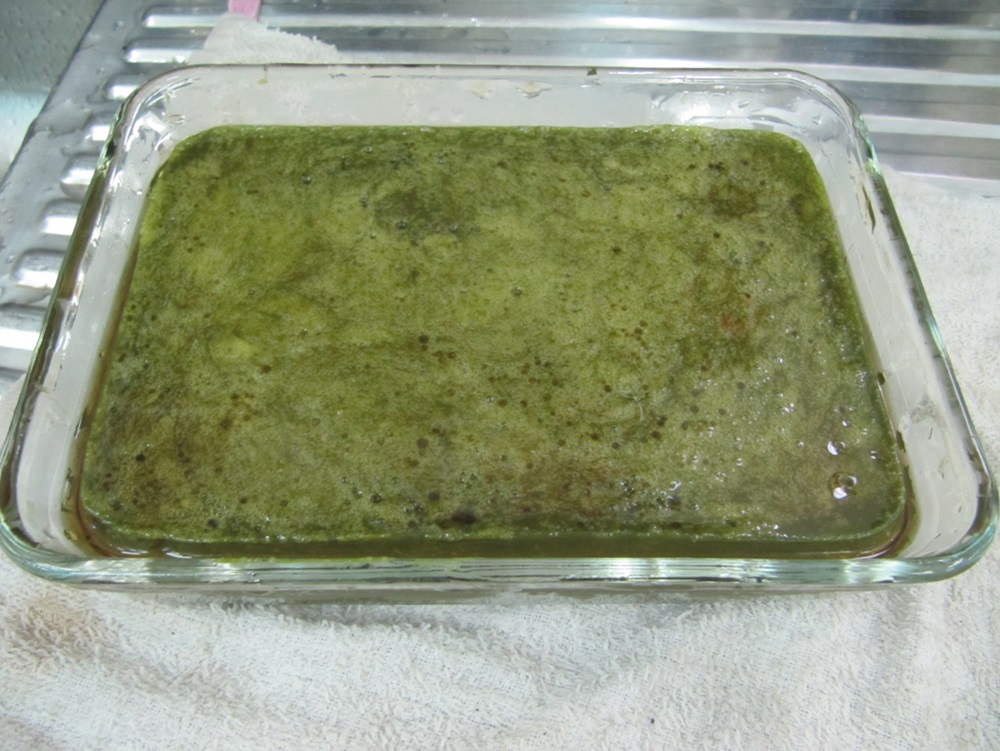 By Dr Wilson Wong & Vicky Lim