A Unique Weekend of Mud, Mudskippers and Snails
On a hot day in June this year, the mangrove forest of Pasir Ris Park saw some 100 volunteers from Panasonic and their family members showing up in boots and gloves, all ready to muck about in the mud. Just picture National Geographic coming to life, but in our very own backyard here in Singapore.
This was certainly not going to be your typical weekend of leisure cycling and picnic activities. Carefully, the volunteers trudged and dug through thick muddy ground to study, identify and collect samples of snails and mudskippers in the mangrove forest area.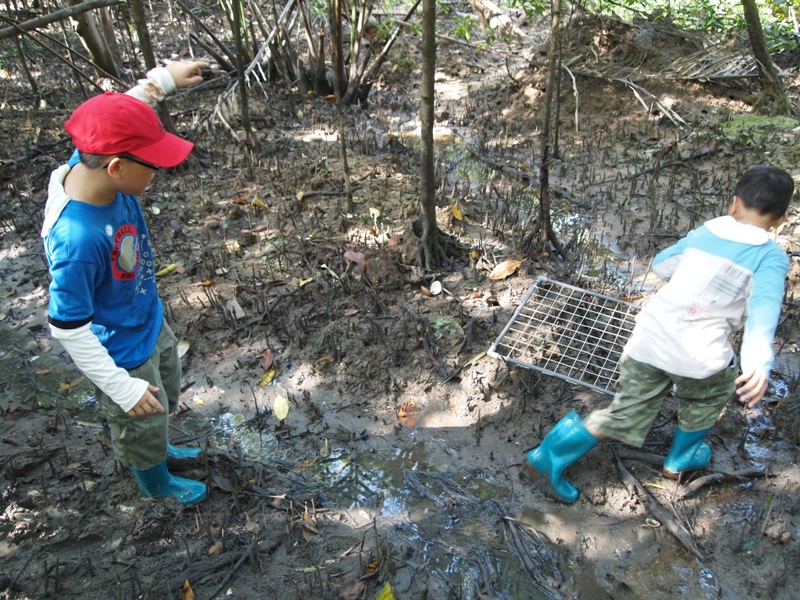 Children volunteers in their rubber boots preparing to conduct a snail survey.
This was part of a larger collaboration between the National Parks Board (NParks) and Panasonic to conduct a mangrove biodiversity study in Pasir Ris Park's mangrove forest. The project which commenced in March 2012 comprised 16 biodiversity monitoring sessions to be conducted over a two-year period, covering an area of 6 hectares, to study our mangrove tree species, snails and mudskippers.
The volunteers
One of the 65 adults who committed their time and effort over the weekend was Victor Ho, 49, who said, "I have always been fascinated watching wild-life documentaries such as the National Geographic, Animal Planet and BBC. This presented me the opportunity to experience first-hand doing the survey studies, and getting to watch and appreciate nature and its habitat up close and personal."
In his last two visits to the mangrove, Victor has spotted mudskippers, snails, crabs, monitor lizards, birds, large spiders, and beetles. "I am already looking forward to the next survey session and I am excited to follow through this 2-year project with Panasonic and NParks", added Victor, showing no signs of wavering enthusiasm despite the mud and grime around him. Core leaders from Panasonic took the lead and guided the children volunteers in cleaning the collected samples and identifying the species of snails and mudskippers.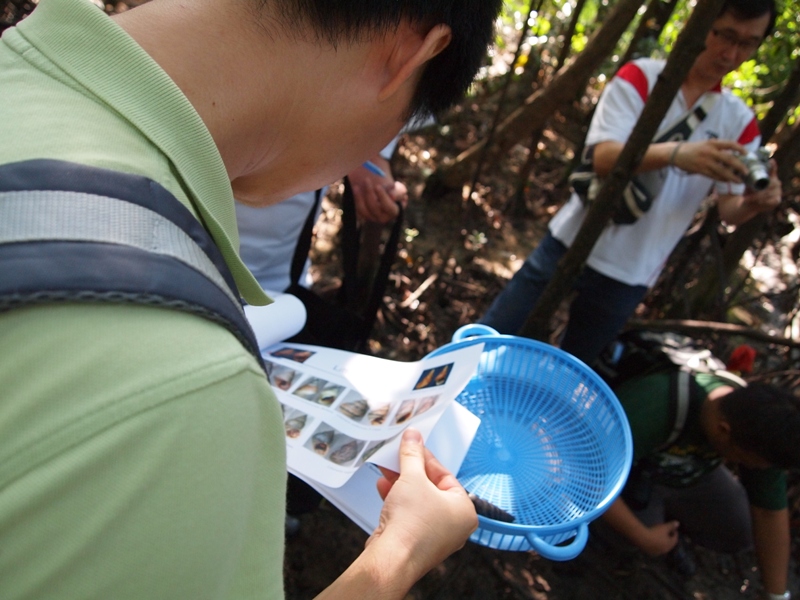 Trying to identify the different species of snails.
These children, some as young as 10 years old, were fearless when it came to touching the snails and mudskippers with their bare hands. "This is really fun and I get to make friends with the other children," said Ao Shen, one of the young volunteers. She added that this was her favourite way of spending the weekends. "It's a form of relaxation for me, plus it's a chance for me to take a break from school work, too!" she said cheekily.
Even at a tender age of 11, Ao Shen is not unfamiliar with mangroves - she started visiting some of these nature areas in Singapore since she was nine years old. The purpose and the partnership The mangrove forest at Pasir Ris Park is actually one of the few mangrove sites left in Singapore. Results of this study will provide NParks with valuable information to aid the long-term conservation and management of Singapore's mangrove forests.
Mr Low Beng Huat, General Manager of Environment & External Affairs Group at Panasonic, said, "We recognise that mangroves are important to our ecosystem and are excited to collaborate with NParks to ensure their conservation. Also, it serves as a good opportunity for our employees and their children to better appreciate nature and preserve the environment." The partnership included a $15,000 donation of both cash and in-kind from Panasonic through the Garden City Fund, a registered charity and IPC established by NParks. Panasonic also aims to provide 60 volunteers for each of these monitoring sessions.
"We are delighted to be collaborating with Panasonic to actively protect our ecosystem. It is important for us to continue in our efforts to conserve and enhance the rich diversity of our mangroves through monitoring initiatives and surveys. Active management of our mangroves will help enhance the health of the forest and the educational experience for all park visitors," said Mr Chia Seng Jiang, Director (Parks) at NParks.
By Shirley Wong
Are you keen to be a volunteer with NParks? Visit our website for more information. Support our City in a Garden initiatives through the Garden City Fund. Donations towards the Garden City Fund will enjoy 2.5 times tax deduction benefits.
About the Garden City Fund

The Garden City Fund is a registered charity and Institution of Public Character (IPC000104) established by the National Parks Board in 2002. The Fund works with corporations, organisations and individuals to better engage members of the public through conservation efforts, research, outreach and education. In doing so, we hope to cultivate a love for the environment, promote a sense of ownership, and encourage the community to play its part in preserving Singapore's legacy as a lush and vibrant City in a Garden. For more information please visit www.gardencityfund.org.

Counting mudskippers as part of the mudskipper survey.

A collection of snail shells from the Pasir Ris mangroves.