Twin 6-year-old Floral-Arranging Geniuses
When I first met the twins, it was a wet and dreary morning at their home. Sleepily clutching their bolsters, six-year-old identical twins Thomas and Matthew Lim seemed much like any child their age. Looking at their sleepy faces, one could not imagine that they could triumph over tens of other older participants during the recent Singapore Garden Festical to emerge tops in the 'Under 13' floor category for the International Youth Floral Art Competition.
Even the twins' mother, Mrs Vivian Lim, had expected her 10-year-old daughter Chloe to stand a better chance of winning, having participated in the same competition two years back and being the artistic one in the family. The Lim family had mistakenly thought it was a joke when it was announced the boys took the first prize. Stunned as they were, the family was proud of their littlest members and their prize-winning creation.
Mrs Lim explained the planning behind the win, "The judges loved the rawness of their floral arrangement and how they creatively made use of recycled material or items found around the house for their artwork. They took a plastic dustbin as their plant pot; placed pebbles into the pot which they had picked from our backyard, so that the base would be steady; interspersed dried branches that had fallen outside neighbours' fences into the flower arrangement; and used a dead log which their grandpa had salvaged from his house as a statement piece."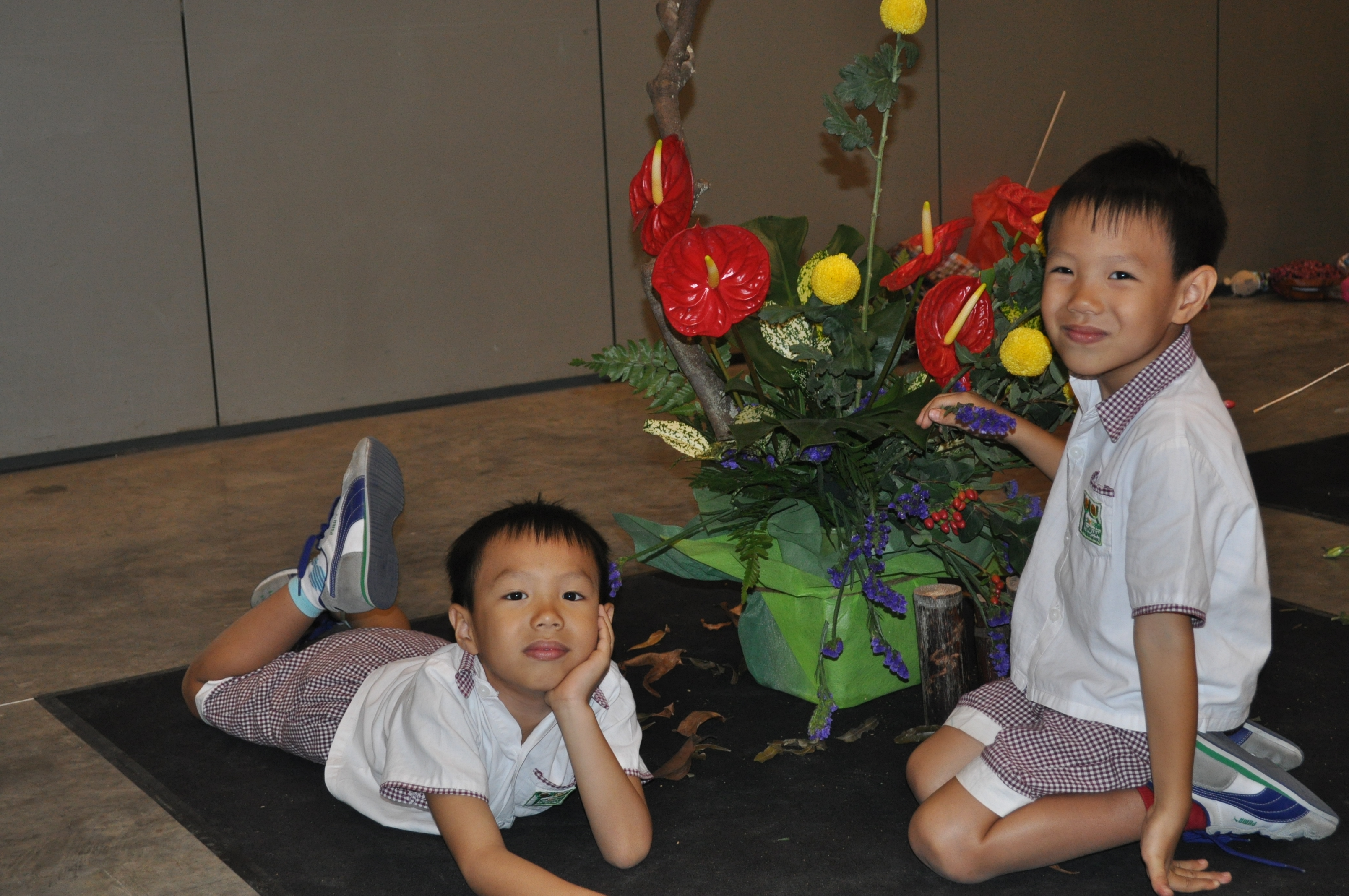 The twins looking satisfied with their award-winning creation at the International Youth Floral Art Competition, held as part of the Singapore Garden Festival.
According to Mrs Lim, Matthew was the fast learner, while Thomas, older by 10 minutes, had a more down-to-earth personality. These traits were manifested in the way the twins cooperated during the competition to create their floral arrangement. Just as the twins are often said to complete each other's sentences, Thomas and Matthew complemented each other's work perfectly.
Explained Matthew animatedly, "I will choose the anthurium and Korkor ( 'older brother' in Chinese dialect) will cut it and put it into the sponge". The younger twin will pick a flower or leaf and pass it on to the older one, who would then think and decide where and how to place it. Just as they complete each other's sentences, they complemented each other's work too.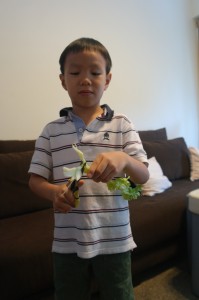 Thomas using a stick of celery to demonstrate the right way to cut flower stems. While I was talking to Thomas and Matthew, there was never a minute that they stayed still. They were always fidgeting, peering around, chattering.
How could they even stay in the same position and create that masterpiece? Was it just a lucky win? Furthermore, how did the twins sit through many hours of practice for the competition during their floral arrangement classes?
Somehow, floral arrangement calms these hyperactive boys. They could channel all their energies for the practice: arranging the flowers, taking out the flowers, flipping the sponger, and repeating the cycle countless of times over two hours each session to nail what is to them the perfect arrangement.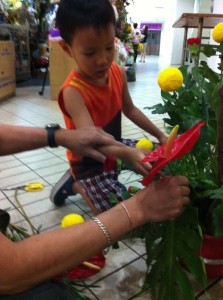 Matthew learning how to position a flower properly during a flower arrangement class. Thomas demonstrating how to cut a flower stem



Twins showing the pebbles from their backyard which they used as materials
A quick scan around their cozy home revealed that the twins could not have accomplished what they had without the nurture and support from their family members. Almost every nook and cranny of the house was filled with children's artwork and art supplies; there was even a mini workspace for the twins to let their creativity flow. I spied some artwork lying around that workspace, and asked the boys to show me their work.
As if possessed by a frensized enthusiasm, they each fought to show me their origami, collages, and drawings. Their helicopter drawings and handmade bejewelled swords were particularly interesting. As the boys hugged me goodbye, I left the house thinking that they were really very outstanding for their tender age. Now what was I doing when I was six? Be sure to watch out for them - they just might be the next big floral artists.
By Emmalyn Lai
Photos of the twins at floral arrangement class and with their award-winning arrangement at the Singapore Garden Festival courtesy of Mrs Vivian Lim