Promoting Community Gardening Is His Passion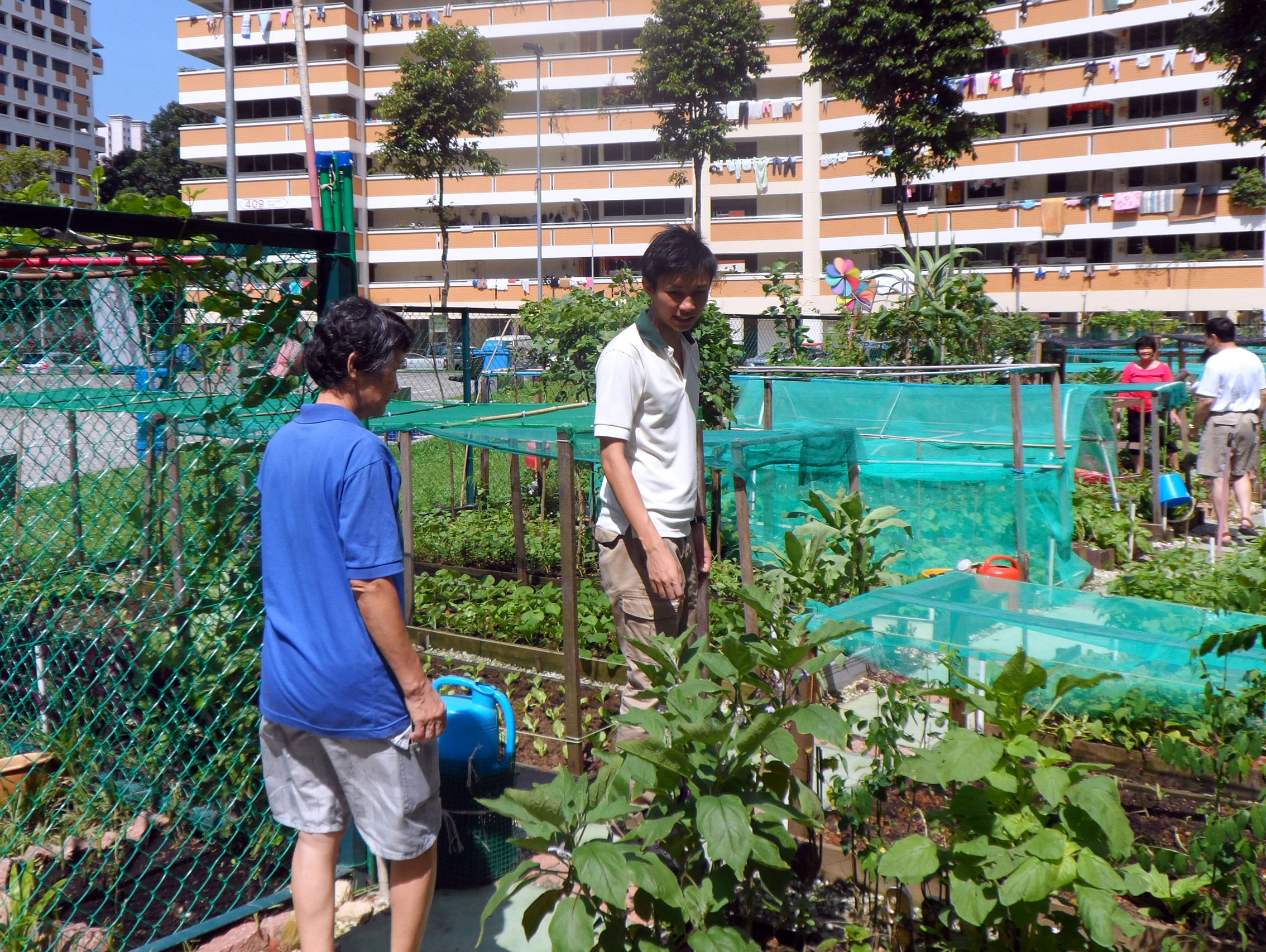 Chai Weili visiting a community garden to share planting advice.
Instead of holding a pipette and test tube and working in a laboratory after graduating with a biological sciences degree, Chai Weili is now holding a pair of secateurs and working outdoors. And instead of a white laboratory coat, Weili spends most of his working hours in his NParks tee, visiting empty plots of land to help residents set up gardens there, giving horticulture advice to residents and more.
Welcome to life as a manager for Community in Bloom
As a Community in Bloom (CIB) manager, Weili's main tasks are to promote community gardening to grassroots organisations, schools and organisations, assist garden volunteers in their community garden projects, and to also sustain interest in gardening among the community. This has given him the opportunity to meet many people from grassroots bodies, schools and other organisations.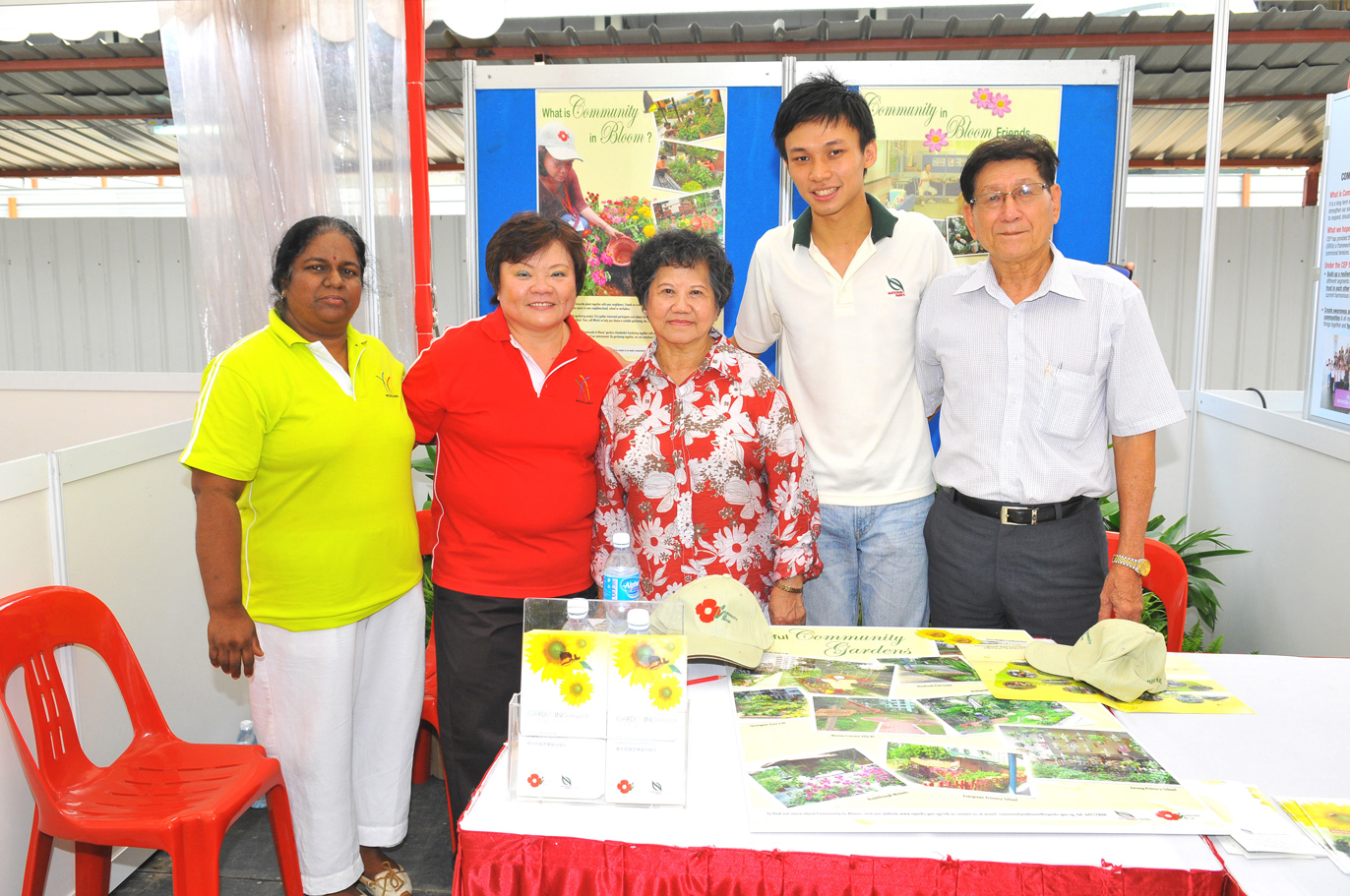 Weili at a roadshow with CIB volunteers of Woodlands Zone 2 RC and Ellen Lee, MP of Sembawang GRC.
A strong believer in the benefits of greenery, Weili feels that gardens, parks, nature reserves, and even roadside greenery are all necessary components of a healthy living environment. However, in land-scarce Singapore, most people live in high-rise apartment blocks and can only utilise their small balconies for gardening. Hence, community gardens provide an avenue and opportunity for HDB dwellers to not only experience gardening, but also to interact with fellow residents.
All in a day's work
Weili is responsible for the community gardens in the northwest region of Singapore. A typical day would start off with him visiting various community gardens and meeting volunteers on site to get updates.
If there are new gardens to be set up, he will provide administrative and horticulture advice and link the volunteers up with the relevant authorities such as town councils and building owners to obtain permission for land use. He also introduces these new gardeners to those of nearby gardens so that the volunteers can make friends and get support from more experienced gardeners.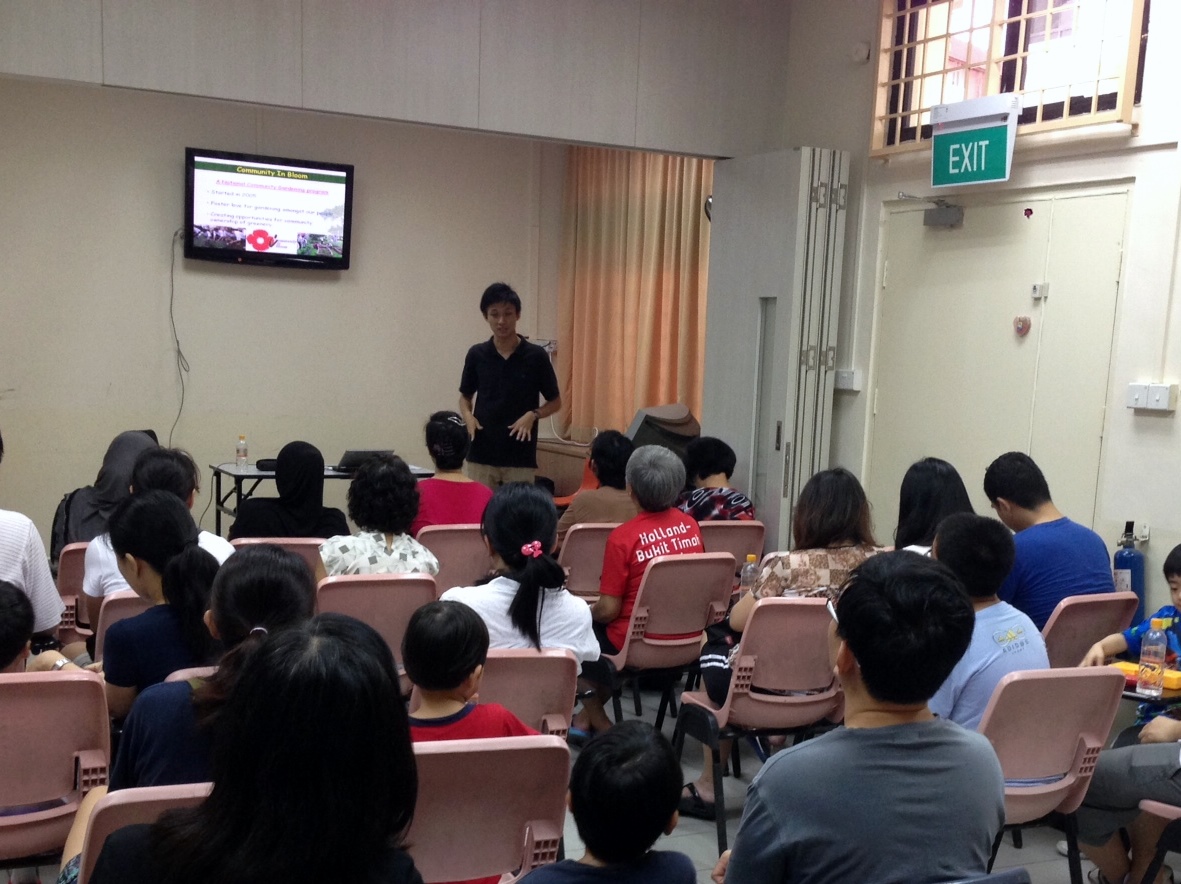 Weili conducting a workshop for residents on the benefits of having a community garden in their neighbourhood.
Afternoons would see Weili back in his office at Pasir Panjang Nursery answering public queries on setting up community gardens, creating slides for workshops, as well as preparing for upcoming meetings with community gardeners. Sometimes after office hours, Weili also helps to conduct basic gardening or garden design workshops for the community gardeners. That's because most of them work during the day.
Occasionally, Weili spends his weekends at various neighbourhood events and carnivals promoting the CIB programme, and helping to connect volunteers from various community gardens together.
"[In this job] sometimes we are horticulturalists, salesmen, event planners, speakers, designers, counsellors, guides, etc. It is a job which you won't be bored in." Even though his hours can be long, Weili feels the hard work is worth it when he sees the various community gardeners solving their own problems. He is even happier when the gardeners look beyond their own community to share their knowledge, resources and experiences, especially with the newer gardens. Sometimes, even plants are exchanged! "I get a sense of satisfaction when people gain knowledge and are able to solve their gardening problems.
I am also delighted [when the more experienced gardeners] share their knowledge with others outside of their gardening group. It is this kind of sharing culture which makes me think that my job is meaningful and fulfilling." He has even learnt some tips from these gardeners, "One of the volunteers shared that his secret technique to getting passion fruit plants to fruit is by piercing the stem with a toothpick and leaving it there. I've not heard of this technique, so I am now testing it out!"
By Ang Wee Foong and Chai Weili