Spot these Seven Migratory Birds at Sungei Buloh Wetland Reserve!
Migratory season beckons at Sungei Buloh Wetland Reserve! Every year, thousands of migratory birds fly in from their breeding grounds in the Northern hemisphere to the 202-hecatre reserve, to tide over the cold winter months.
During September to March, the reserve, comprising mangroves, mudflats, ponds and forests, becomes a warm home for these birds, which also attraction many visitors and photographers. Here is a quick guide to seven migratory birds to spot as you embark on your bird-watching experience!
Common Redshank (Tringa totanus)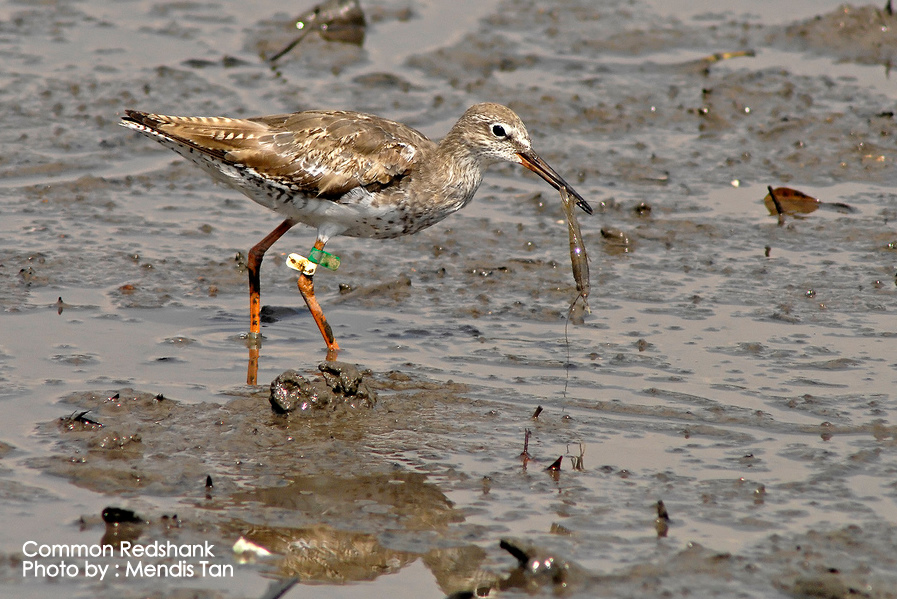 Photo credit: Mendis Tan, NParks Flora&FaunaWeb
One of the most common migratory birds found at Sungei Buloh Wetland Reserve between August and April, the Common Redshank can be identified by its long bright orange-red legs and relatively long stout bill. Populations of this bird can come from Mongolia, Russian Far East and China, and they start arriving in Singapore as early as July.
Common Greenshank (Tringa nebularia)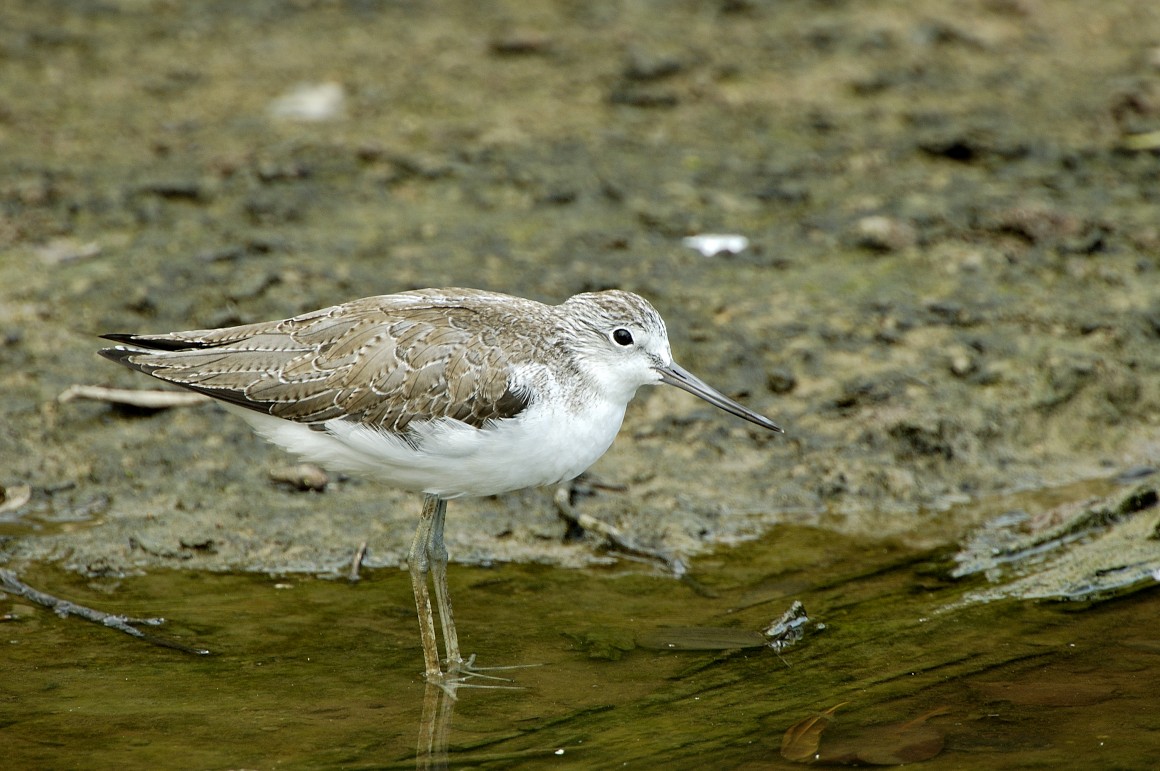 Photo credit: Jeremy Ang, NParks Flora&FaunaWeb
Like the Common Redshank, the Common Greenshank can also be commonly seen at the reserve between August to April. You can also find them at Changi, Khatib Bongsu, and areas with mangroves, mudflats and sandy shores in Singapore. Try to observe the Common Greenshank when it is feeding: It usually pecks and sweeps through the water to find food, but sometimes stalk its prey (like small fish and crustaceans) attentively before dashing through the shallow waters to catch its feed.
Whimbrel (Numenius phaeopus)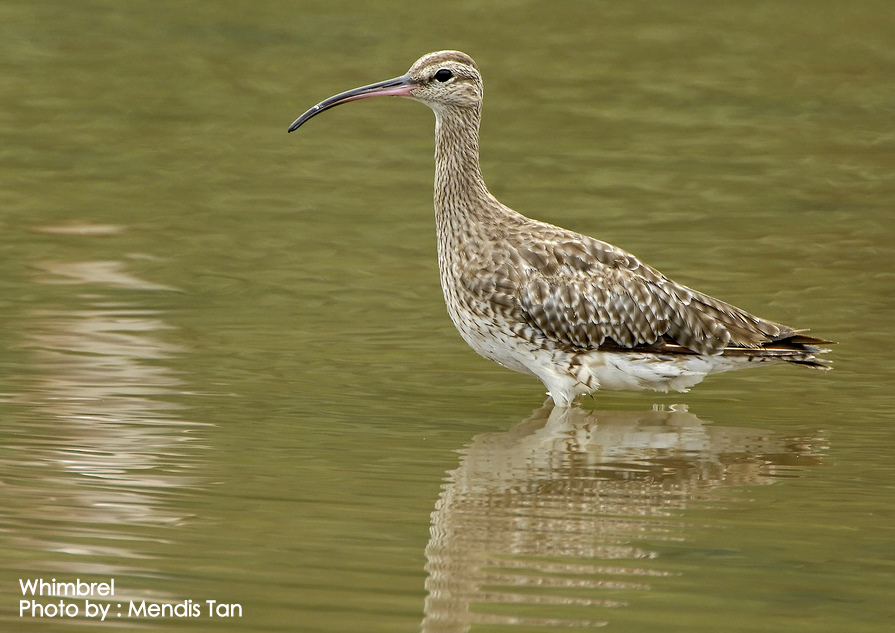 Photo credit: Mendis Tan, NParks Flora&FaunaWeb
The Whimbrel is another frequent winter visitor and passage migrant to the reserve. You can recognise the bird by its bluish-grey legs and down-curved beak, about twice the length of its head.
At its peak count in November 2003, there were over 440 Whimbrels sighted and documented in Sungei Buloh. Currently, during the migratory months, about 200 to 300 bird sightings are recorded.
Mongolian Plover (Charadrius mongolus)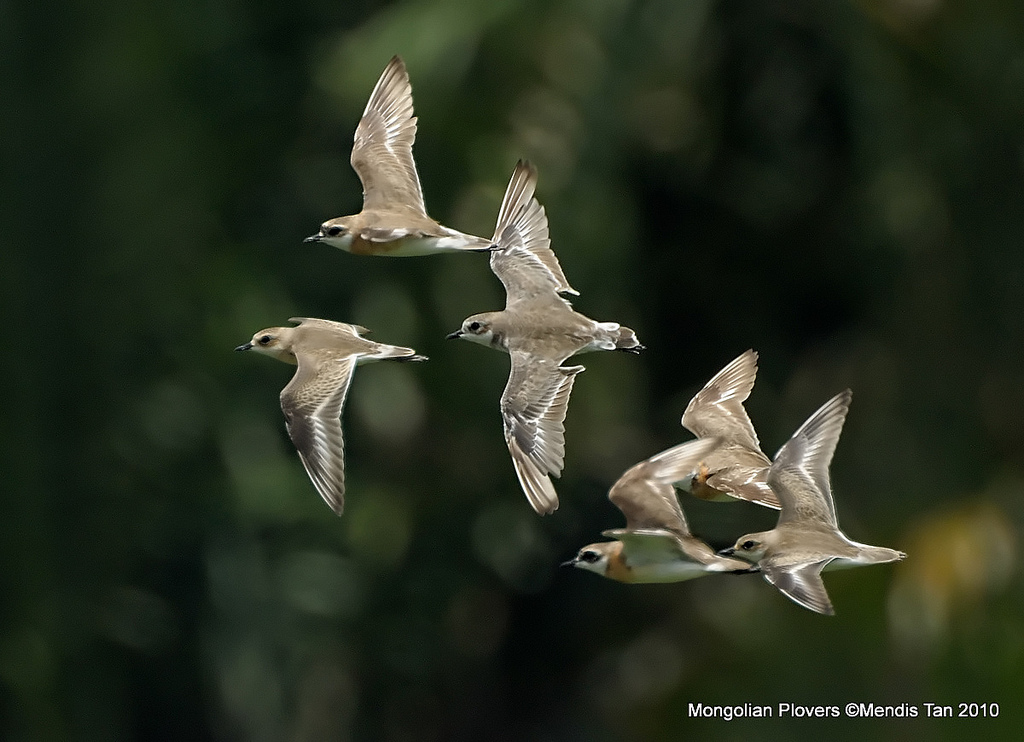 Photo credit: Mendis Tan, NParks Flora&FaunaWeb
The Mongolian Plover is often sighted at Sungei Buloh between the months of September to December when it travels from places like Mongolia, the Himalayas and Tibet to escape winter. Although its basic plumage is mostly sandy-brown, by the time it arrives in Singapore during breeding season, its appearance changes and the sides of the bird's neck and broad breast-band turn a shade of rusty-red.
Common Sandpiper (Actitis hypoleucos)

Photo credit: Mendis Tan, NParks Flora&FaunaWeb
If you notice a bird 'teetering' or frequently bobbing its head and tail up and down, you have most likely spotted the Common Sandpiper. This bird breeds in Central Asia, as well as Central and East Siberia, and spends the winter in East Asia, Southeast Asia and Australia.
Another interesting characteristic of the Common Sandpiper is its high-pitched three-note call as it flies off, often described as "twee-wee-wee". Do keep your ears peeled for this noisy little fellow during your visit!
Pacific Golden Plover (Pluvialis fulva)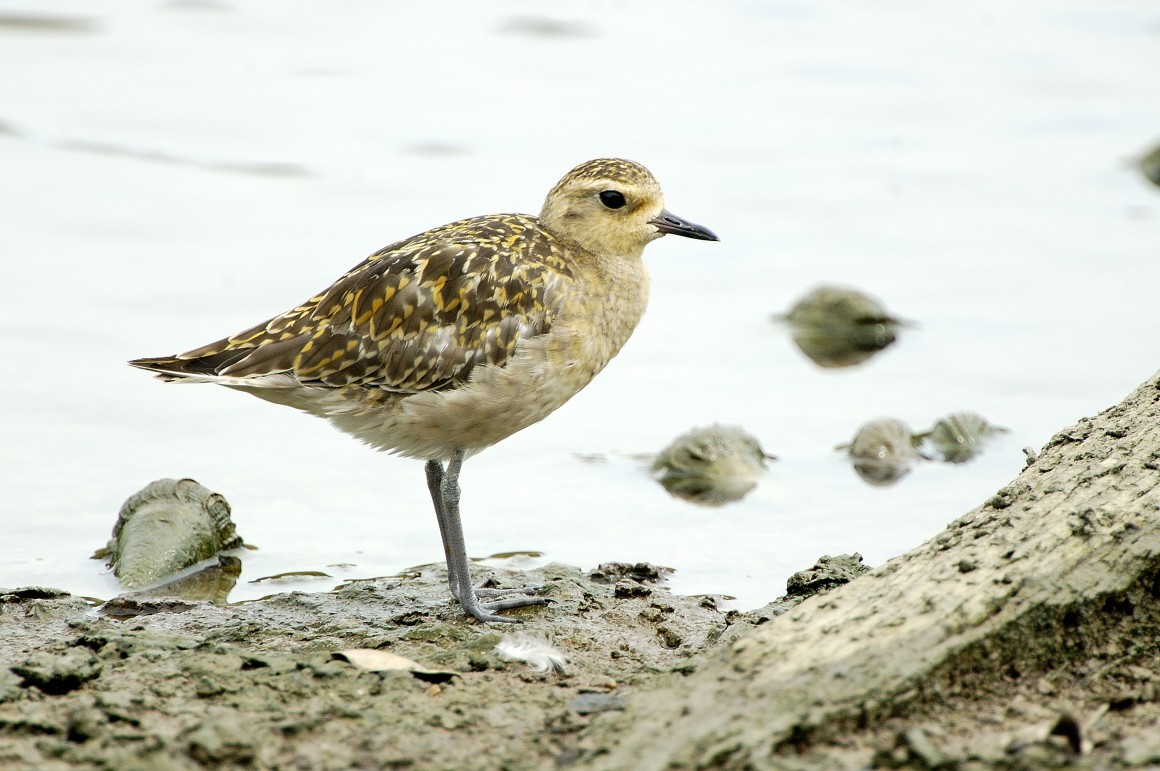 Photo credit: Mendis Tan, NParks Flora&FaunaWeb.
The Pacific Golden Plover is one of the most visible bird species in Sungei Buloh, and you are likely to spot this visitor hailing from Siberia and Alaska during August to April. This is another bird that looks visibly different during breeding season; the under side of its body will turn black, compared to its usual pale-brown appearance (as seen in the photo above).
You can also find the Pacific Golden Plover inland on short grasslands, playing fields and even golf courses around Singapore.
Asian Dowitcher (Limnodromus semipalmatus)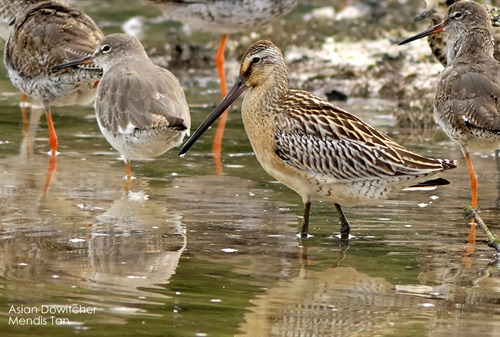 Photo credit: Mendis Tan, NParks Flora&FaunaWeb
The sighting of the Asian Dowitcher never fails to attract the attention of avid bird photographers, who will flock to Sungei Buloh to catch a glimpse of this beautiful bird. The Asian Dowitcher is a rare winter visitor, and usually stops over for just one day at the wetland reserve. With an estimated global population of about 23,000, this bird species is listed as Near Threatened on the International Union for Conservation of Nature (IUCN) red list of threatened species. With these migratory birds and as many as over 220 other bird species that arrive and make Sungei Buloh Wetland Reserve their home, do drop by the nature reserve over the next few months, and you may be rewarded with the sight of these charming creatures!
Did You Know?
Sungei Buloh Wetland Reserve has been recognised internationally as a site of significant importance for migratory birds, and was awarded a certificate by Wetlands International, marking the reserve's entry into the East Asian Australasian Shorebird Site Network. Sungei Buloh Wetland Reserve is also Singapore's first ASEAN Heritage Park.
Planning to go bird watching? Here are some helpful hints!
Dress in comfortable clothes in light colours (preferably long pants and long-sleeved shirt to prevent mosquito bites)

Put on comfortable walking shoes with socks

Wear a hat in non-bright colours

Bring your own drinking water, and pack your own snacks if required

Bring a good pair of binoculars, pen and notebook to jot down your observations

Please do not frighten the birds and leave nesting birds alone


Want to learn more about the migratory birds that visit Sungei Buloh? Get a copy of Migratory Birds of Sungei Buloh Wetland Reserve at the Singapore Botanic Gardens' retail shops: The Garden Shop and the Library Shop for only S$15 (inclusive of GST). You can get it online at http://botanicgardensshop.sg/shop/shop-by-category/books-stationery/books/2nd-edition-migratory-birds-of-sungei-buloh-wetland-reserve.html