Recognising Our Botanical Pioneers
During the commemoration of the Singapore Bicentennial this year, you may have learnt about important milestones in our natural heritage journey over the years. Here, we highlight some pioneers who laid the foundation for important plant research that goes on in the Singapore Botanic Gardens today.
Father of the Rubber Industry


Henry Ridley (left) and a rubber plantation in the Singapore Botanic Gardens in the 1890s.
Henry Ridley was the Gardens' first director, from 1888 to 1912. A pioneer in Malaya's rubber industry, his latex-harvesting efforts included his herring-bone method which allowed rubber trees to be tapped without causing permanent harm. His work spurred the rubber boom in Southeast Asia, leading it to produce more than half of the world's rubber by 1920.
Even after retiring as the director, Ridley continued his botanical work and published over 500 books and scientific papers. He is believed to have described thousands of plant species new to science. He married only at age of 83 and lived to 100 years old! Ridley Hall, which is found at the Botany Centre, was his office, herbarium and library.
The Jungle Explorer

Haniffia albiflora. The genus Haniffia was named for Mohamed Haniff. (Photo credit: Jana Leong-Škorničková)
Mohamed Haniff was a Malaysian Botanist who was born in Penang, where he developed an early passion for botany. He dedicated many years of his life to his passion, making significant contributions to the herbaria and living collections of both the Singapore and Penang Botanic Gardens. He accomplished this by carrying out extensive explorations of the Malaysian Peninsula and southern Thailand, in particular their jungles and peaks.
In 1890, he entered the Gardens Department of the Straits Settlements as an apprentice in the Penang Botanic Gardens. He was promoted to Overseer in 1893 and to Field Assistant in 1917. He also collaborated with several eminent botanists, including Eric Holttum, Henry Ridley and I.H. Burkill. In particular, he co-authored Malay Village Medicine (1930) with Burkill, and contributed to Burkill's Dictionary of the Economic Products of the Malay Peninsula (1935). Haniff also published papers in the Gardens' Bulletin, Straits Settlements.
Plant species named in his honour include the orchids Bulbophyllum haniffii and Dendrobium haniffii (which is now called Dendrobium tortile). The genus Haniffia in the Zingiberaceae is also named for him.
Family of Directors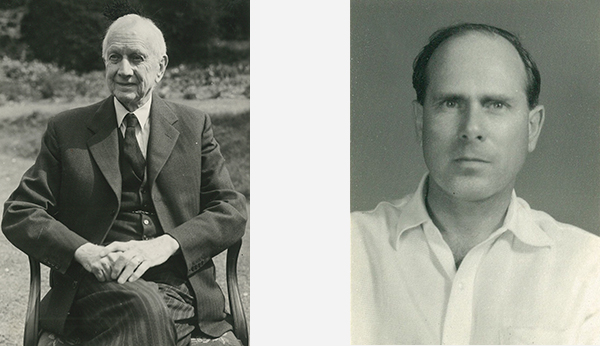 (Left) I.H. Burkill. (Right) Humphrey Burkill
Burkill Hall is the oldest building constructed inside the Gardens. It was built in 1867 to1868 and is located in the National Orchid Garden. It was named Burkill Hall in 1992 as an honour to I.H. Burkill and Humphrey Burkill, the only father-and-son pair to have been directors of the Gardens.

I.H. Burkill was the second director of the Singapore Botanic Gardens, holding this position for 13 years, from 1912 till 1925, while his son, Humphrey Burkill was the director from 1957 till 1969.

The elder Burkill helped to turn the Gardens into a centre for research in systematic botany. He enhanced the Herbarium and library collections and employed talented botanists as well. He created the position of the Herbarium Curator to help coordinate the management of the herbarium while preserving its collections.

He also wrote A Dictionary of the Economic Products of the Malay Peninsula (published in 1935), one of the most comprehensive texts on the historical uses of tropical plants in the region, with some 36,000 entries.

Humphrey Burkill was also a distinguished botanist who made many important decisions for the Gardens during the crucial transition period from British leadership when there was a severe staff shortage. He personally ensured that the Herbarium was properly housed in a new building (completed in 1964) such that the thousands of plants were safely kept.

After his retirement, he was awarded an Officer of the Order of the British Empire (O.B.E.) by the British government, in recognition of his contributions to the fields of arts and sciences, work with charitable and welfare organisations, and public service outside the civil service.


Burkill Hall in 1959 (left) and (right) in 2017. Burkill Hall is closed to end 2019 because of development works in the National Orchid Garden.
The Multilingual Botanist

Caetano Xavier dos Remedios Furtado
Caetano Xavier dos Remedios Furtado was born in Goa, India, and held a B. Sc. Degree which he completed in 1921. Shortly after, he worked in Burma as an agronomist, an expert in the science of soil management and crop production, for two years before he joined the Singapore Botanic Gardens as its first Field Assistant He was in charge of naming the living collection and cultivated plants in the Gardens.
Furtado was able to read and understand the wealth of taxonomic literature by familiarising himself with many additional languages, such as Italian, French, Spanish and German. As such, he contributed greatly to the study of palms due to his sound taxonomic understanding of them which resulted in numerous publications.
Even beyond his retirement, Furtado continued his research and published botanical articles up until 1970. He authored many papers, especially on botanical nomenclature and the systematics of palms and aroids, which he published in the Gardens' Bulletin, Straits Settlements. In recognition of his work on the family of palms, Maxburretia furtadoana was named after him on his eightieth birthday.
Laying the Foundation for Commercial Orchid Cultivation

Eric Holttum
Eric Holttum was the third director of the Singapore Botanic Gardens from 1925. He was key in sparking interest and increasing involvement in the horticultural scene in Singapore and Malaysia (both part of Malaya at that time).
Holttum helped to found both the Malayan Orchid Society (now the Orchid Society of South East Asia) and Singapore Gardening Society. Under his guidance, these two societies thrived and contributed greatly in promoting orchid-growing and gardening in the region. He also promoted a new method of germinating orchid seeds in the laboratory using an artificial medium. This opened up more avenues to propagate and later hybridise orchids.
Holttum aimed to create hybrids that would flower regularly in Singapore's tropical climate, and his work with orchids laid the foundation for commercial orchid cultivation in Southeast Asia.
After retiring in 1949, Holttum headed the Department for Botany at the then University Of Malaya in Singapore. Holttum Hall, which is near Botany Centre in the Singapore Botanic Gardens, currently houses the Heritage Museum and is named after him.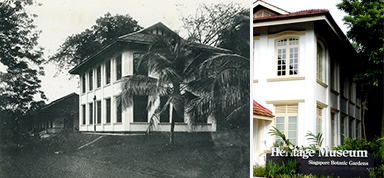 (Left) Holttum Hall in the 1920s and (right) today as the home of the Singapore Botanic Gardens Heritage Museum.
The Macaque-Trainer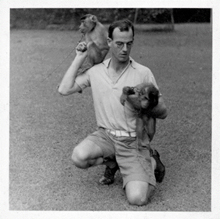 E.J.H. Corner
As the Assistant Director of the Gardens starting from 1929, E.J.H. Corner was a well-known mycologist, which is someone who specialises in the study of fungi, in addition to his botanical research.

To obtain specimens from the top of trees for his botanical research work, he found help from an unusual source, Pig-tailed Macaques! These macaques excelled in collecting coconuts and Corner trained them to climb trees to collect his desired specimens for his research while he was at the Gardens.
Corner also coined a theory that suggests that the primitive state of a flowering plant is to be a large tree with large fruit to attract animals for seed dispersal. This is known as the Durian Theory since it was a durian fruit that triggered Corner to start thinking about the evolution and dispersal of plants.
Corner House named after E.J.H. Corner, and is now the home of a Michelin-star restaurant.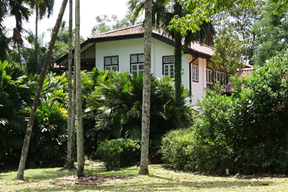 Corner House in the Singapore Botanic Gardens.
More To Discover
If you want to find out more about Singapore's natural history, past and present, come down for the Festival of Biodiversity, happening on 25 and 26 May 2019 at HDB Hub in Toa Payoh. Organised by the National Parks Board in collaboration with the Biodiversity Roundtable, the Festival of Biodiversity will let you discover various ways you can contribute to conserving and protecting our nation's precious flora and fauna.

You can also visit the Singapore Botanic Gardens Heritage Museum that features interactive and multimedia exhibits and panels that detail the Gardens' rich heritage. For a glimpse into our rich natural heritage past, you can view old photographs, artefacts, plant specimens, rare botanical books and botanical paintings that date back to the early 19th century.
Text by Nur Hafizah and Leon Chin
Photo credits: Singapore Botanic Gardens Library and Archives

About the writers
Nur Hafizah is a Third Year Mass Communications student of Nanyang Technological University (NTU). She worked in the Communications and Community Engagement (CCE) division of NParks, as part of her school's six-month professional internship programme. During her time in NParks, she wrote and edited articles for My Green Space, contributed to the creation of social media posts and video content, and took photographs for publicity materials for events such as the Forest Restoration Action Plan at Bukit Timah and Central Catchment Nature Reserves and the opening of Raintree Cove at East Coast Park.
Leon Chin is a final year Mass Communications student from Republic Polytechnic. He interned at NParks in 2018 as part of his school curriculum, working on projects to inform and educate the young and public about our flora and fauna. This included writing articles and helping to manage outreach activities. A wildlife enthusiast and musician, he also enjoys playing his guitar in the Singapore Botanic Gardens when he is free.

Please email wong_yeang_cherng@nparks.gov.sg for more information on our internship programme.