Greenery That Defies Gravity
Singapore is a City In A Garden, with shady trees lining our streets and plants that enhance our urbanscape. But with limited land, greenery is appearing more and more on buildings and other physical structures.
Developers have been incorporating greenery onto concrete and steel-cladding walls and rooftops. Skyrise greenery is a term coined to refer to the greening of both horizontal (rooftop greenery) and vertical (green walls) dimensions.
Difference between Rooftop and Vertical Greenery
Rooftop greenery refers to the greening of rooftop surfaces including green roofs – the extensive greening of rooftop surfaces – and roof gardens, which are usually designed to be accessible to the public and are often used as communal spaces for recreational purposes.

Vertical greenery refers to when plants are incorporated within vertical surfaces. Traditionally, it involved climbing plants with self-clinging roots growing directly on the building's surfaces, twining plants growing on trellis and pergolas or plants growing within the crevices of stacked rocks. However, in recent years, contemporary and innovative systems have enabled developers to grow different plants on vertical planes.
Benefits of Skyrise Greenery

Apart from mitigating urban heat island effects, skyrise greenery also aids in energy consumption and acts as an insulation for noise, resulting in a conducive and aesthetically pleasing environment for people to live, work and play in.
Such greenery also creates habitats to enhance biodiversity in urban areas, drawing butterflies, dragonflies and birds into our urbanscape, and giving us more opportunities to interact with and immerse ourselves in nature.
Let us explore Singapore's urban greenery landscape to discover skyrise greenery installations in the Central Business District (CBD) area.
Hotel In A Garden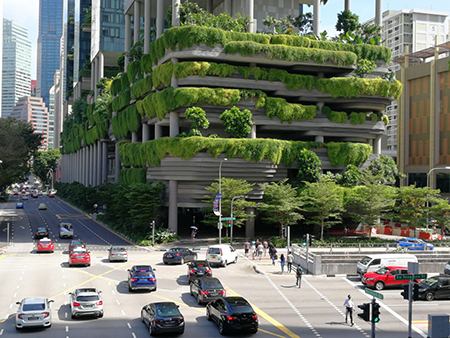 We start at one of our island's most striking building, PARKROYAL COLLECTION Pickering. Branding itself with an "eco-friendly hotel-in-a-garden concept", this building has its concrete exterior covered by lush greenery, creating the appearance of a beautiful garden in the sky. Having greenery around the building helps keep the inside cool and reduces the noise coming from the outside.
While access to several rooftop gardens is only for hotel guests, rooftop greenery in the form of planters along the edges of the façade of the building can be admired from the street level. You can also view the vertical greenery along the lobby leading towards the restaurant on the first level.
The hotel has been recognised with numerous greenery awards, including the Skyrise Greenery Awards 2013, and has been cited by experts as a good example of green architecture that others can learn from.
Hidden Green Wall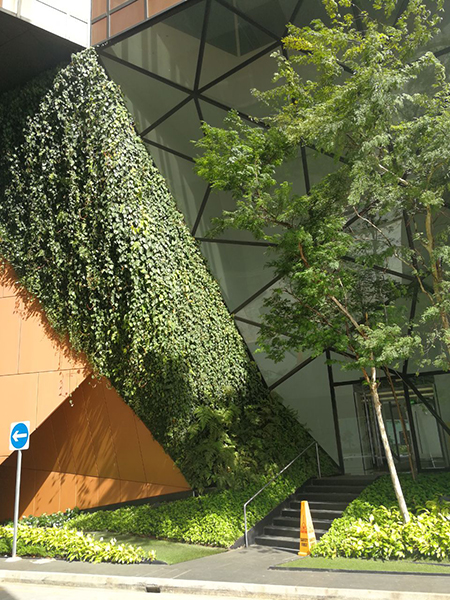 Have you passed this green gem without realising its presence? A vertical garden at 50 North Canal Road is tucked away behind Lew Building and is a pleasant surprise spot for you to take insta-worthy pictures with its geometric façade. It definitely stands out as it adds a wall of green to the grey and orange geometric-shapes that dominates most of the building.

Drop by when you are in the Clarke Quay area as the building is only a 5-minute walk from the MRT station. After this, you can cross the road to enjoy the greenery of Hong Lim Park as well.
Corridor Of Green Power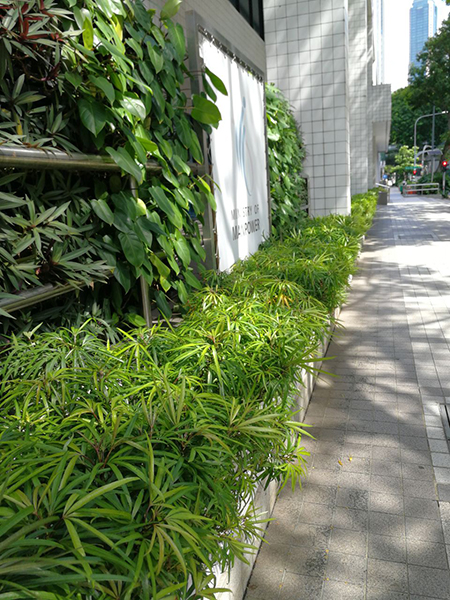 A little bit of green goes a long way, especially in the CBD area where concrete and cars are more commonplace. This small vertical garden comprising segments of free-standing panels that line the main corridor at the ground level of the Ministry of Manpower building.

This provides a form of green relief for pedestrians and motorists as they pass the building. Positive effects of engaging with nature include reduced stress levels, improved mood and enhanced cognitive performance!
Hit The Roof

Did you know that the National Gallery Singapore has a rooftop garden? The Ng Teng Fong Roof Garden occasionally holds special exhibitions and can be accessed without the need of a ticket. It is a pleasant green oasis after you are done checking out the art exhibits in the gallery. It has a water display whereby the glass on the floor is the ceiling when seen from level 1.
It also features a great view of the Singapore skyline when you walk up the stairs at the side. Towards the back, you can find an expansive stretch of vertical greenery comprising shrubs and bushes. The rooftop garden helps keep the building below cool and is a great spot to take photos as well.
Creating a Greener World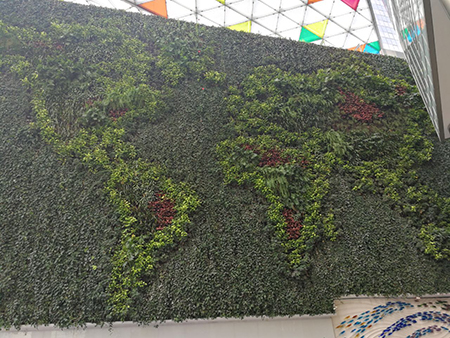 Located above the Raffles Place MRT station, you can find this interesting pattern created by plants. The vertical green installation at the Ocean Financial Center covers the façade of its multi-story carpark, and is one of the winners for the Excellence Awards for the Skyrise Greenery Awards in 2013.

This is only one part of the wall that shows the map of the world. The other side of the wall depicts the map of Singapore. These striking images are created with some 57,000 potted plants. At about 19 m tall and about 110 m across, this green wall was named the World's Largest Vertical Garden by the Guinness Book of Records in 2013. Don't forget to have a look at this marvel while you are in Raffles Place.
A Green Rainbow Connection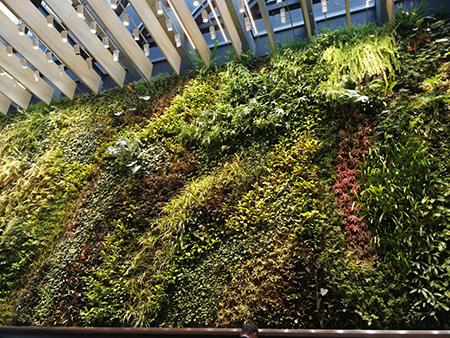 Named Rainforest Rhapsody and consisting of about 120 plant species, this 2,000 square feet indoor garden is installed at the main lobby of the building at 6 Battery Road. The plants are arranged to mimic plant growth patterns on tree branches and rocks in rainforest, looking like a beautiful plant rainbow.

A controlled irrigation process sends harvested rainwater and nutrients to the plants which in turn absorb environmental pollutants and refresh the lobby. Sit down and have a cup of coffee in the lobby's café to really admire this wall that received an honourable mention in the Skyrise Greenery Awards 2011.
Learning More
To increase greenery provision in Singapore, NParks has introduced the Skyrise Greenery Incentive Scheme (SGIS), which will fund up to 50% of the installation costs of rooftop greenery and vertical greenery. This is to facilitate the development of more lush and pervasive greenery in a largely man-made environment, by encouraging more intensive forms of landscaping on built structures. Find out more here.
Would you like to explore more skyrise greenery in Singapore? Discover DIY trail maps you can use to explore other sky and vertical gardens across the island to enjoy gardens that seem to defy gravity. Find out more here.

Text and photos by Leon Chin

About the writer
Leon Chin is a final year Mass Communications student from Republic Polytechnic. He interned at NParks in 2018 as part of his school curriculum, working on projects to inform and educate the young and public about our flora and fauna. This included writing articles and helping to manage outreach activities. A wildlife enthusiast and musician, he also enjoys playing his guitar in the Singapore Botanic Gardens when he is free.

Please email wong_yeang_cherng@nparks.gov.sg for more information on our internship programme.