Talipot Palm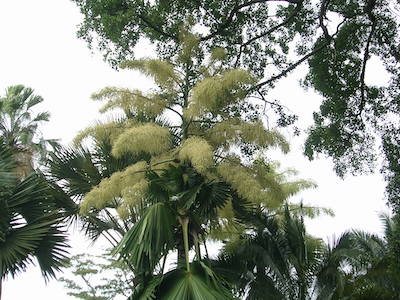 The Talipot Palm (Corypha umbraculifera) has the largest branched inflorescence in the world. Its inflorescence has roughly 24 million tiny yellowish-white flowers and can reach up to 9 m long and 12 m wide! This long-lived palm can grow to 80 years old and puts up a magnificent inflorescence just once in its lifetime, before dying.

It has a solitary trunk that can grow up to 27 m high, with a diameter of up to 90 cm. It produces large fan-shaped leaves that grow to over 2 m long and 6 m wide. Due to the its durability, manuscripts were made of the leaves of the Talipot Palm in India, Sri Lanka and Myanmar.

Learn more about this palm here.