Back
Lonicera japonica Thunb. ex Murray
| | |
| --- | --- |
| Family Name: | Caprifoliaceae |
| Common Name: | Japanese Honeysuckle, Gold-and-silver Flower, 忍冬, 金银花 |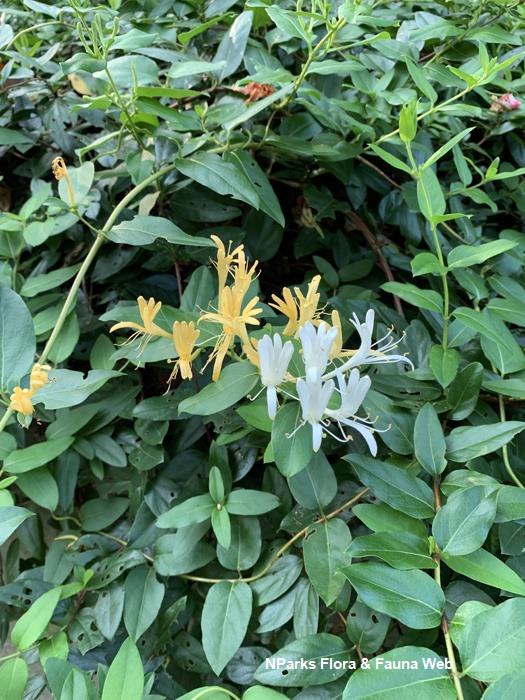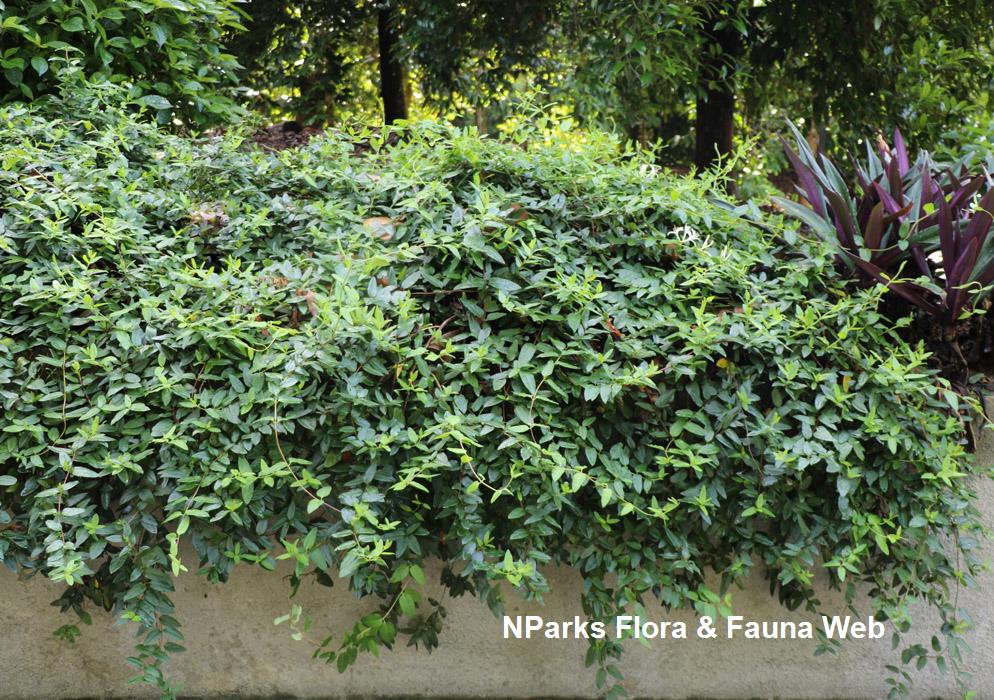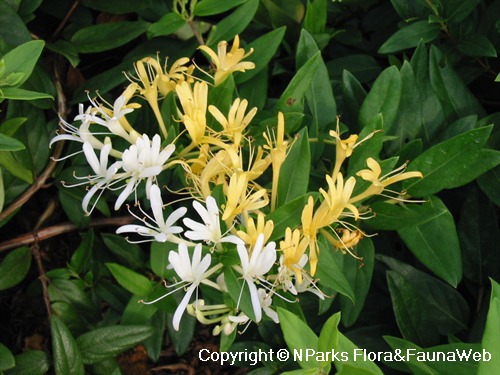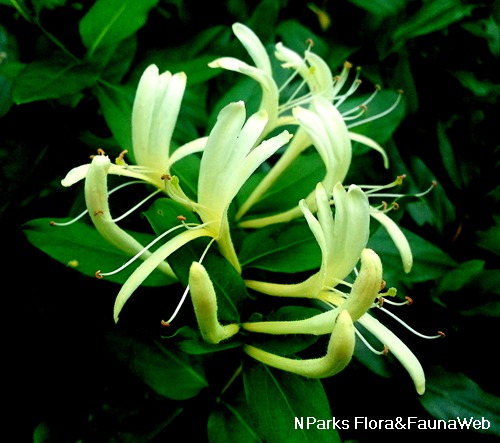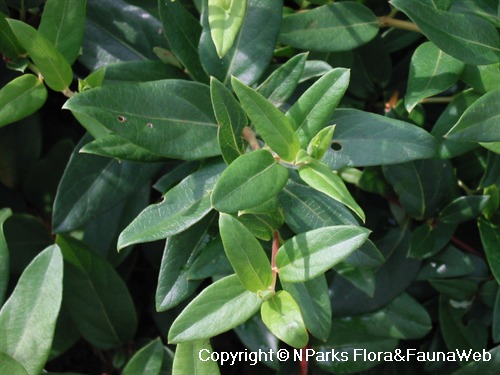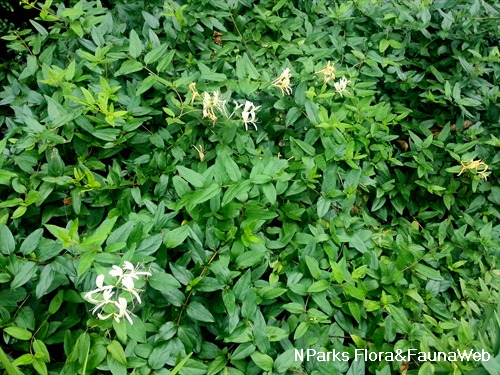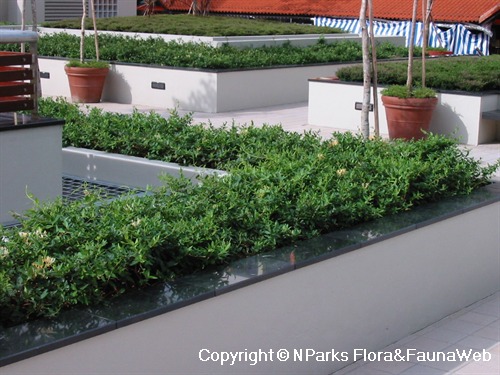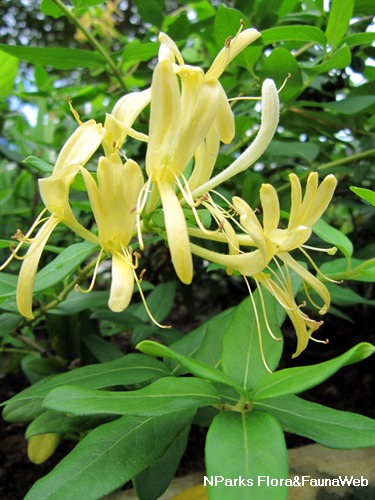 Name
| | |
| --- | --- |
| Family Name | |
| Genus Epithet | |
| Species Epithet | |
| Name Authority | |
| Name Status (botanical) | |
| Common Names | |
| Comments | |
Classifications and Characteristics
| | |
| --- | --- |
| Plant Division | Angiosperms (Flowering Seed Plants) (Dicotyledon) |
| Plant Growth Form | Climber, Vine & Liana |
| Lifespan (in Singapore) | Perennial |
| | |
| --- | --- |
| Mode of Nutrition | Autotrophic |
| Maximum Height | 24 m to 36 m |
Biogeography
| | |
| --- | --- |
| Native Distribution | Japan, Korea |
| Native Habitat | Terrestrial |
Description and Ethnobotany
| | |
| --- | --- |
| Growth Form | Perennial, woody climber with twining stems up to 36 m long. |
| Foliage | Smooth or sometimes softly hairy leaves are oblong to oval with short petioles (leaf stalks). Leaf margin is entire (smooth edges) or lobed. Leaves occur in pairs along the stem. |
| Stems | Young stems are reddish and softly hairy, while mature stems are woody with peeling strips of bark. |
Flowers
Tubular, 2-lipped flowers are initially white, gradually turning yellow over time. They are arranged in pairs within the leaf axil (the area between the stem and leaf stalk). Flowers have a strong, sweet fragrance and contain honey-like nectar at the base of the floral tube.
Fruits
Black fruits contain 2-3 dark brown seeds which are oval to oblong (0.6 cm long). 
Ethnobotanical Uses
Medicinal (

Scientific Evidence of Medicinal Properties

In pre-clinical trials, Japanese Honeysuckle showed pain-relieving (Ryu et al., 2010), anti-cancer (Liu et al., 2021), anti-diabetic (Wang et al., 2017), anti-inflammation (Ryu et al., 2010), anti-microbial (Rhee & Lee, 2011), antioxidant (Bang et al., 2019) and cholesterol-lowering properties (Wang et al., 2017) in animals.

Traditional Medicinal Uses

Research supports the traditional use of Japanese Honeysuckle to treat arthritis, headache, inflammation, body aches and boils. Other traditional uses include using it to treat urinary disorders, diarrhoea, dysentery and fever.

It is important to note that some therapeutic effects from traditional medicinal uses of plants are not currently supported or verified by scientific research.

)
Landscaping Features
| | |
| --- | --- |
| Desirable Plant Features | Ornamental Flowers, Fragrant (Flowers) (Day) |
| Plant & Rootzone Preference - Tolerance | Dry Soils / Drought |
| Landscape Uses | Vertical Greenery / Green Wall, Flowerbed / Border |
| | |
| --- | --- |
| Thematic Landscaping | Golden Garden |
Fauna, Pollination and Dispersal
| | |
| --- | --- |
| Seed or Spore Dispersal | Biotic (Fauna) |
Plant Care and Propagation
| | |
| --- | --- |
| Light Preference | Full Sun |
| Water Preference | Moderate Water |
| Plant Growth Rate | Fast |
| | |
| --- | --- |
| Propagation Method | Stem Cutting, Seed |
| Propagation Method Remarks | Layering. |
Foliar
| | |
| --- | --- |
| Foliage Retention | Evergreen |
| Mature Foliage Colour(s) | Green |
| Mature Foliage Texture(s) | Smooth, Velvety / Furry / Tomentose |
| | |
| --- | --- |
| Foliar Type | Simple / Unifoliate |
| Foliar Arrangement Along Stem | Opposite |
| Foliar Attachment to Stem | Petiolate |
| Foliar Shape(s) | Non-Palm Foliage (Ovate, Oval, Oblong) |
| Foliar Venation | Pinnate / Net |
| Foliar Margin | Entire |
| Foliar Apex - Tip | Mucronate |
| Foliar Base | Rounded / Obtuse |
Non - Foliar and Storage
| | |
| --- | --- |
| Stem Type & Modification | Woody |
| Specialised Storage Organ(s) | Underground (Rhizome) |
Floral (Angiosperm)
| | |
| --- | --- |
| Flower & Plant Sexuality 1 | Unisexual Flowers |
| Flower & Plant Sexuality 2 | Dioecious |
| Flower Colour(s) | White, Yellow / Golden |
| | |
| --- | --- |
| Flower Grouping | Cluster / Inflorescence |
| Flower Location | Axillary |
| Flower Symmetry | Bilateral |
| Individual Flower Shape | Tubular |
| Flower Transitional Changes | Colour |
| Flowering Habit | Polycarpic |
| Inflorescence Size Remarks | Flower changes from white to yellow. |
Fruit, Seed and Spore
| | |
| --- | --- |
| Mature Fruit Colour(s) - Angiosperms and Gymnosperms | Black |
| Fruit Type 1 | Fleshy Fruit |
| Fruit Type 2 | Berry |
References
References

Bang, B.W., Park, D., Kwon, K.S., Lee, D.H., Jang, M.J., Park, S.K. & Kim, J.Y. (2019). BST-104, a water extract of Lonicera japonica, has a gastroprotective effect via antioxidant and anti-inflammatory activities. Journal of Medicinal Food 22(2): 140–151.

Liu, C., Xu, M., Yan, L., Wang, Y., Zhou, Z., Wang, S., Sun, Y., Zhang, J. & Dong, L. (2021). Honeysuckle-derived microRNA2911 inhibits tumor growth by targeting TGF-β1. Chinese Medicine 16: Article ID 49.

Lu, H., Zhang, L. & Huang, H. (2015). Study on the isolation of active constituents in Lonicera japonica and the mechanism of their anti-upper respiratory tract infection action in children. African Health Sciences 15(4): 1295–1301.

Ryu, K.H., Rhee, H.I., Kim, J.H., Yoo, H., Lee, B.Y. & Um, K.A. (2010). Anti-inflammatory and analgesic activities of SKLJI, a highly purified and injectable herbal extract of Lonicera japonica. Bioscience, Biotechnology, and Biochemistry 74(10): 2022–2028.

Wang, D., Zhao, X. & Liu, Y. (2017). Hypoglycemic and hypolipidemic effects of a polysaccharide from flower buds of Lonicera japonica in streptozotocin-induced diabetic rats. International Journal of Biological Macromolecules 102: 396–404.
Others
| | |
| --- | --- |
| Master ID | 146 |
| Species ID | 1442 |
| Flora Disclaimer | The information in this website has been compiled from reliable sources, such as reference works on medicinal plants. It is not a substitute for medical advice or treatment and NParks does not purport to provide any medical advice. Readers should always consult his/her physician before using or consuming a plant for medicinal purposes. |
Species record last updated on: 10 November 2022.