Back
Houttuynia cordata
| | |
| --- | --- |
| Family Name: | Saururaceae |
| Synonyms: | Polypara cordata, Houttuynia cochinchinensis |
| Common Name: | Fishwort, Chameleon Plant, Heartleaf, 鱼腥草 |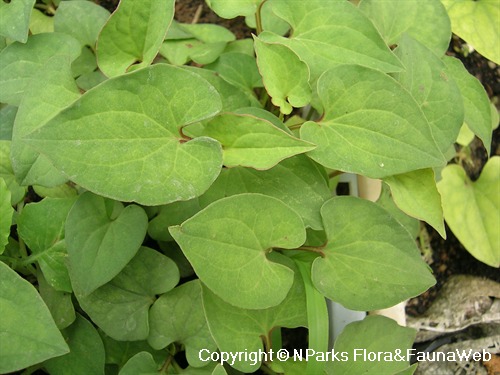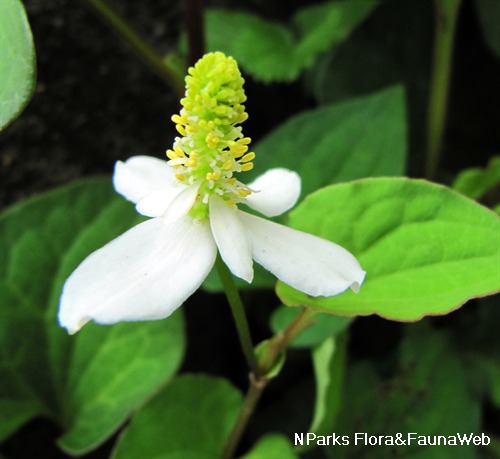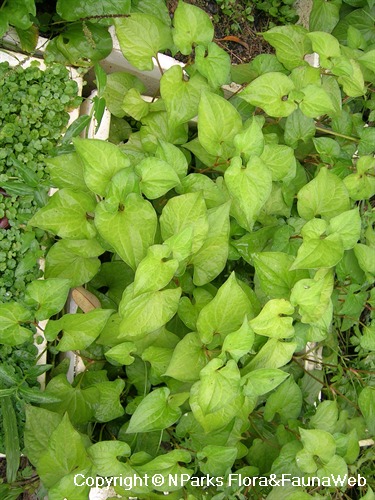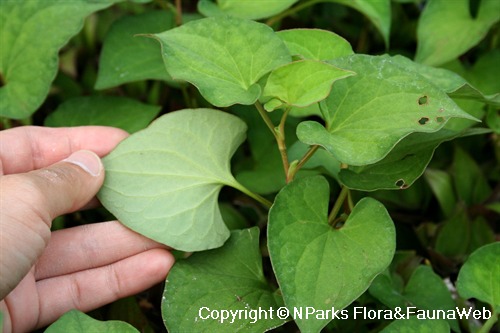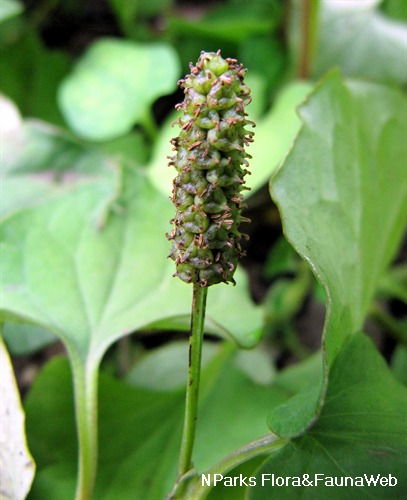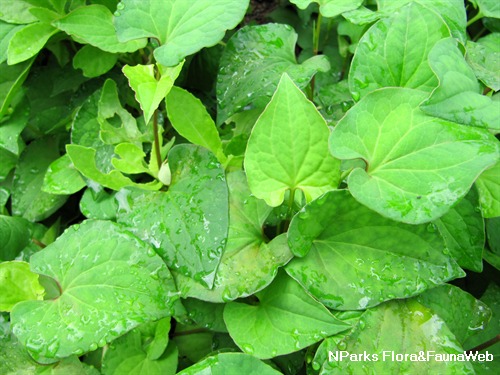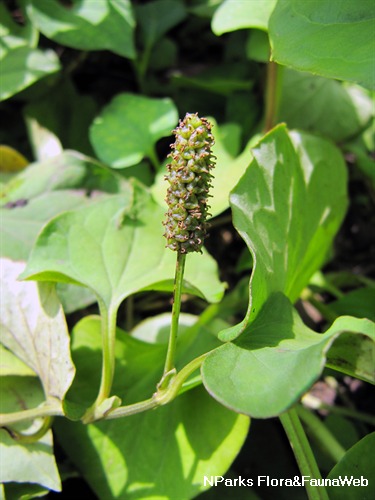 Name
| | |
| --- | --- |
| Family Name | |
| Genus Epithet | |
| Species Epithet | |
| Name Status (botanical) | |
| Synonyms | |
| Common Names | |
| Comments | |
Classifications and Characteristics
| | |
| --- | --- |
| Plant Division | Angiosperms (Flowering Seed Plants) (Dicotyledon) |
| Plant Growth Form | Aquatic & Hydrophyte |
| Lifespan (in Singapore) | Perennial |
| | |
| --- | --- |
| Mode of Nutrition | Autotrophic |
| Maximum Height | 0.2 m to 0.3 m |
| Maximum Plant Spread / Crown Width | 0.6 m to 0.9 m |
Biogeography
| | |
| --- | --- |
| Native Distribution | India to Japan, Java |
| Native Habitat | Terrestrial (Riverine, Grassland / Savannah/ Scrubland) |
| Preferred Climate Zone | Sub-Tropical / Monsoonal, Temperate |
Description and Ethnobotany
| | |
| --- | --- |
| Growth Form | Aquatic, herbaceous creeper up to 60 cm tall. |
| Foliage | The heart-shaped leaves are simple and arranged alternately along the stem. The leaves are green with a purple leaf surface, the lower part of the petiole forming a sheath around the stem.The leaves emits a strong fishy odour when bruised or rubbed, due to presence of sulphurous compounds.  |
| Flowers | The flowers are borne on a spike around 2cm long. The base of the spike has four, white petal-like bracts. |
Others - Plant Morphology
Creeping shrub, 30-60cm height. Leaves heart-shaped, emits strong fishy odour when bruised or rubbed, due to presence of sulphurous compounds. Flowers white.
Cultivation
It is best grown under full sun to partial sun, in moist soil. 
Ethnobotanical Uses
Medicinal (

Scientific Evidence of Medicinal Properties

In both pre-clinical and clinical trials, Fishwort showed anti-inflammation (Lee et al., 2015; Yang et al., 2021) in animals and people, respectively.

In pre-clinical trials, Fishwort showed anti-cancer (Lou et al., 2019), anti-diabetic (Kumar et al., 2014), anti-microbial (Kim et al., 2008), antioxidant (Kim et al., 2014), and cholesterol-lowering properties (Lin et al., 2013) properties in animals.

Traditional Medicinal Uses

Research supports the traditional use of Fishwort to treat cough and cancer. Other traditional uses include using leaf and stem decoctions to strengthen the immune system.

It is important to note that some therapeutic effects from traditional medicinal uses of plants are not currently supported or verified by scientific research.

)
Landscaping Features
| | |
| --- | --- |
| Plant & Rootzone Preference - Tolerance | Waterlogged Soils (Drains Site), Easy to Grow |
| Landscape Uses | Container Planting, General, Riverine |
| Thematic Landscaping | Water Garden, Bioswales / Sunken Garden, Economic Garden, Naturalistic Garden |
Fauna, Pollination and Dispersal
| | |
| --- | --- |
| Seed or Spore Dispersal | Abiotic (Explosive Dehiscence) |
Plant Care and Propagation
| | |
| --- | --- |
| Light Preference | Semi-Shade, Full Sun |
| Water Preference | Lots of Water |
| Plant Growth Rate | Fast |
| | |
| --- | --- |
| Propagation Method | Stem Cutting, Stolon / Runner, Division |
| Maintenance Requirements Remarks | May spread invasively by rhizomes and runenrs under favourable conditions. |
Foliar
| | |
| --- | --- |
| Foliage Retention | Evergreen |
| Mature Foliage Colour(s) | Green |
| Mature Foliage Texture(s) | Smooth |
| | |
| --- | --- |
| Foliar Type | Simple / Unifoliate |
| Foliar Arrangement Along Stem | Opposite |
| Foliar Shape(s) | Non-Palm Foliage (Deltoid) |
| Foliar Venation | Pinnate / Net |
| Foliar Margin | Entire - Wavy / Undulate |
| Foliar Apex - Tip | Acuminate |
| Foliar Base | Auriculate |
| Typical Foliar Area | Notophyll ( 20.25cm2 - 45 cm2 ) |
| Leaf Area Index (LAI) for Green Plot Ratio | 4.5 (Shrub & Groundcover - Dicot) |
Non - Foliar and Storage
| | |
| --- | --- |
| Stem Type & Modification | Herbaceous, Runner / Stolon |
| Root Type | Underground (Fibrous Root) |
| Specialised Storage Organ(s) | Underground (Rhizome) |
Floral (Angiosperm)
| | |
| --- | --- |
| Flower & Plant Sexuality 1 | Bisexual Flowers |
| Flower Colour(s) | White |
| Flowering Habit | Polycarpic |
Fruit, Seed and Spore
| | |
| --- | --- |
| Fruit Classification | Simple Fruit |
| Fruit Type 1 | Dehiscent Dry Fruit |
| Fruit Type 2 | Capsule |
References
References

Kim, D.H., Lim, J.J., Lee, J.J., Jung, W.C., Shin, H.J., Lee, H.J., Kim, G.S. & Kim, S. (2008). Antibacterial and therapeutic effects of Houttuynia cordata ethanol extract for murine salmonellosis. Korean Journal of Environmental Agriculture 27(2): 156–162.

Kim, J.H., Cho, Y.J., Pan, J.H., Park, T.S., Shim, S.M. & Kim, Y.J. (2014). Antiatherogenic and antioxidative effects of Houttuynia cordata extracts in rats fed a high-fat diet. Food Science and Biotechnology 23: 2069–2074.

Kumar, M., Prasad, S.K., Krishnamurthy, S. & Hemalatha, S. (2014). Antihyperglycemic activity of Houttuynia cordata Thunb. in streptozotocin-induced diabetic rats. Advances in Pharmacological Sciences Article ID 809438.

Lee, J.H., Ahn, J., Kim, J.W., Lee, S.G. & Kim, H.P. (2015). Flavonoids from the aerial parts of Houttuynia cordata attenuate lung inflammation in mice. Archives of Pharmacal Research 38: 1304–1311.

Lin, M.C., Hsu, P.C. & Yin, M.C. (2013). Protective effects of Houttuynia cordata aqueous extract in mice consuming a high saturated fat diet. Food & Function 4(1): 322–327.

Lou, Y., Guo, Z., Zhu, Y., Kong, M., Zhang, R., Lu, L., Wu, F., Liu, Z. & Wu, J. (2019). Houttuynia cordata Thunb. and its bioactive compound 2-undecanone significantly suppress benzo(a)pyrene-induced lung tumorigenesis by activating the Nrf2-HO-1/NQO-1 signaling pathway. Journal of Experimental & Clinical Cancer Research 38: Article ID 242.

Yang, J.H., Hwang, E.J., Moon, J., Yoon, J.Y., Kim, J.W., Choi, S., Cho, S.I. & Suh, D.H. (2021). Clinical efficacy of herbal extracts in treatment of mild to moderate acne vulgaris: an 8-week, double-blinded, randomized, controlled trial. Journal of Dermatological Treatment 32(3): 297–301.
Others
| | |
| --- | --- |
| Master ID | 817 |
| Species ID | 2112 |
| Flora Disclaimer | The information in this website has been compiled from reliable sources, such as reference works on medicinal plants. It is not a substitute for medical advice or treatment and NParks does not purport to provide any medical advice. Readers should always consult his/her physician before using or consuming a plant for medicinal purposes. |
Species record last updated on: 10 November 2022.