Jurong Lake Gardens is Singapore's new national gardens in the heartlands. It is a people's garden, where spaces will be landscaped and created for families and the community to come together.
The 90-hectare Gardens comprises Lakeside Garden (formerly Jurong Lake Gardens West), Chinese and Japanese Gardens (formerly Jurong Lake Gardens Central) and Garden Promenade (formerly Jurong Lake Gardens East).
Lakeside Garden is open for visitors from end-April 2019, and Chinese Garden, Japanese Garden and Garden Promenade will be completed from 2021 onwards.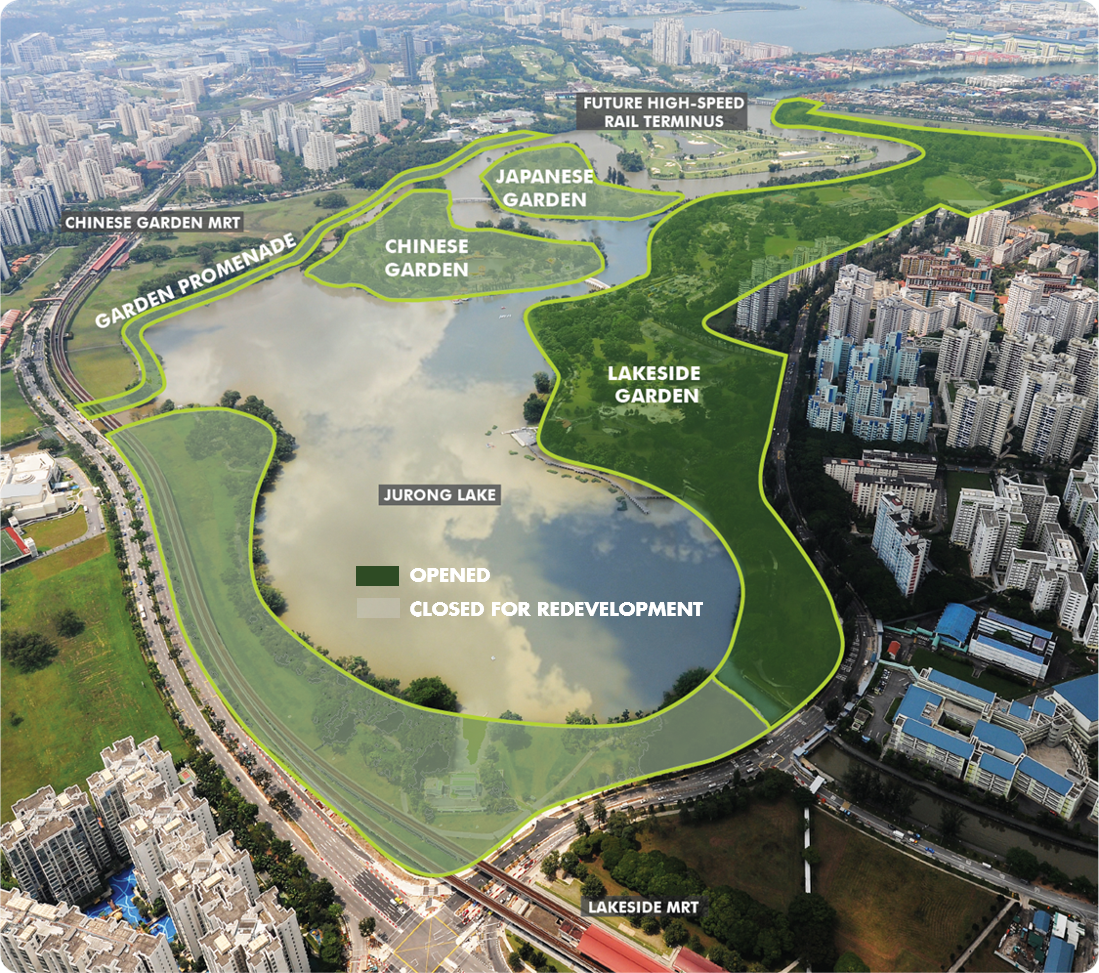 Bird's eye view of Jurong Lake Gardens.
In line with the car-lite strategy of Jurong Lake District, the public is encouraged to walk, cycle or take public transport to the Gardens.
A people mover system will run within the Gardens to provide ease of accessibility for the elderly, handicapped and families with young children during peak visiting periods.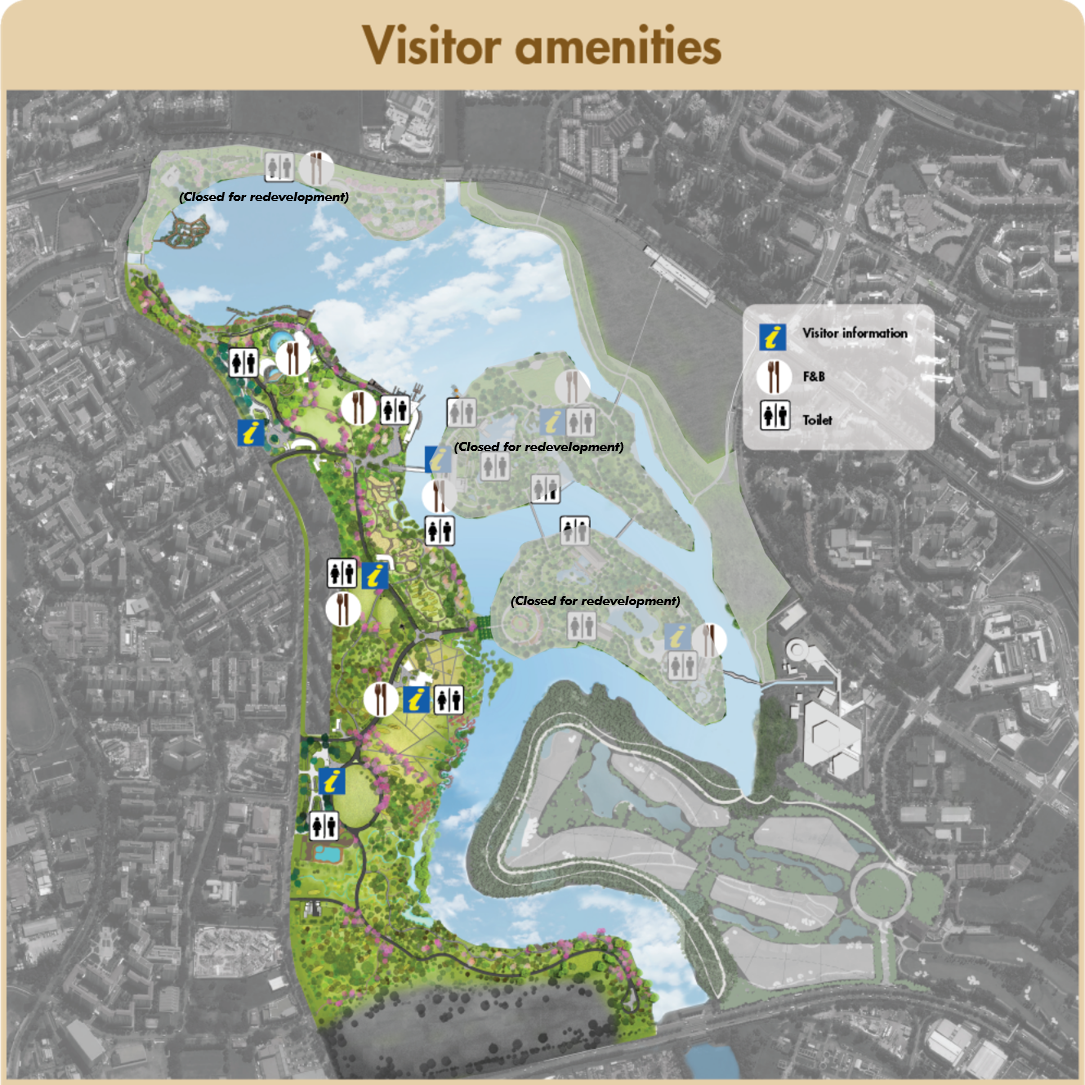 Visitor information kiosks, toilets and a range of F&B options will be available for visitors throughout the Gardens.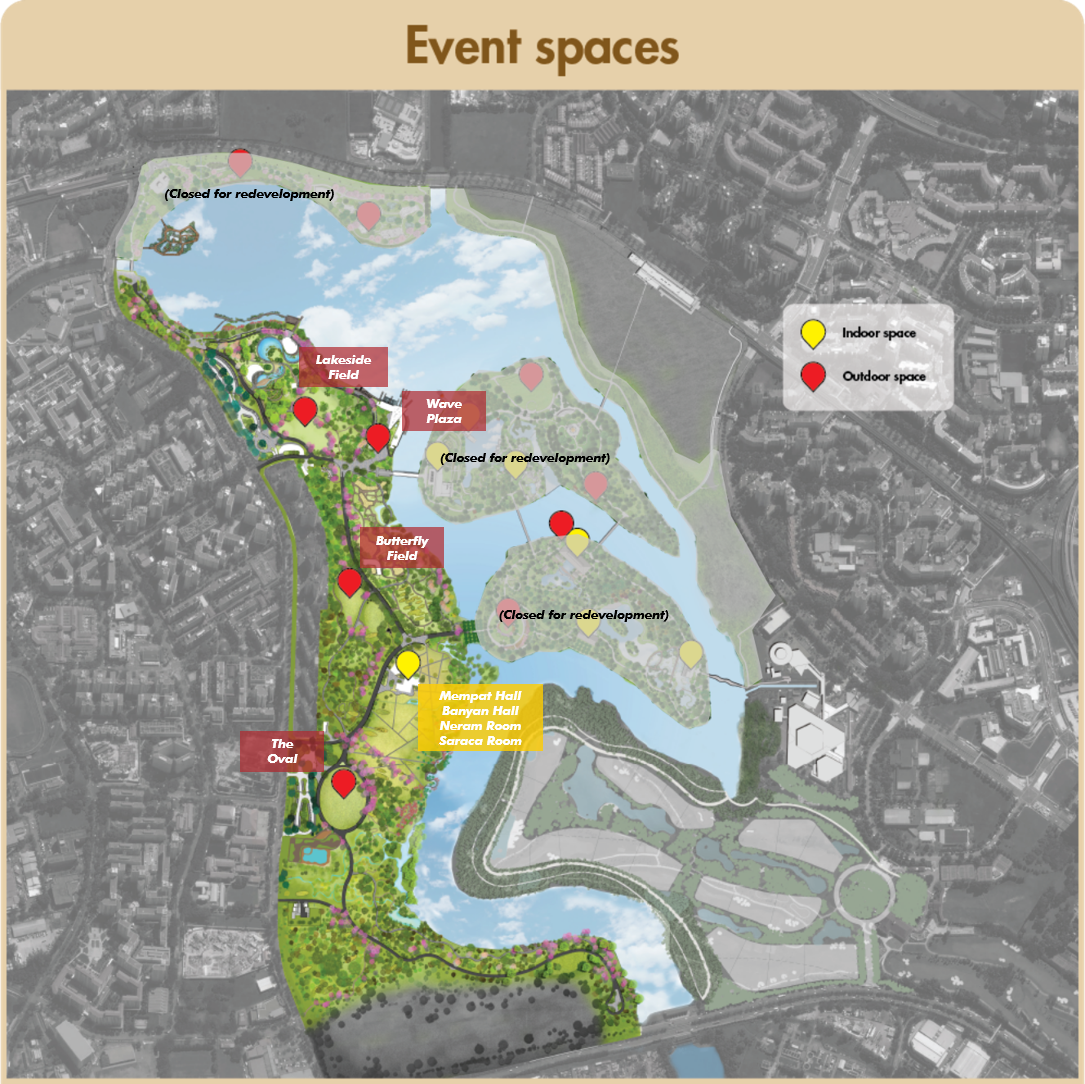 There will be indoor and outdoor spaces for a range of activities and events at the Gardens.
Jurong Lake District
Jurong Lake Gardens is located within the larger Jurong Lake District, which is shaping up as a vibrant commercial district. Jurong Lake District will have two precincts:
• Jurong Gateway
• Lakeside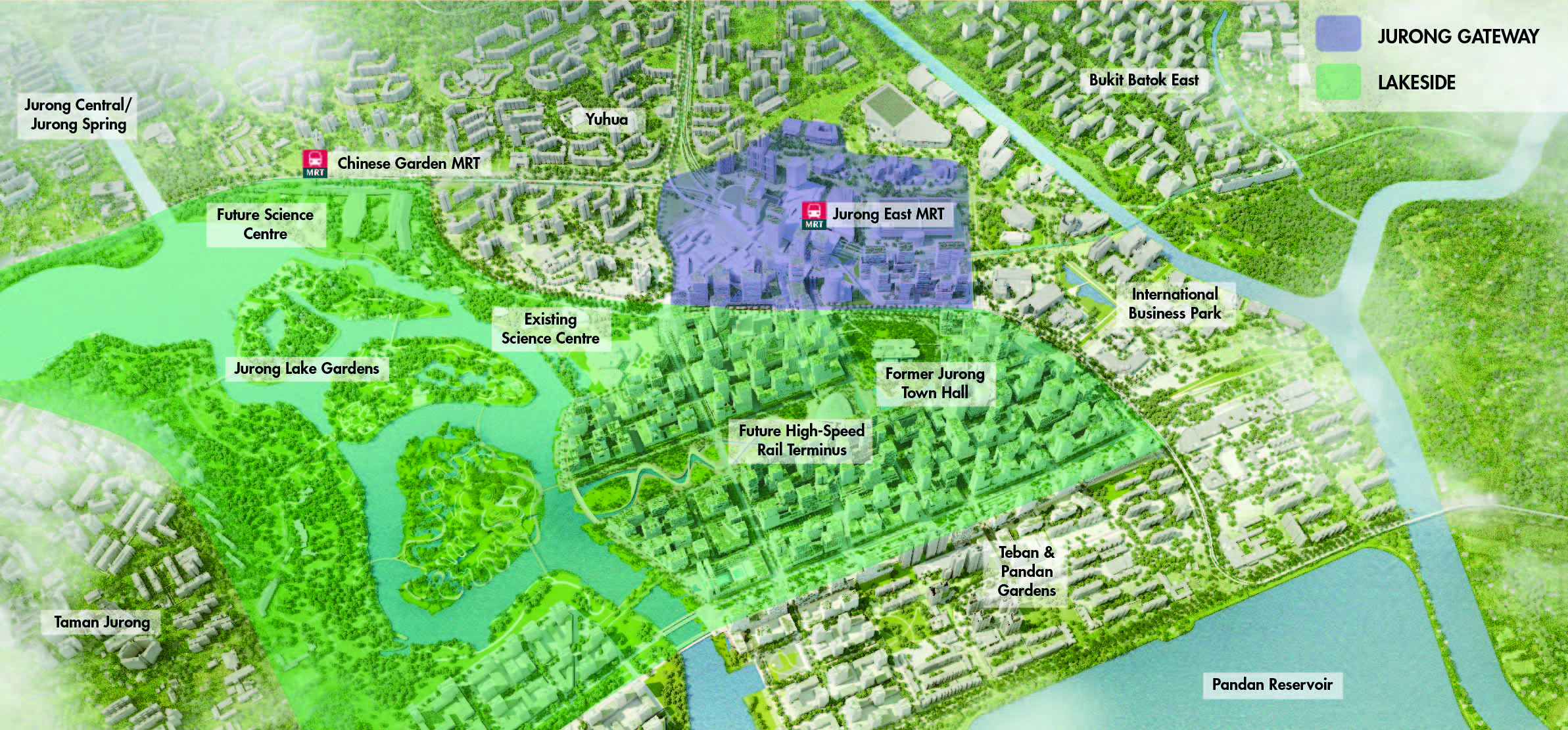 Jurong Lake Gardens contributes to the identity of Jurong Lake District, which is envisioned as a district of gardens and water. The green spaces and waterways will extend from the Gardens into the district. It will eventually comprise 100 hectares of green spaces, 70 hectares of water bodies and 17 km of waterfront areas for social and community activities, as well as spaces for recreation, retail and F&B outlets.
For more information, please visit jld.gov.sg.
Sustainability
Zero Energy Buildings
In 2018, Building and Construction Authority (BCA) launched the new Green Mark scheme for Super Low Energy (SLE) and Zero Energy Buildings (ZEB). Jurong Lake Gardens aspires to be a showcase of sustainability. The Gardens took up the challenge of operating its main buildings with zero energy. A Waste-to-Energy (WTE) system will be implemented to convert the Gardens' horticultural waste into electricity to power these buildings. Apart from electricity, horticultural waste will be converted into biochar for use in the Gardens. Thermal energy generated in the process can also be used to power water heaters.
Water systems
To promote climate resilience, water-sensitive urban designs have been incorporated in the Gardens. Being located around the lake, Jurong Lake Gardens has many features such as swales and bioretention basins to cleanse the water runoff from the rain. Rain water is then collected in the inland ponds and harvested to water the plants within the Gardens. The water is also circulated through biotopes and phytoremediation ponds, which clean the water over time. These water systems help to maintain the water quality in the inland ponds and prevent algal blooms.

Smart Technology
An Integrated Management System (IMS) will be implemented at Jurong Lake Gardens. IMS will aid in the monitoring and control of multiple systems in an automated and centralised manner. This is commonly used for buildings, where it is known as a Building Management System (BMS). This is the first time such a system is implemented in a park or garden. There are plans to eventually implement this across the Jurong Lake District and in various parks throughout Singapore.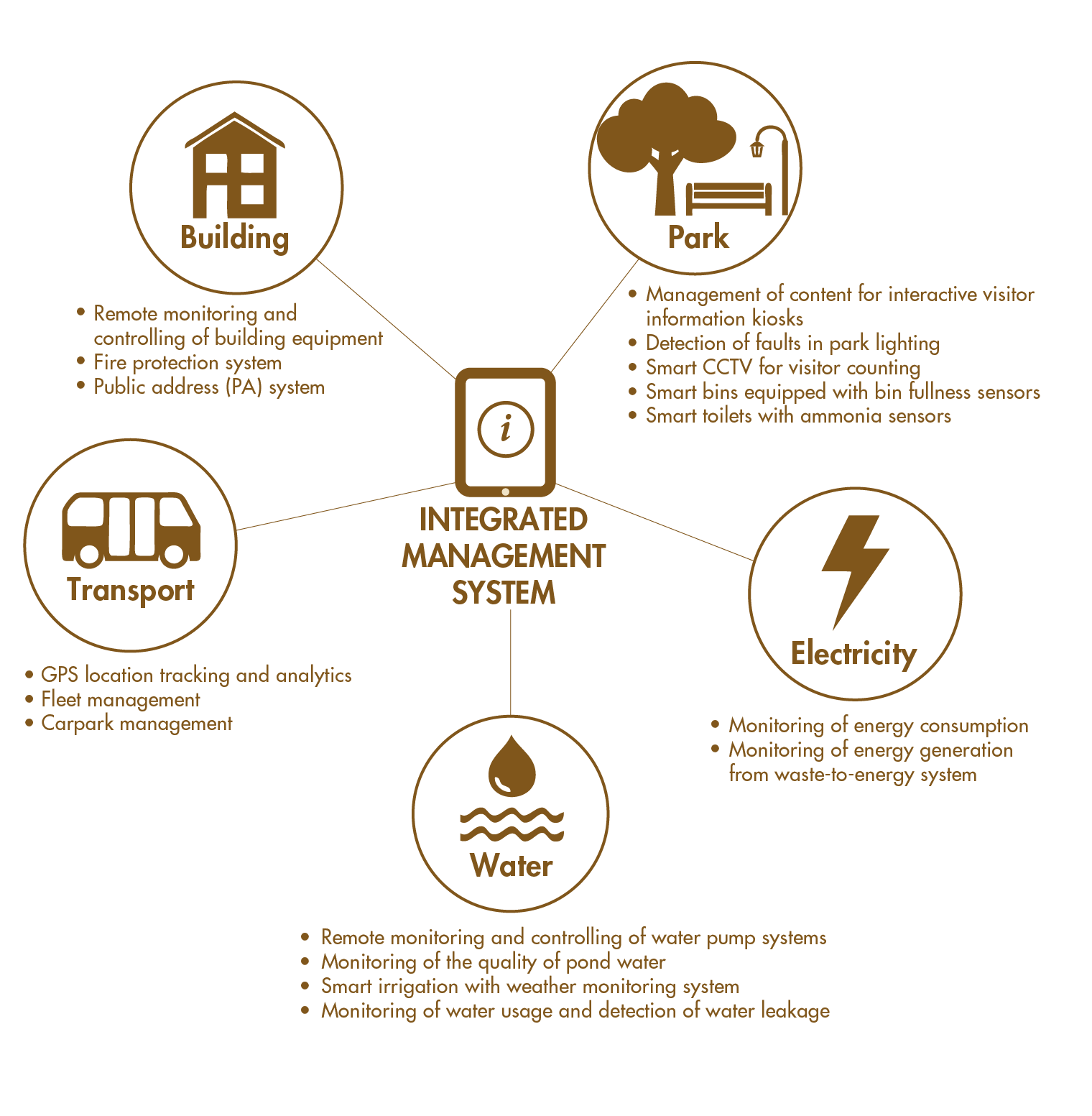 The Gardens will showcase a new method of construction using Mass Engineered Timber (MET), which is more sustainable and productive. MET comprises engineered wood products with improved structural integrity. The building components are prefabricated off-site and assembled on-site, thus reducing construction time and improving productivity. Its high strength-to- weight ratio makes it easier to handle than steel and concrete, allowing it to be installed more easily in a shorter amount of time. MET buildings can be built four times faster than a concrete building, with less noise, cranage and waste. MET can also help save on material use as it can be left exposed without the need for finishing material to be applied over it. The Multi-Purpose Hall will be built in GLULAM (a type of MET) which has the unique capability to span large distances without the need for supporting columns.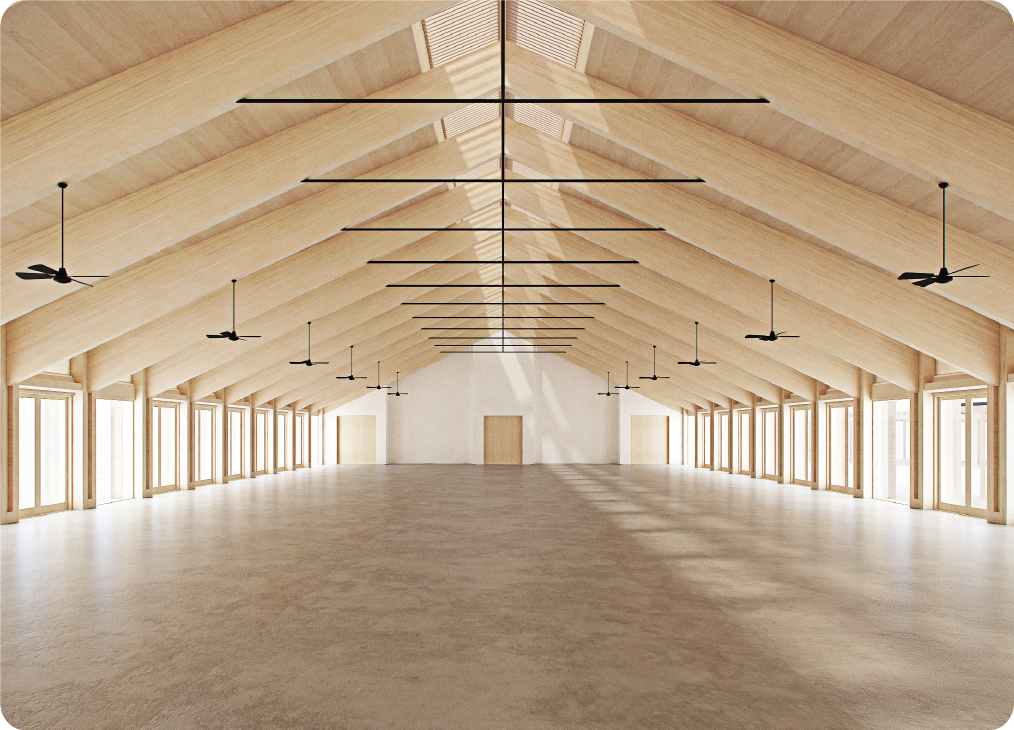 The interior of the Multi-Purpose Hall shows the beauty and functionality of MET.