Haven for History and Natural Heritage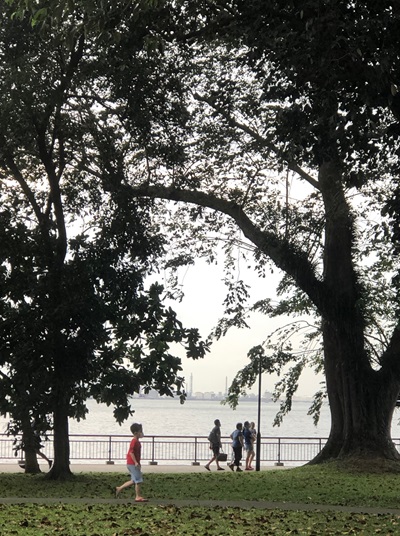 Photo credit: Felix Siew
Located in the southern part of Singapore is the Labrador Nature Reserve. With a prime vantage point of the cliff-side vegetation and a picturesque view of the sea, the 22-ha green space is an oasis of tranquillity and offers a unique view of Fort Siloso on Sentosa.

But there are so much historical and natural wonders in the Reserve, just waiting to be discovered. Here are some things about Labrador Nature Reserve you may not know!


A Strategic Defence Site
Back in World War II, the Labrador Nature Reserve was used as a fort with underground ammunition storerooms. The British had identified it as a good defence site to protect the entrance to the harbours of Singapore.

In fact, Labrador was identified by the British as one of Singapore's strategic defence sites as early as 1843. The fortification of the site was believed to have started in 1878, in conjunction with Fort Siloso on Sentosa which lies opposite Labrador.

In the 1930s, more powerful guns were introduced and upgrading to fortification and underground complexes were carried out. Unfortunately, these guns failed to defend Singapore against the Japanese in the war.




Today, you can explore the historical trails in the Reserve and surprise yourself with encounters of some of the relics and ruins of machine gun posts and artillery pieces that date back to WWII. Keep a lookout for informative signs that will help you appreciate and understand the historical significance of the park.

Beware the Dragon's Teeth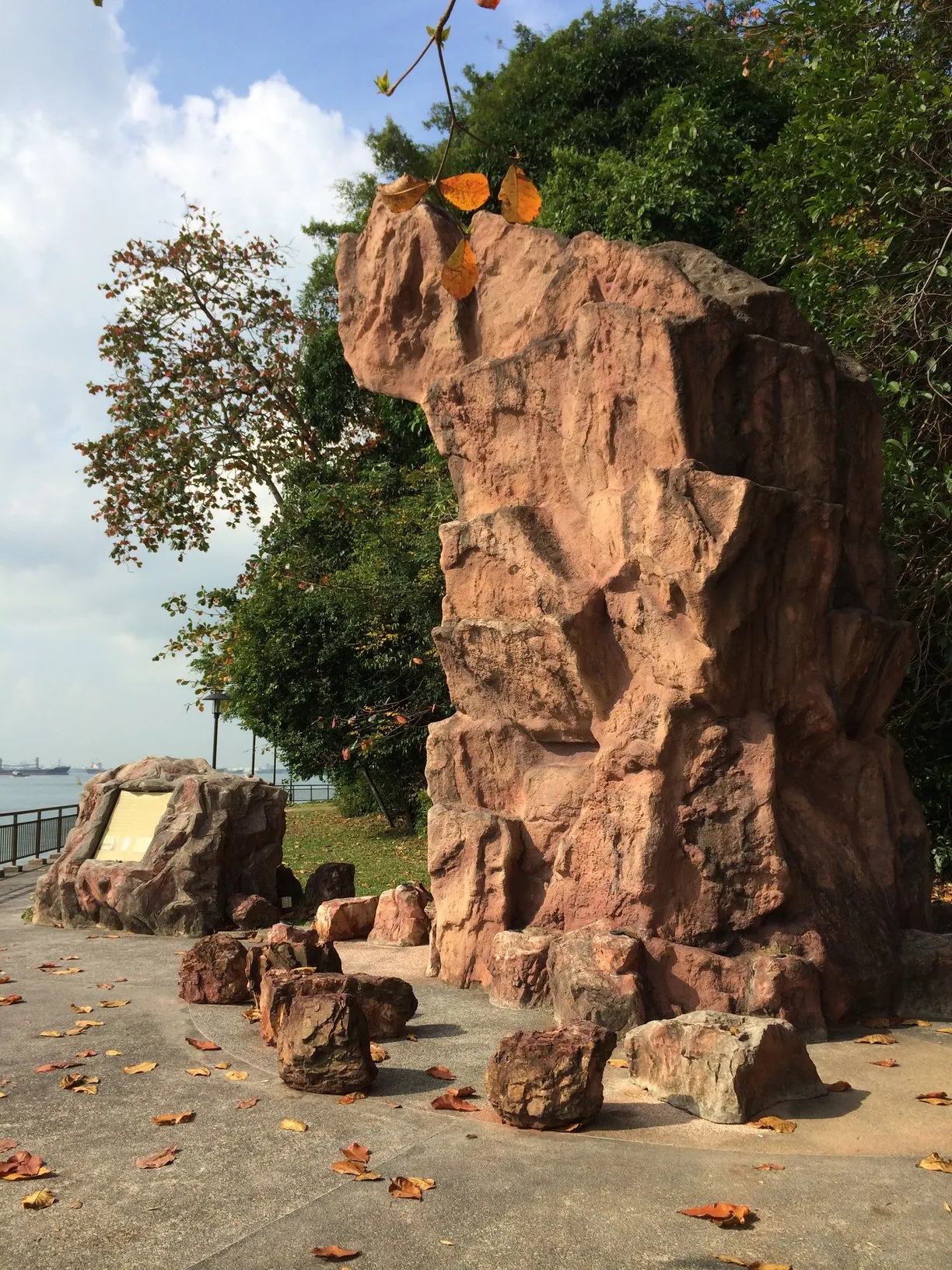 Recreation of Long Ya Men in Labrador Nature Reserve


The British were not the first to recognise the geological importance of this spot. According to historical records, in 1349, a Chinese historian named Wang Da Yuan recorded two natural rock outcrops that stood in the waters at the southern most tip of Singapore, then known as Temasek.

Records show that he said, "The strait runs between two hills from the Dan Ma Xi (Temasek) natives, which look like dragon's teeth". These rock outcrops where hence known as Long Ya Men, or Dragon's Teeth in Mandarin.

It is also believed that in 1405, the great Chinese navigator, Zheng He, sailed by Temasek with over 300 ships and 28,000 men, using Long Ya Men as one of the key landmarks on his navigation charts.

In 1819, the first Resident of Singapore, William Farquhar, found a deepwater harbour at the site. This is today Keppel Harbour. But in 1848, Long Ya Men was blown up by the British to widen the gateway of the channel into Keppel Harbour.

A symbolic recreation of Long Ya Men, installed in 2005, now stands near its original point within Labrador Nature Reserve. During your next visit, take time to pause under its shadow and remember it as yet another key bookmark in Singapore's history.

Stepping into the Past
As you walk along the promenade and admire the spectacular view of the sea and southern islands, take a moment to consider that this area used to be part of the old Pasir Panjang, or Long Beach. In the late 19th century, this stretch used to be the site of popular seaside homes and private pavilions, part of a seaside resort.

However, in the late 1930s, the British felt that this beach (Pasir Panjang) would be an easy place for the enemy to land. By 1940, the jetties and pavilions were replaced by machine gun posts and barbed wire obstacles, and the beach ceased to be a place of recreation.

Want to take more steps back in time? The newly opened phase 1 of Pasir Panjang Park, located close to Pasir Panjang MRT station, was constructed in the area that was part of this sandy beach, marking the former shoreline of Singapore. You can find sandy vegetation in the Park, reminiscent of the area's coastline. There are also mooring bollards and other unique maritime artefacts found in the Park, donated by PSA Singapore.

This Park is co-designed and co-created with the community, as part of the NParks Friends of the Park initiative. It will eventually connect West Coast Park to Labrador Nature Reserve, part of the Greater Southern Waterfront that will extend from Pasir Panjang to Gardens by the Bay East.

Unique Habitat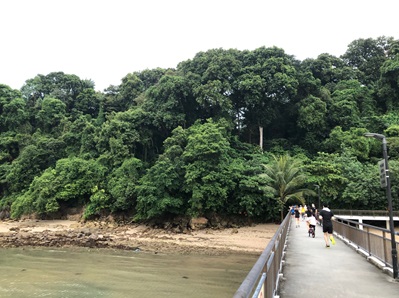 Coastal Hill Forest at Labrador Nature Reserve (Photo credit: Felix Siew)

One of the rare and unique habitats in Labrador Nature Reserve is its coastal hill forest. The 10-ha coastal hill forest houses plants that grow on land adjacent to the sea and are tolerant to salt exposure and poorer soil conditions.

Its forest canopy consists mainly of tall Sea Apple Trees (Syzygium grande) and some Sea Almond Trees (Terminalia catappa). The crown of the Sea Apple is dense with massive widespread branches and thick, leathery leaves. The tree itself can grow up to 30 m tall, producing white flowers and fruits that are oblong and fleshy.

Commonly known as Ketapang or Sea Almond, this common fast-growing tree can grow up to 25 m in height with a spreading pagoda-shaped crown. Its big leaves are arranged in rosettes and it produces greenish-white flowers. Its fruits are also oblong, but flattened and thick. Its name is derived from the almond taste of the seed.

New Efforts to Safeguard the Reserve
As part of efforts to safeguard and enhance the Reserve, NParks will be replanting its slopes with suitable native species, including the critically endangered Broad-leaf Fern (Dipteris conjugata). The edges of the coastal hill forest are also being extended through the planting of native coastal plants.

Furthermore, a coastal beach forest about 2.5-ha in size, will be restored between the coastal hill forest and the sea. This will provide a significant physical and ecological buffer for the coastal hill forest, as well as increased sources of food and shelter for the fauna of the Reserve and its surrounding environment.

The area will be planted with native species suited to the coastal environment. Keppel Corporation had pledged S$3 million through the Garden City Fund (GCF) to contribute to the planting of 10,000 trees as part of the OneMillionTrees movement, about half of which will be at Labrador Nature Reserve and will help to restore the coastal beach forest.
Keppel Corporation has also contributed S$1 million through GCF to support the development of a new Keppel Coastal Trail at Labrador Nature Reserve. The Keppel Coastal Trail will weave through the coastal beach forest and be curated with information boards to allow visitors to learn more about coastal habitats, while providing views of the sea from vantage points along the trail.
These measures will further strengthen the ecological and climate resilience of these coastal habitats, a key part of the work done to support the Singapore Green Plan 2030.

Walk on Water… Almost
As you soak in Labrador's history and natural heritage, make sure you also visit its mangrove and coastal areas. The 2.1 km Labrador Nature & Coastal Walk comprises three distinct segments – Berlayer Creek mangrove trail, Bukit Chermin Boardwalk and Alexandra Garden Trail – for a wonderful day out.
Stop by the lookout points at Berlayer Creek to observe the surrounding mangroves and get closer to the rich biodiversity. At low tide, try to spot the stick-like fish, the Halfbeak (Family Hemiramphidae). Make sure to look up and catch a glimpse of the Brahminy Kite (Haliastur indus) soaring in the sky.
While on the 330 m Bukit Chermin Boardwalk, you get to cross the mouth of Berlayer Creek and walk along the coastal foothill of Bukit Chermin. You can enjoy different views, of the expansive waters of Keppel Harbour, the lush greenery of Bukit Chermin hill and the distant rocky cliffs of Sentosa island.

During high tide, the low-lying boardwalk will bring you close to the water surface where schools of fishes can be seen. While at low tide, you can spot seagrass beds and different species of crustaceans on the extensive mudflat which is a habitat that supports a wide variety of marine organisms.

If you are still yearning for more adventure, head up towards Alexandra Garden Trail via Port Road. Designed as a linear garden, you may cycle or jog on the paths which meander around mature roadside trees, flowering plants and foliage plants. As you journey along the trail, why not unplug yourselves from your mobile devices and appreciate the nature around you. Take a deep breath as you experience the fragrance of scented plants such as Flaming Beauty (Carphalea kirondron), Flowering Banana (Musa coccinea), and Paradise Flower (Caesalpinia pulcherrima).
Making Your Way to Labrador Park
Nearest MRT Station
Labrador Park MRT station.
Opening hours
It is opened from 7 am to 7 pm daily. Entering or remaining in the nature reserve after 7 pm is strictly prohibited.
Learning More About Our City in Nature
Over the years, NParks has created a green network comprising roadside planting and a Park Connector Network that links up parks and other green spaces. Skyrise greenery dot developments while biophilic design has been adopted in restoring habitats.

But as Singapore continues to urbanise, the growing infrastructure will put increasing pressure on the established green cover. Coupled with climate change and more extreme weather conditions, this will result in higher urban temperatures and the increased risks of localised flooding events. Our City in Nature vision works to ensure the city develops in a way that continues to provide a high-quality living environment for residents while ensuring Singapore remains a distinctive global city.


Learn more about City in Nature here.


Visiting Our Green Spaces
When visiting any of our green spaces, do the right thing and be socially responsible. Maintain a safe distance from other park goers and keep to not more than five persons in a group, with no intermixing between groups. Always wear a mask except when you are engaged in strenuous exercise or when consuming food, drink or medication.

Do check out the visitorship levels of our parks using our safe distancing portal before you head down and avoid the ones with high visitorship.

Visit NParksSG, our refreshed YouTube Channel that serves as a one-stop repository for close to 300 video resources. It also provides you a platform for existing and future digital outreach including DIY gardening and related crafts, virtual tours of our green spaces, and livestream events.
For more information about the flora and fauna found in Singapore, please visit NParks Flora and Fauna Web.
If you like what you read, follow us on Facebook, Instagram and Telegram to get the latest updates.


Text by Charlyn Ng and Felix Siew


About the writer
Charlyn Ng is an undergrad at the Wee Kim Wee School of Communication and Information. She is currently in her third year and specialises in Media Research and Analytics. Ever since starting her internship with NParks, Charlyn has been heavily involved in collecting and analysing data from various NParks' social media platforms. Her efforts are focused on increasing the public awareness towards Singapore's biodiversity. She also conceptualised and organised photoshoots and wrote articles about NParks conservation initiatives.