A Sensory Experience in Nature
The mantra for good health and happiness commonly starts with embracing nature and surrounding yourself with scenic greenery and its flora and fauna. With more than 80 hectares to explore, the Singapore Botanic Gardens is a commonly favoured park for its verdant green spaces that the family can enjoy together.

Keen to engage in a multi-sensory experience? The Fragrant Garden at the Singapore Botanic Gardens serves as a wonderful sensory green space offering an aromatic experience and visual treat for all visitors. Afterwards, pick up lovely gifts from the Gardens Shop with its extensive collection of exclusive nature-inspired gifts and collectibles.


Orchid Tea
Fragrant, rejuvenating, and full of natural goodness, the Orchid Tea Gift Set features a delicate blend using the finest tea leaves and enhanced with orchid petals for the perfect tea drinking experience. Exclusively available at the Gardens Shop, it comes in three signature variations of Orchid Red Tea, Orchid White Tea and Orchid Gold Tea, making it a truly unique gift.

The Gardens Shop has just opened new tea bars at the Nassim Gate and Tanglin Gate outlets. Beat the heat and pop by for a refreshing cold brew tea! Enjoy different variations of tea flavours including fruity ones like Blissful Berries and Lychee Fiesta, to soothing flavours inspired by nature, like the Healing Garden Tea.

More tea selections will be added to our range of specially curated blends to create unique sensory experiences at each visit. Get ready for a tea-riffic time!


Plantlets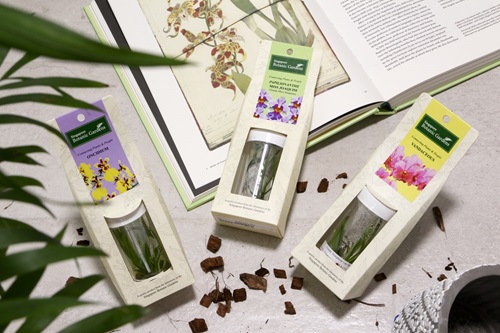 A natural mood booster, plants not only create a visually pleasing display, but they also enhance our senses of sight, smell and touch.

Why not pick up some plantlet kits from the Gardens Shop? A fun kit for the green-fingered, especially for beginners, it is the perfect gift for anyone who wants to grow an orchid in their homes. Available in various orchid breeds, there's something for everyone.

Here are some planting tips: Plantlets should be transferred into a pot with drainage and given plenty of light and warmth. Replant annually for best results and ensure your plant is protected from direct sunlight.


Singapore Botanic Gardens 2022 Calender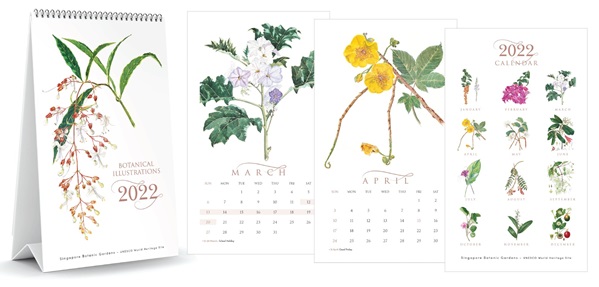 As 2021 starts to wind down, we are preparing to welcome a new year with the beautiful Singapore Botanic Gardens 2022 calendar.
The botanical watercolours featured in this calendar were painted between 1894 and 1949 by artists James and Charles de Alwis, Jean Kinloch Smith and Juraimi bin Samsuri. These artworks are part of the Gardens' archives which include more than 2,000 botanical paintings, as well as hundreds of sketches, line drawings and photographs.

Since March 2021, a selection of the best and most representative artworks in the Gardens' collections has been on display in the newly opened Botanical Art Gallery . Located within the Gallop Extension, the gallery is housed in one of the Gardens' two black and white houses designed by British architect Regent Alfred John Bidwell.

Retailing at S$13.00, pick up your copies from the Gardens Shop or shop online. You also have the chance to win this desk calendar by participating in our contest .
You may check these items out at the Gardens Shop in the Singapore Botanic Gardens or view these products on www.botanicgardensshop.sg .