Blooming Botanicals
A testament to Singapore's vision as a City in Nature, the Singapore Botanic Gardens is over 160 years old and is the only tropical botanic garden listed as a UNESCO World Heritage site. A destination renowned by locals and tourists alike, it offers the perfect green sanctuary for rest and relaxation, as well as the perfect environment for anyone to learn more about nature.
The Garden Shops serve as the perfect retreat after a long walk. Pick up lovely nature-inspired gifts ranging from botanical accessories to uniquely Singaporean delectable treats, suitable for every occasion.
Botanical V-Neck Cotton T-shirt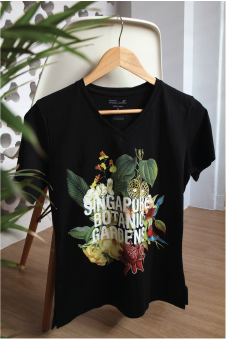 Did you know that the garden is not only a home to plants of vibrant blooms and lush greenery, but also many fascinating birds, squirrels, butterflies and dragonflies?
Inspired by the enchanting range of flora and fauna found in the Gardens, this botanical-themed T-shirt features exclusive prints of plants and birds, making it an ideal gift for the nature lover. Made from 100% cotton, the T-shirt is very light and comfortable to wear in any weather. Explore our range of gifts at the Garden Shops and check out T-shirts in other prints and colours to fit your wardrobe.

Purple Orchid Table Runner
Pick up homewares that will enliven your living space. This functional yet elegant table runner featuring orchid blooms in beautiful shades of Magenta will help elevate the design and style of your dining table and bring a touch of botanical beauty into your home.
Can get enough of orchids? Be enthralled by an abundance of flowers, foliage and scents at the National Orchid Garden. The Tropical Montane Orchidetum showcases the most diversity of orchids found in tropical montane forests, in a single location in Singapore.

It comprises three display houses – the Sembcorp Cool House, Tan Hoon Siang Mist House, Yuen Peng McNeice Bromeliad Collection, as well as the surrounding outdoor display areas that showcase lowland forest and stream habitats, and a Secret Ravine that emulates habitats that can be found in deep, narrow valleys of tropical mountains.

Safe Management Measures have been put in place for the safety of all visitors. Please expect waiting times of 1 to 2 hr to enter the National Orchid Garden during peak hours.

You may check these items out at the Gardens Shop in the Singapore Botanic Gardens or view these products on www.botanicgardensshop.sg.