Living in a City in Nature
Love greenery and nature? With more than 350 parks and gardens and four nature reserve, there's always a green space nearby to enjoy.

Living in a City in Nature means that nature envelops you and you can get the physical and mental benefits of having nature within steps of where you work or live. In fact, by 2030, there should be a park within a 10-minute walk from every home. Do try to spend some time basking in nature, and see how this City in Nature can benefit you. Here are five everyday spots of greenery anyone can enjoy today.


(1) Nature Ways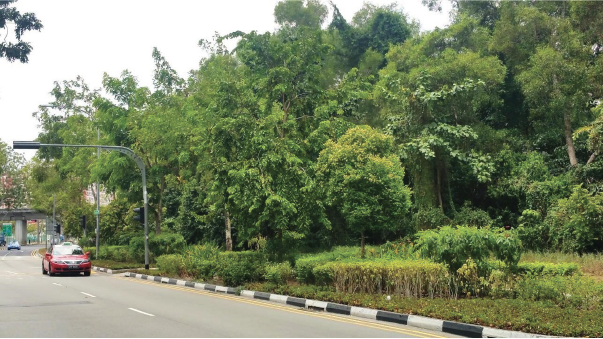 Did you know that there are four layers – canopy, emergent, shrub and understory – in a Nature Way such as this one found in Tampines?

Nature Ways are routes following roadsides that are planted with specific trees and shrubs to facilitate the movement of animals like butterflies and birds between two green spaces. With strengthened ecological connectivity, this also helps to sustain a healthy natural eco-system.

In fact, Nature Ways are designed to replicate the natural structure of forests and re-create habitats like those found in natural forests for birds and animals. Greenery along these routes are also enriched with flowering plants that attract butterflies and support their breeding. This tiered planting structure cools the area, resulting in more pleasant walks for people and enables them to get closer to different types of biodiversity and to be more appreciative of them.
Find out more about the four layers – canopy, emergent, shrub and understory – in a Nature Way here.

An example is the Kheam Hock Nature Way. Completed in 2013, it connects the Central Catchment Nature Reserve to the Singapore Botanic Gardens. Species that were planted along this Nature Way includes the Nipis Kulit, a tree that attracts native birds.

Different communities chipped in to help construct this Nature Way, including the residents of Kheam Hock, members of Nature Society (Singapore) and students from the nearby Singapore Chinese Girls' School. This exemplifies the importance of stewardship in transforming our city into one that provides quality living for both wildlife and residents.

Currently, there are 39 Nature Ways in Singapore, stretching some 150 km in total. By 2030, NParks aims to increase this to 300 km.
(2) Park Connectors
With its verdant greenery, the Ulu Pandan Park Connector is a great place to enjoy nature while linking you to nearby sites.


The Park Connector Network is an island-wide network of linear green spaces that connects natural, cultural, historical and recreational sites and links communities together.

With a large interlinking network of park connectors, you can easily park hop while indulging in various fun and recreational activities. Get on a bicycle, put on a pair of rollerblades or simply walk or jog along the park connectors as you feel the cool breeze and admire the picturesque rivers and canals that link you to the major parks in Singapore.

There are five main loops – Central Urban, Eastern Coastal, Northern Explorer, North Eastern Riverine and Western Adventure – that cover more than 340 km, and you can look forward to an additional 160 km of park connectors by 2030.
Consider visiting the Central Urban Loop that spans 36 km, encompassing central estates of Singapore, including Whampoa, Toa Payoh and Bishan. It provides direct access to various parks such as Punggol Park, Bishan-Ang Mo Kio Park and Kallang Riverside Park. Along the route, look out for flora species such as the Rosy Trumpet (Tabebuia rosea) and Tamarind (Tamarindus indica) as well as try to spot the Striated Heron (Butorides striata) or White-bellied Sea Eagle (Haliaeetus leucogaster) hunting for prey.
Find out more about park connectors here.

(3) Nature Parks
You can take a trip back in time and admire kampung ruins in Thomson Nature Park, while soaking in its lush greenery.


Most of us are familiar with our four nature reserves – Bukit Timah, Central Catchment, Labrador and Sungei Buloh Wetland Reserve. They safeguard primary and secondary rainforests and are core habitats for precious native biodiversity. And by being primary providers of ecosystem services, they also help supply us with clean air and water.

Buffering these nature reserves are more than 350 ha of forested areas known as nature parks. Besides extending Singapore's natural capital, these parks serve as complementary habitats and buffers to protect the nature reserves against the impact of urbanisation and human activities. They also provide expanded habitats for Singapore's native flora and fauna, to thrive beyond the nature reserves.

What's more, there is a range of activities we can enjoy doing in these nature parks, with minimal disturbance to the nature reserves. For example, the adventurous can try out the 8.2 km mountain biking trail at Chestnut Nature Park that has varying levels of difficulties. Meanwhile visitors to Thomson Nature Park can take to its trails to catch a glimpse of carefully conserved kampung ruins, the site of a former Hainan Village. All nature parks also offer excellent bird-watching opportunities, for us to get closer to the feathered residents of Singapore.


Currently, there are seven nature parks found within the Central Nature Park Network. The recent establishment of the Sungei Buloh Nature Park Network adds to it, acting as a buffer to Sungei Buloh Wetland Reserve. This second park network includes Kranji Marshes, Kranji Coastal Nature Park, Mandai Mangrove and Mudflat, and will strengthen the conservation of wetland biodiversity in the northwestern part of Singapore.

Visitors can soon enjoy three more nature parks – Rifle Range, Lim Chu Kang and Mandai Mangrove and Mudflats – that are slated to open soon. NParks will continue to grow the Nature Park Network and aims to have an additional 200 ha of nature parks by 2030. Learn more about the Nature Parks Network and Nature Corridor here.

(4) Therapeutic Gardens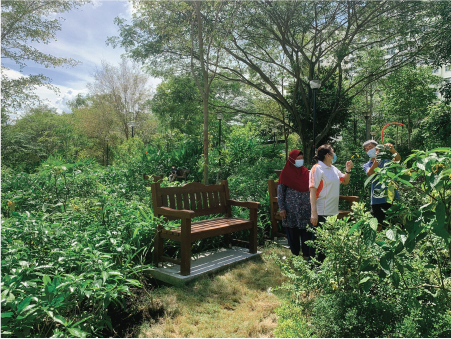 The therapeutic Garden at Punggol Waterway Park is a good green space to relax, unwind and let spending time in nature improve your well-being.


Need a quick escape from the stresses of work and school? Head to a Therapeutic Garden. These green spaces are specially designed to meet the physical, psychological and social needs of visitors, incorporating design principles derived from scientific evidence.

For example, plants are selected to evoke our senses and ignite our memories. Different leaf colours, textures and scents help to engage our sight, touch and olfactory, allowing you to destress and improve your well-being.

Moreover, plants that elicit a calming effect are selected for restorative spaces, whilst those in the active spaces within the Therapeutic Gardens come in warm bright colours to energise the users. Gardens are thus able to offer physical and emotional comfort for visitors.

You may also sign up to be part of the Therapeutic Horticulture Programme that uses plants and nature-related activities to maximise the benefits of a therapeutic garden! NParks runs workshops, suitable for elderly groups, persons with dementia and other special needs, that are led by trained guides.


There are currently six Therapeutic Gardens across Singapore: at HortPark, Bishan-Ang Mo Kio Park, Choa Chu Kang Park, Tiong Bahru Park, Telok Blangah Hill Park and Punggol Waterway Park.
Residents can look forward to 30 such gardens by 2030. Learn more about Therapeutic Gardens here.
(5) Nature Playgardens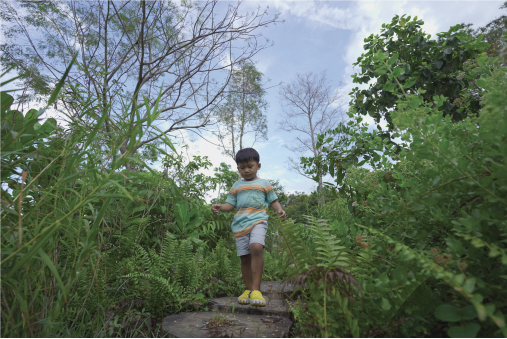 When children play in nature, such as this Nature Playgarden in Coastal PlayGrove in East Coast Park, it helps develop their sense of adventure and discovery.
Most children have an innate connection to nature and nature playgardens are the ideal settings for them to play and explore in a natural habitat. Using natural materials and comprising curated play features, nature playgardens enable children to choose what and how to play, thus developing a sense of adventure and discovery, and increasing their self-esteem and independence.

Families can head over to HortPark – its playgarden features nine play features created based on biophilic design principles. Natural materials such as wood, bamboo, sand and gravel are used in all these features. For more adventure, check out the playgarden at Jacob Ballas Childrens' Garden in the Singapore Botanic Gardens. At 4 ha, it is the biggest children's garden in Asia, with attractions for children up to 14 years old. Kids can explore the multiple eco-systems simulated in this site.

Just a stone's throw away is the COMO Adventure Grove located within the Gallop Extension in the Singapore Botanic Gardens. Inspired by the distinctive parts of trees found within the Gardens, this playgarden is designed so that children can swing, slide and climb on structures resembling the aerial roots of the Weeping Fig (Ficus benjamina) or scramble over the warty surface of a giant Cempedak (Artocarpus integer).

Click here to locate a nature playgarden near your home and look out for even more as NParks expands the network, for children to enjoy play while benefitting from connecting with nature.
Learning More About Our City In Nature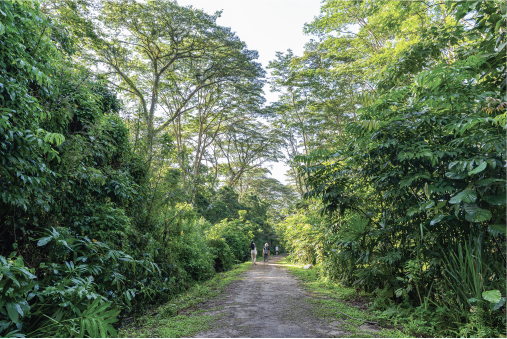 Over the years, NParks has created a green network comprising roadside planting and a Park Connector Network that links up parks and other green spaces. Skyrise greenery dot developments while biophilic design has been adopted in restoring habitats.

But as Singapore continues to urbanise, the growing infrastructure will put increasing pressure on the established green cover. Coupled with climate change and more extreme weather conditions, they will result in higher urban temperatures and the increased risks of localised flooding events. Our City in Nature vision works to ensure the city develops in a way that continues to provide a high-quality living environment for residents while ensuring Singapore remains a distinctive global city.

Learn more about City in Nature here.



Visiting our Green Spaces
When visiting any of our green spaces, do the right thing and be socially responsible. Maintain a safe distance from other park goers and keep to not more than two person in a group, with no intermixing between groups. Always wear a mask except when you are engaged in strenuous exercise or when consuming food, drink or medication.

Do check out the visitorship levels of our parks using our safe distancing portal before you head down and avoid the ones with high visitorship.

Visit NParksSG, our refreshed YouTube Channel that serves as a one-stop repository for close to 300 video resources. It also provides you a platform for existing and future digital outreach including DIY gardening and related crafts, virtual tours of our green spaces, and livestream events.
For more information about the flora and fauna found in Singapore, please visit NParks Flora and Fauna Web.
If you like what you read, follow us on Facebook, Instagram and Telegram to get the latest updates.

Text by Sarah Anne Tan and Felix Siew


About the writer
Sarah Anne Tan is a third year Communications and Media Management student from Temasek Polytechnic. As part of her school's Student Internship Programme, she was attached to the NParks' Communications and Community Engagement department for five months. During this time, she contributed ideas towards social media posts, produced videos and wrote articles for NParks Buzz.