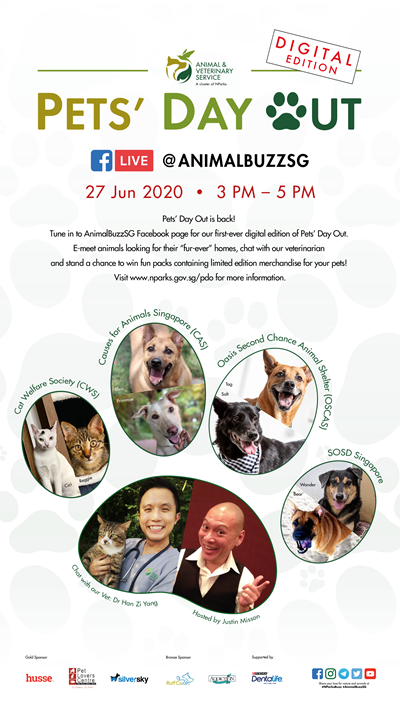 AVS is bringing Pets' Day Out back! This time, right in the comforts of your home.
Make a date with us for our very first digital edition where our Animal Welfare Group (AWG) partners Cat Welfare Society (CWS), Causes for Animals Singapore (CAS), Oasis Second Chance Animal Shelter (OSCAS) and SOSD Singapore showcase some of their loveable animals looking for 'fur-ever' homes!
If you've got a burning question about your pet, get ready to ask away during the live chat with our vet, Dr Han Zi Yang!
You can also contribute to the AWGs fundraising efforts by visiting their pages below as a small 'thank you' for their heart and work in taking care of the animals.
Tune in to our AnimalBuzzSG Facebook page on Saturday, 27 June from 3pm to 5pm and stand to win fun packs containing limited edition merchandise, including goodies for your furry friends, courtesy of Addiction Foods, Husse, Pet Lovers Centre, Purina, RuffCo and Silversky!
Contribute to the Animal Welfare Groups' (AWG) fundraising efforts!


Action for Singapore Dogs (ASD)
Website: http://asdsingapore.com/
Facebook: https://www.facebook.com/asdsingapore/
Donations: https://www.giving.sg/web/action-for-singapore-dogs
Shop: http://www.asdsingapore.com/gift-shop


Animal Lovers League (ALL)
Website: https://www.animalloversleague.com/
Facebook: https://www.facebook.com/animalloversleague.sg/
Donations: https://www.giving.sg/web/animal-lovers-league


Cat Welfare Society (CWS)
Website: https://www.catwelfare.org/
Facebook: https://www.facebook.com/catwelfaresg/
Donations: https://www.giving.sg/cat-welfare-society
Shop: https://catwelfare.store/

Causes for Animals Singapore (CAS)
Website: https://www.causesforanimals.com/
Facebook: https://www.facebook.com/causesforanimalsSG/
Donations: https://www.giving.sg/causes-for-animals-singapore-ltd


Exclusively Mongrels (EM)
Website: https://www.exclusivelymongrels.org/
Facebook: https://www.facebook.com/exclusivelymongrels/
Shop: https://www.exclusivelymongrels.org/shop
House Rabbit Society Singapore (HRSS)
Website: https://houserabbitsocietysingapore.wordpress.com/
Facebook: https://www.facebook.com/FHRSS/
Donations: https://www.beary.com.sg/380-house-rabbit-society-singapore-hrss
Shop: https://m.facebook.com/FHRSS/albums/1852626494777173/
Mercylight (ML)
Website: https://mercylight.wixsite.com/mercylight
Facebook: https://www.facebook.com/MercylightAdoption/
Donations: https://www.giving.sg/mercylight-animal-rescue-and-sanctuary-limited_41669811
Noah's Ark Cares (NAC)
Website: https://www.noahsarkcares.com/
Facebook: https://www.facebook.com/nacaressg/
Donations: https://www.giving.sg/noahs-ark-companion-animal-rescue-education-society


Oasis Second Chance Animal Shelter (OSCAS)
Website: https://www.oscas.sg/
Facebook: https://www.facebook.com/oscas.sg/
Donations: https://www.giving.sg/oscas


Purely Adoptions (PA)
Website: https://purelyadoptions.com/
Facebook:https://www.facebook.com/purelyadoptions/
Donations: https://purelyadoptions.com/donate-to-purely-adoption/
Shop: https://www.facebook.com/Purely-Adoptions-Shop-893345524037776/


SOSD Singapore (SOSD)
Website: https://sosd.org.sg/
Facebook: https://www.facebook.com/SOSDSingapore/
Donations: https://www.giving.sg/save-our-street-dogs
Society for the Prevention of Cruelty to Animals Singapore (SPCA)
Website: http://www.spca.org.sg/
Facebook: https://www.facebook.com/spcasingapore/
Donations: https://www.giving.sg/society-for-the-prevention-of-cruelty-to-animals
Voices for Animals (VFA)
Facebook: https://www.facebook.com/VFASIN/
Donations: https://www.giving.sg/web/vfa