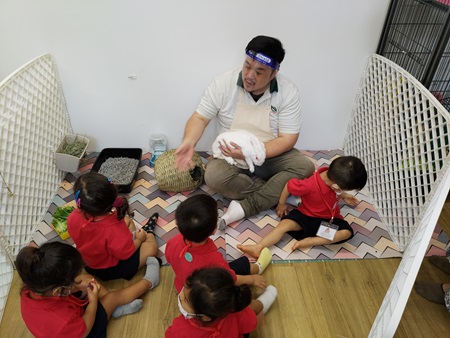 Through our educational programmes, students will learn about how they can contribute to a sustainable urban ecosystem where humans and animals live in harmony. Topics covered will provide an understanding on animal welfare, being responsible to our pets and community, and identifying the type of animals that can be kept as pets. This is our commitment to create a society that is aware, compassionate and caring in our City in Nature.


Learning Journey at The Animal Classroom (Jacob Ballas Children's Garden)
In this programme, students will visit the animal classroom and meet rescued pets that are currently in AVS' care. Students will learn what it takes to be a good pet owner and why only certain types of animals should be kept as pets. They will also get to observe a demonstration of cleaning, feeding and grooming for various pet animals, and understand the importance of caring for a pet collectively as a household.

Target level: Pre-schools
Location: Jacob Ballas Children's Garden
Duration: 45 minutes (only available on Tuesday and Thursday, excluding public holidays)
Group Size: 15 to 20 students per group
Sign up:
AVS_Engage@nparks.gov.sg
Pre-School Kit
AVS has developed a pre-school kit titled "Discovering Pets", which consists of a Teacher's Guide and Student Activity Book targeted at pre-school kindergarten children. The Kit aims to:
Promote better understanding of animals

Develop care and compassion towards animals; and

Teach students on being responsible pet owners
Teachers can download it for free and use it as a teaching tool for the children:
Teachers Guide: Discovering Pets
Student Activity Book

We would appreciate your feedback on the Kit. Please submit them through this link: https://go.gov.sg/avspreschkit. Alternatively, you may also submit your feedback via the QR code below:
Resources
Getting a pet can be very exciting. You will be welcoming a new family member that could be in your home for many years. Therefore, it's very important to keep your pet happy, healthy and comfortable. Find out more on how to take care of your fur friends in our "Basic Pet Care Series".
Basic Pet Care Series: Dogs
Basic Pet Care Series: Cats
Basic Pet Care Series: Rabbits
Basic Pet Care Series: Hamsters
Basic Pet Care Series: Guinea Pigs
Basic Pet Care Series: Chinchilla
Basic Pet Care Series: Terrapin
Find out how you can encourage considerate behaviour to the environment and people around us by exploring the links below.