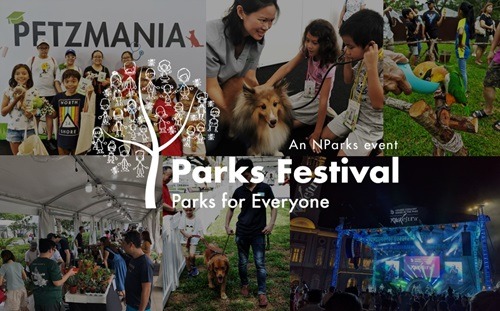 Parks Festival returns after a three year break! Over one weekend on 23 and 24 September 2023 at West Coast Park, look forward to a cumulation of NParks' signature programmes and activities that are offered in our parks and nature spaces throughout Singapore.

Themed 'Parks for Everyone', we invite one and all to partake in the wide range of offerings ranging from Arts & Culture, Gardening, Nature, Pets & Wildlife, Sports & Wellness, the Marketplace featuring 100 vendors, to the popular NParks Concert Series in the Park: Rockestra®.
Event timing
23 Sep (Sat), 10am to 10pm
24 Sep (Sun), 10am to 5pm

For more information, visit the Parks Festival Website!
Join us at the various activities happening! *By registration only
23 Sep 2023 (Sat)
*Workshop: Petzmania
3 sessions: 10am to 11am | 11am to 12pm | 12pm to 1pm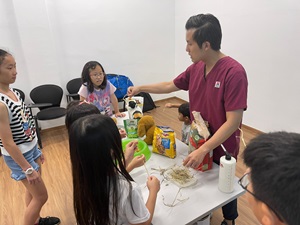 A signature programme at Pets' Day Out, Petzmania is a hands-on workshop designed for children to learn about animal health and nutrition through role-playing. As junior vets, children could learn about basic animal anatomy, common illnesses and injuries, and how to provide basic care for pets. As junior nutritionists, they could learn about the nutritional needs of different animals and how to create balanced diets for pets. Join us as your children learn about animal health and nutrition while also developing important skills such as empathy and responsibility in a fun and educational way!
Registration link: https://go.gov.sg/petzmania23sep2023
*Demonstration: Let's Train without Pain!
3 sessions: 10.30am to 11.30am | 12.30pm to 1.30pm | 3pm to 4pm (4 dogs to a group)
Trainers: June Lim, ADT, ACDT, Fear Free Certified Professional, from A Smiling Leash | Yap Shi Ying, ADT, ACDT, FDM from Click With Dogs | Candy Lim-Soliano, ADT, ACDT, Fear Free Shelters Graduate, from Kaizen 4 Dogs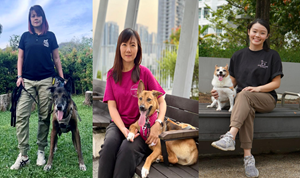 Did you know that an innocent-looking slip leash could potentially cause damage to your dog's tracheal simply by "popping the leash"? The real question is - do you need to inflict pain just to walk your dog "nicely" on a leash? Well, the good news is, science has shown us that there are better ways to work with animals. If you've been struggling with walking your dog while on leash - or simply want to learn how to effectively teach your dog functional life skills in an ethical and fun way, this session is for you!

Join IAABC-Accredited Dog Trainers from A Smiling Leash, Click With Dogs, and Kaizen 4 Dogs, to learn modern techniques that don't hurt your beloved pet or damage the relationship you have with them. Bring your dog along for a hands-on session focusing on the fundamentals of using positive reinforcement with reward-based training methods - you'll be clued in on how to motivate your dog better, build trust together, and enjoy a stronger bond with your lifelong animal companion! Workshop includes:
Registration link: https://go.gov.sg/train-without-pain23sep2023

Come Chat with the Trainers too if you have questions on basic obedience training and socialization! The trainers could provide advice based on your dog's breed, age and temperament.
Time: 10am to 6pm
Talk: "Hands off!" Understanding and Addressing Resource Guarding in Dogs
Time: 3pm to 4pm
Speaker: Ms Chong Qi Ai, Senior Manager and Mr Webster Cheong, Manager, Centre for Animal Rehabilitation, AVS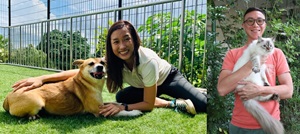 Ever wondered why your furry friend gets a little too possessive over their stuff? Join us for a 40-minute chat about the ins and outs of resource guarding in dogs. We'll break it down, share some tips and effective strategies for prevention and management.
*Workshop: Hamster Pebble Adoption
2 sessions: 4pm to 5pm | 5pm to 6pm
Ages: 3 to 12 years old
Conducted by Hamster Society Singapore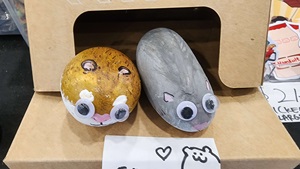 Want to learn about responsible hamster ownership in a fun way? Join the Hamster Society Singapore in creating little rock hamsters to take home as an introduction in learning how to keep pet hamsters! Parents are welcomed to join in! Limited slots available.
Registration link for session 1: https://go.gov.sg/pebblehamster4pm
Registration link for session 2: https://go.gov.sg/pebblehamster5pm


24 Sep 2023 (Sun)
Demonstration

*Talk: Dogs in Translation
Time: 10am to 11am
Trainers: Candy Lim-Soliano, ADT, ACDT, Fear Free Shelters Graduate, from Kaizen 4 Dogs | Liu Xiao Xuan, IAABC-ADT and AVS Accredited Certified Dog Trainer, Allies of Dogs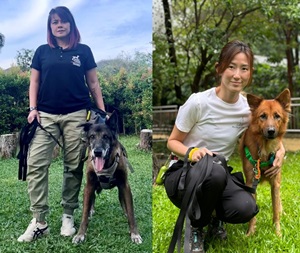 Do you find yourself often wondering about how your dog is feeling, what his tail wag means, or if he's doing zoomies because he's having a really great time? And what's with that "guilty look" Fido is giving - did he chew up another pair of shoes? Whether you're a first-time pet guardian or have had the pleasure of living with companion dogs for years, learning to understand what your pet is saying can give you a lot of useful information, such as when they are spooked or anxious about what is going on, or when they are stressed out and may snap at someone.

The good news is, our dogs are speaking to us ALL the time! And although you may not "speak dog", your dog's body language communicates their emotional state and intentions to others around. Join Candy (Kaizen 4 Dogs) and Xuan (Allies of Dogs) at this insightful talk and learn how to interpret your dog's body language so that you'll be able to better support your own pet and build a stronger bond with them!
Registration link: https://go.gov.sg/dogs-in-translation24sep2023


Talk: Obesity in Pets
Time: 11am to 12pm
Speaker: Dr Suria Fabbri, Veterinarian & Co-founder of Pawkit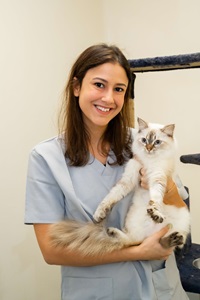 Obesity is a common problem in pets, and it can lead to a variety of health issues such as diabetes, joint problems, and heart disease. Learn from this talk on how to prevent and address obesity in pets, which requires a combination of healthy food choices, regular exercise, and monitoring of food intake. By taking these steps, you can help your pet maintain a healthy weight and avoid health issues associated with obesity!


*Storytelling - Freddy the Dogged Rescuer
2 sessions: 3pm to 4pm | 4pm to 5pm
Speaker: Swapnil Mishra, Adjunct Teaching Mentor, Singapore Management University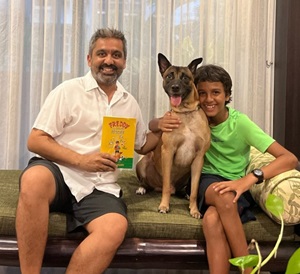 Storytelling to children is a fun and engaging way to teach children about the importance of responsible pet ownership. Join us in this captivating storytelling session that introduces young audiences to the heartwarming tale of Freddy, a 10-year-old boy, who embarks on a journey of empathy, patience, and enterprise as he adopts a dog named Wally from an animal shelter. The narrative delves into themes such as adopting versus buying, integrating into a new family, adapting to unforeseen challenges, and the power of collaboration with friends. Real-life events inspired this touching story, making it relatable and thought-provoking.
Registration link for session 1: https://go.gov.sg/freddystorytelling3pm
Registration link for session 2: https://go.gov.sg/freddystorytelling4pm
Other activites happening:
- Adoption drive and merchandise booths by Animals Lovers League (ALL), Purely Adoptions (PA), SOSD, Exclusively Mongrels (EM), Causes for Animals (CAS), Society for the Prevention of Cruelty to Animals (SPCA) and Action for Singapore Dogs (ASD).

- Chat with a Groomer by Takara Pets | 24 Sep 2023, 10am to 2pm
Regular grooming can ensure your pets' well-being such as keeping their coat and skin healthy, prevent matting and tangling, and reduce the risk of skin infections. Chat with a groomer to find out how you can take care of your pet daily grooming necessities, including nail trimming and ear cleaning!

- Chat with a Vet | 23 Sep 2023, 10am to 6pm | 24 Sep 2023, 2pm to 5pm
Come meet our vets! Pet owners can can seek advice from the vets on pet-related issues on a first-come-first-serve basis.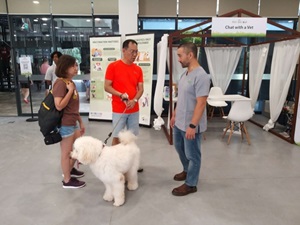 Please note that your presence and/or participation at events organised by the National Parks Board constitutes your consent to be photographed, video and/or audio recorded for any media or other purposes including public transmission or promotional purposes, without payment or claim to copyright or other intellectual property rights.
Missed the past Pets' Day Out Live Webinar? Tune in here!
4 Dec 2021
Get valuable tips from Dr Suria Fabbri (AVS) on preparing and providing for your pet with the best care in their final days, and learn about animal antimicrobial resistance from Dr Zhan Pei Heng (AVS)!

18 Sep 2021


Get valuable tips from Dr Audrey Chen from the Animal & Veterinary Service on what to expect when welcoming a new fur-mily member and what to look out for in a puppy.

Equip yourself with the know-how to identify fake news on pet health! Hear from Dr Chow Haoting (Singapore Veterinary Association and vet at the SPCA Community Clinic) and learn how to recognise pet health truths.
Contribute to the Animal Welfare Groups' (AWG) fundraising efforts!
Action for Singapore Dogs (ASD)
Website: http://asdsingapore.com/
Facebook: https://www.facebook.com/asdsingapore/
Instagram: https://www.instagram.com/spcasingapore/
Donations: https://www.giving.sg/web/action-for-singapore-dogs
Shop: http://www.asdsingapore.com/gift-shop


Animal Lovers League (ALL)
Website: https://www.animalloversleague.com/
Facebook: https://www.facebook.com/animalloversleague.sg/
Instagram: https://www.instagram.com/animalloversleague.sg/
Donations: https://www.giving.sg/web/animal-lovers-league

Bunny Wonderland Singapore (BW)
Website: https://bunnywonderlandsg.com/
Facebook: https://www.facebook.com/BunnyWonderlandSg
Instagram: https://www.instagram.com/bunnywonderlandsg/?hl=en
Donations: https://bunnywonderlandsg.com/about-us/help-us

Cat Welfare Society (CWS)
Website: https://www.catwelfare.org/
Facebook: https://www.facebook.com/catwelfaresg/
Instagram: https://www.instagram.com/catwelfaresociety/
Donations: https://www.giving.sg/cat-welfare-society
Shop: https://catwelfare.store/

Causes for Animals Singapore (CAS)
Website: https://www.causesforanimals.com/
Facebook: https://www.facebook.com/causesforanimalsSG/
Instagram: https://www.instagram.com/causesforanimals_sg/
Donations: https://www.giving.sg/causes-for-animals-singapore-ltd


Exclusively Mongrels (EM)
Website: https://www.exclusivelymongrels.org/
Facebook: https://www.facebook.com/exclusivelymongrels/
Instagram: https://www.instagram.com/exclusivelymongrels/
Shop: https://www.exclusivelymongrels.org/shop
Hamster Society Singapore (HSS)
House Rabbit Society Singapore (HRSS)
Website: https://houserabbitsocietysingapore.wordpress.com/
Facebook: https://www.facebook.com/FHRSS/
Instagram: https://www.instagram.com/houserabbitsocietysingapore/
Donations: https://www.beary.com.sg/380-house-rabbit-society-singapore-hrss
Shop: https://m.facebook.com/FHRSS/albums/1852626494777173/
Mercylight Animal Rescue and Sanctuary
Website: https://mercylight.wixsite.com/mercylight
Facebook: https://www.facebook.com/MercylightAdoption/
Instagram: https://www.instagram.com/mercylightsg/
Donations: https://www.giving.sg/mercylight-animal-rescue-and-sanctuary-limited_41669811
Noah's Ark Cares (NAC)
Website: https://www.noahsarkcares.com/
Facebook: https://www.facebook.com/nacaressg/
Donations: https://www.giving.sg/noahs-ark-companion-animal-rescue-education-society


Oasis Second Chance Animal Shelter (OSCAS)
Website: https://www.oscas.sg/
Facebook: https://www.facebook.com/oscas.sg/
Instagram: https://www.instagram.com/oscassingapore/
Donations: https://www.giving.sg/oscas


Purely Adoptions (PA)
Website: https://purelyadoptions.com/
Facebook:https://www.facebook.com/purelyadoptions/
Instagram: https://www.instagram.com/purelyadoptions/
Donations: https://purelyadoptions.com/donate-to-purely-adoption/
Shop: https://www.facebook.com/Purely-Adoptions-Shop-893345524037776/


SOSD Singapore (SOSD)
Website: https://sosd.org.sg/
Facebook: https://www.facebook.com/SOSDSingapore/
Instagram: https://www.instagram.com/sosdsingapore/
Donations: https://www.giving.sg/save-our-street-dogs
Society for the Prevention of Cruelty to Animals Singapore (SPCA)
Website: http://www.spca.org.sg/
Facebook: https://www.facebook.com/spcasingapore/
Instagram: https://www.instagram.com/spcasingapore/
Donations: https://www.giving.sg/society-for-the-prevention-of-cruelty-to-animals
Voices for Animals (VFA)
Facebook: https://www.facebook.com/VFASIN/
Donations: https://www.giving.sg/web/vfa