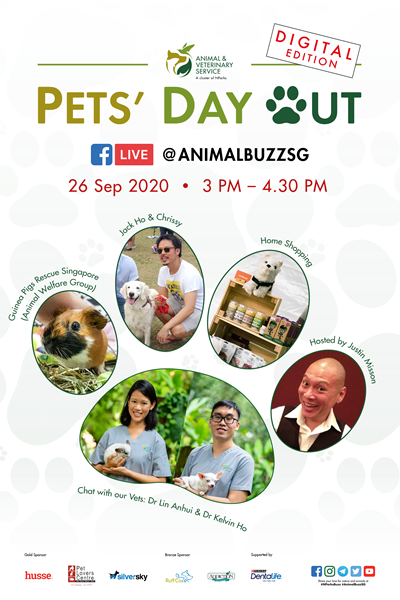 The September edition of e-Pets Day Out (e-PDO) honours the "Paw-neer" Generation! Get expert tips on how to care, feed, train and shop for your senior pets on 26 Sep, 3pm on AnimalBuzzSG.
Our vets Anhui and Kelvin will share tips on caring for your senior pets and also how to help your young pets age gracefully. You can also ask them any questions you may have about your pets during the live Q&A sessions!
Hear from special guest Jack Ho (of Jack and Rai) on his 13-year-old Golden Retriever named Chrissy, and the challenges and perks that come with having a senior pet.
Guinea Pig Rescue Singapore (GPRS), Singapore's first non-profit organisation for guinea pigs, will be joining us for the first time at this e-PDO. GPRS spokespersons Felicia and Anabelle will show you how senior guinea pigs make great pets and how to care for them, together with their co-stars the foursome 'paw-some' Lulu, Mian Mian, Milly and Nacho – two of which are looking for loving, 'fur-ever' homes! #AdoptDontShop
Also making its e-PDO debut is the Home Shopping segment, where you can shop for your furry friends in the comforts of your home! For this edition, we have pet food retailer Addiction Foods and pet accessories retailer RuffCo.
Contribute to the Animal Welfare Groups' (AWG) fundraising efforts!


Action for Singapore Dogs (ASD)
Website: http://asdsingapore.com/
Facebook: https://www.facebook.com/asdsingapore/
Instagram: https://www.instagram.com/spcasingapore/
Donations: https://www.giving.sg/web/action-for-singapore-dogs
Shop: http://www.asdsingapore.com/gift-shop


Animal Lovers League (ALL)
Website: https://www.animalloversleague.com/
Facebook: https://www.facebook.com/animalloversleague.sg/
Instagram: https://www.instagram.com/animalloversleague.sg/
Donations: https://www.giving.sg/web/animal-lovers-league


Cat Welfare Society (CWS)
Website: https://www.catwelfare.org/
Facebook: https://www.facebook.com/catwelfaresg/
Instagram: https://www.instagram.com/catwelfaresociety/
Donations: https://www.giving.sg/cat-welfare-society
Shop: https://catwelfare.store/

Causes for Animals Singapore (CAS)
Website: https://www.causesforanimals.com/
Facebook: https://www.facebook.com/causesforanimalsSG/
Instagram: https://www.instagram.com/causesforanimals_sg/
Donations: https://www.giving.sg/causes-for-animals-singapore-ltd


Exclusively Mongrels (EM)
Website: https://www.exclusivelymongrels.org/
Facebook: https://www.facebook.com/exclusivelymongrels/
Instagram: https://www.instagram.com/exclusivelymongrels/
Shop: https://www.exclusivelymongrels.org/shop
Hamster Society Singapore (HSS)
House Rabbit Society Singapore (HRSS)
Website: https://houserabbitsocietysingapore.wordpress.com/
Facebook: https://www.facebook.com/FHRSS/
Instagram: https://www.instagram.com/houserabbitsocietysingapore/
Donations: https://www.beary.com.sg/380-house-rabbit-society-singapore-hrss
Shop: https://m.facebook.com/FHRSS/albums/1852626494777173/
Mercylight Animal Rescue and Sanctuary
Website: https://mercylight.wixsite.com/mercylight
Facebook: https://www.facebook.com/MercylightAdoption/
Instagram: https://www.instagram.com/mercylightsg/
Donations: https://www.giving.sg/mercylight-animal-rescue-and-sanctuary-limited_41669811
Noah's Ark Cares (NAC)
Website: https://www.noahsarkcares.com/
Facebook: https://www.facebook.com/nacaressg/
Donations: https://www.giving.sg/noahs-ark-companion-animal-rescue-education-society


Oasis Second Chance Animal Shelter (OSCAS)
Website: https://www.oscas.sg/
Facebook: https://www.facebook.com/oscas.sg/
Instagram: https://www.instagram.com/oscassingapore/
Donations: https://www.giving.sg/oscas


Purely Adoptions (PA)
Website: https://purelyadoptions.com/
Facebook:https://www.facebook.com/purelyadoptions/
Instagram: https://www.instagram.com/purelyadoptions/
Donations: https://purelyadoptions.com/donate-to-purely-adoption/
Shop: https://www.facebook.com/Purely-Adoptions-Shop-893345524037776/


SOSD Singapore (SOSD)
Website: https://sosd.org.sg/
Facebook: https://www.facebook.com/SOSDSingapore/
Instagram: https://www.instagram.com/sosdsingapore/
Donations: https://www.giving.sg/save-our-street-dogs
Society for the Prevention of Cruelty to Animals Singapore (SPCA)
Website: http://www.spca.org.sg/
Facebook: https://www.facebook.com/spcasingapore/
Instagram: https://www.instagram.com/spcasingapore/
Donations: https://www.giving.sg/society-for-the-prevention-of-cruelty-to-animals
Voices for Animals (VFA)
Facebook: https://www.facebook.com/VFASIN/
Donations: https://www.giving.sg/web/vfa