Three Essential Herbs and Spices in Local Dishes
Geographically located at the centre of a network of trade routes, Singapore has played a vital role in the global herbs and spice trade for hundreds of years. Hailing from Indonesia, America, China and even all the way to Europe, it is no wonder that our cuisine is influenced by a blend of diverse ethnicities, traditions, and cultures.
The food we consume and the way it is prepared offer a glimpse into our heritage, as many of the traditional dishes and foods we enjoy locally today would taste very different, if not for our role in global history and cultural exchange.
Let's take a closer look at some of these herbs and spices that are used in a few of our favourite traditional delicacies!
Torch Ginger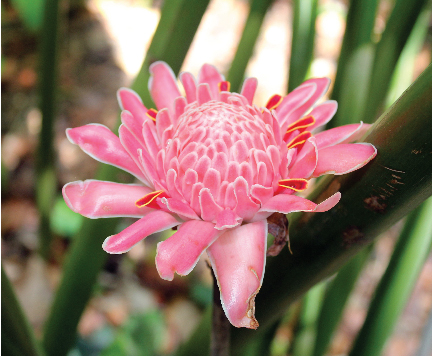 Photo credit: Pauline Tay
The Torch Ginger (Etlingera elatior) is a perennial herb native to Indonesia and Thailand. Its common name is derived from the bright-red or pink inflorescences with vibrant, showy bracts that shoot up from the ground to resemble a flaming torch. In fact, its true flowers are small, inconspicuous and yellow.
However, due to its striking inflorescence, the Torch Ginger is widely cultivated as an ornamental plant. It is also locally known as
bunga kantan
and grown commercially for its aromatic young flower buds that have a distinct floral, tangy taste. These flower buds are a key ingredient in dishes such as the Chinese rojak and Penang asam laksa.


Rojak, meaning "mixed" in colloquial Malay, is a traditional salad dish comprising fruits and vegetables tossed in a sweet and spicy sauce. Much like our country's cultural diversity, there are many variations of rojak found in Singapore, Indonesia and Malaysia that incorporate ingredients unique to the region or ethnic group.
A common sight in Singapore's bustling hawker centres is separate food stalls selling two different styles of rojak: Indian rojak and Chinese rojak. The latter incorporates fresh Torch Ginger that is thinly sliced and added into the sauce mixture, comprising lime juice, tamarind paste, prawn paste, sugar and chili. Crispy you tiao, beansprouts and ground peanuts are then tossed in this sauce.
Laksa, another Singaporean favourite, is a dish of Peranakan origin that contains Chinese and Malay influences. It is thick rice noodles, or vermicelli, served in a spicy broth. There have been many adaptations of laksa over the years. Incorporating the Torch Ginger is the Penang asam laksa. The Torch Ginger is grounded with other ingredients and fragrant herbs and spices to make a paste. This is then mixed into a tamarind and fish stock soup base to create an umami, sour, spicy and sweet broth.
Also commonly enjoyed by locals and tourists alike, is the Singapore-style Laksa or Nyonya Laksa. Its coconut-based broth has a creamier, spicy taste made of prawn-shell stock soup base, coconut milk and other spices. Notably, the herb that gives the dish its distinct aroma and taste is the Laksa Plant.
Laksa Plant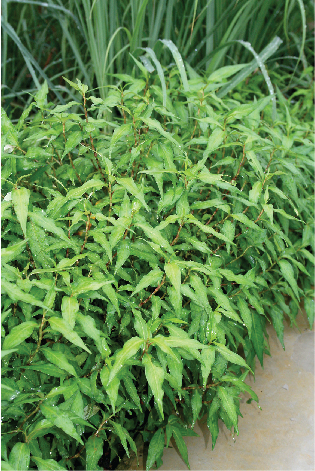 The Laksa Plant (Persicaria odorata) is a fragrant perennial herb in Southeast Asian culinary and is native to the region. It is easy to propagate via stem cuttings and can even be grown indoors in an area that receives filtered light, such as by the window, and in well-draining soils that is kept moist.
It is sold in bundles in local wet markets. However, since it does not keep fresh for long, the plant is commonly grown at home along corridors or in community gardens for fresh harvesting.
The Laksa Plant is described as having a minty taste with a blend of citrus and fragrant coriander, and a radish aftertaste. Also known as daun kesom in the Malay community, it is a must-have ingredient in traditional dishes, such as the Asam Pedas dish. Asam Pedas, which means "sour-spicy" in Malay, consists of Okras and a type of meat, often fish, that is stewed in fragrant, spicy and sour gravy and is usually eaten with rice.
Sawtooth Coriander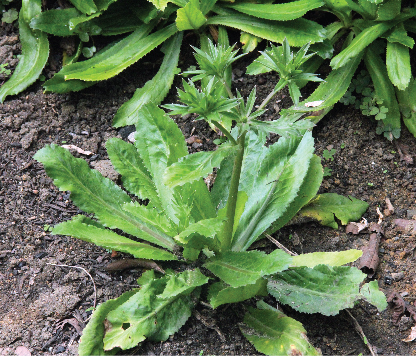 Photo credit: Pauline Tay
The scientific name for Sawtooth Coriander, Eryngium foetidum, translates to "foul-smelling thistle" in Latin. However, if the smell and taste of Coriander tickles your hunger, then you will like this perennial, self-sowing herb native to Mexico, the Caribbeans, and Central and South America.
The Sawtooth Coriander is a common herb grown in our community gardens as it is better adapted to Singapore's climate as compared to Coriander (Coriandrum sativum), It is also used as a coriander alternative in cooking due to its stronger flavour profile.
A dish that incorporates this herb is Thunder Tea Rice, otherwise known as lei cha. This is a traditional Hakka rice dish with servings of stir-fried vegetables, ground nuts and fried tofu that are drenched in a tea soup. The tea paste is made by pounding fresh ingredients such as the Sawtooth Coriander and other herbs together with peanuts, ginger, salt and tea leaves. Boiling water is then poured into the tea paste and served alongside a bowl of rice, with the side dishes served as toppings.
These three plants are easy to grow and make great additions to your home or community gardens for kitchen recipes and a garden-to-table experience. The next time you visit a coffee shop or hawker centre, try putting a finger on the type of herbs and spices used to make the delicious dish!


Join In Gardeners' Day Out
Participate from the comfort of your home with online activities such as talks and demonstrations, video tutorials of activities and promotions offered. Free guided tours will also be offered on site (with safe management measures). Enjoy Gardeners' Day Out online at www.nparks.gov.sg/GDO.

You can also enjoy our Gardening With Edibles Masterclass Series from your home. They are conducted by NParks horticulturists, focusing on unique and challenging edibles across different plant families.


Gardening with Edibles
The City in Nature vision seeks to bring greenery closer to all residents. The community plays a key role in the ownership and stewardship for nature which will benefit our health and well-being.

NParks is partnering residents to make Singapore our City in Nature and spark a love for community gardening through the Gardening with Edibles initiative under the Edibles Horticulture Masterplan. Since the initiative's launch in June 2020, some 860,000 free seed packets have been distributed to interested members of the public. The programme was established by founding partners DBS Bank and Tote Board through the Garden City Fund, a registered charity established by NParks. The most recent round of seed distribution, which took place in December 2021, was made possible by the programme's partner Singapore Post Limited, also through the Garden City Fund. Relevant resources are available online, to guide gardeners along the way.

The Gardening with Edibles initiative is aligned with Singapore's national strategy to strengthen our food resilience. The "30 by 30" goal, led by the Singapore Food Agency, aims to produce 30% of Singapore's nutritional needs locally by the year 2030.

Also, NParks is expanding the allotment gardening scheme and the Community in Bloom programme, to welcome even more residents into the gardening family.

Learning More
If you are a gardening newbie, visit NParksSG, our refreshed YouTube Channel that serves as a one-stop repository for close to 300 video resources. It covers topics ranging from types of soil needed for your garden and how to plant, harvest and even cook your edibles.
How can you make your garden more welcoming to bees? Learn more here.

Keep your garden safe from attack by insect pests. Learn more about five such common pests of edible plants here.

For more information about the flora and fauna found in Singapore, please visit Flora and Fauna Web.

If you like what you read, follow us on Facebook, Instagram and Telegram to get the latest updates.


Text by Ilaika Hamzah

About the writer
Ilaika Hamzah is a Community In Bloom manager in the Horticulture and Community Gardening Division. She engages gardening communities in housing estates, schools and organisations through conducting workshops and creating educational resources to grow their love for gardening. Ilaika enjoys experimenting with regrowing vegetable scraps at home to save herself a trip to the supermarket!