Back
Podocarpus neriifolius D. Don
| | |
| --- | --- |
| Family Name: | Podocarpaceae |
| Synonyms: | Margbensonia neriifolia, Nageia discolor, Podocarpus polyantha, Podocarpus neglecta, Podocarpus discolor, Nageia neriifolia |
| Common Name: | Mountain Teak, Brown Pine, Oleander Podocarp, Lowland Podocarp, Jati Bukit, Podo Bukit, Kayu China, Setada, Sentada, 百日青 |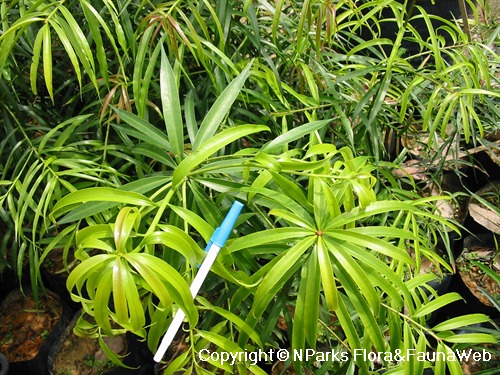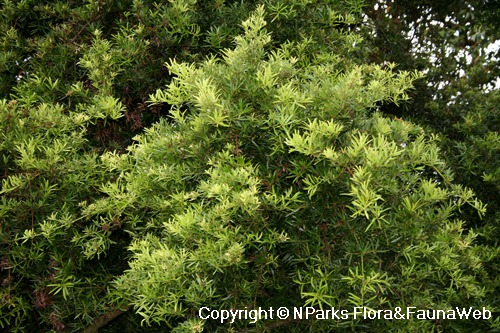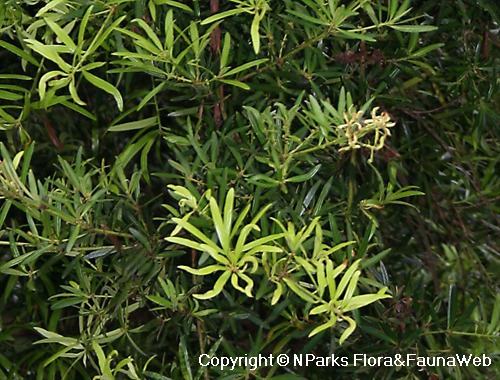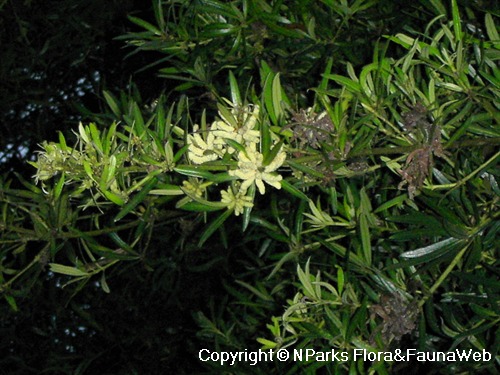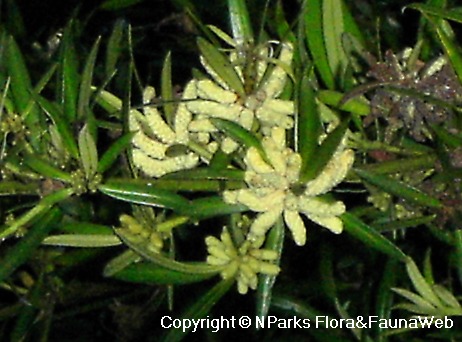 Name
| | |
| --- | --- |
| Family Name | |
| Genus Epithet | |
| Species Epithet | |
| Name Authority | |
| Name Status (botanical) | |
| Synonyms | |
| Common Names | |
| Comments | |
Classifications and Characteristics
| | |
| --- | --- |
| Plant Division | Gymnosperms (Non-Flowering Seed Plants) (Conifer) |
| Plant Growth Form | Tree (Big (>30m), Medium (16m-30m), Small (6m-15m), Shrubby (1m-5m)) |
| Lifespan (in Singapore) | Perennial |
| | |
| --- | --- |
| Mode of Nutrition | Autotrophic |
| Plant Shape | Rounded |
| Maximum Height | 3 m to 45 m |
| Tree or Palm – Trunk Diameter | 0 m to 1 m |
Biogeography
| | |
| --- | --- |
| Native Distribution | India, Sri Lanka, Nepal, Indochina, Philippines, Malaysia, Indonesia. Papua New Guinea |
| Native Habitat | Terrestrial (Primary Rainforest, Monsoon Forest) |
| Preferred Climate Zone | Tropical, Sub-Tropical / Monsoonal, Temperate |
| | |
| --- | --- |
| CITES Protection | True (Appendix III) |
Description and Ethnobotany
Others - Plant Morphology
Small to large evergreen coniferous tree. Non-flowering plant, whose naked seeds are not contained within protective confines of a fruit. 'Flowers' are actually unisexual cones, and the species is dioecious -- pollen-producing male cones and seed-bearing female cones are produced on different trees. Oval-shaped seeds sit on seed stalks, which becomes fleshy and reddish upon maturity.Genus name 'Podocarpus' is derived from the Greek words for foot and fruit, a reference to the swollen stalk or receptacle that holds the seed. Species epithet 'nerrifolius' means oleander-leaved.Regarded as valuable softwood timber tree. Inside of bark pleasantly aromatic.
Ethnobotanical Uses
Cultural / Religious ( Heritage Tree :                                                                                         There is currently one individual of Podocarpus neriifolius listed as a Heritage Tree in Singapore. It can be found at the Singapore Botanic Gardens. To find out more about this tree, please visit the Heritage Tree Register.)
[Others]: Wood used for construction, and making furniture, musical instruments, carvings, and paper. Timber tradename is Lowland Podocarpus.
Landscaping Features
| | |
| --- | --- |
| Desirable Plant Features | Ornamental Fruits, Fragrant (Bark) |
| Plant & Rootzone Preference - Tolerance | Disease / Pest Resistant |
| Landscape Uses | Container Planting, General, Roadside Tree / Palm, Coastal, Shade Providing Tree / Palm |
| | |
| --- | --- |
| Thematic Landscaping | Naturalistic Garden |
| SGMP Treatment | |
Species record last updated on: 18 February 2022.