Quarantine Management System
Quarantine Management System (QMS)
You can make online reservations for quarantine space via our Quarantine Management System. QMS is accessible 24/7, and allows you to:
Select available quarantine space based on your pet's intended arrival date.
Submit supporting documents online.
Receive e-mail updates on your application and billing status.
Correspond with us regarding quarantine matters.
The QMS starter guide is available for download here.


Reserving quarantine space on QMS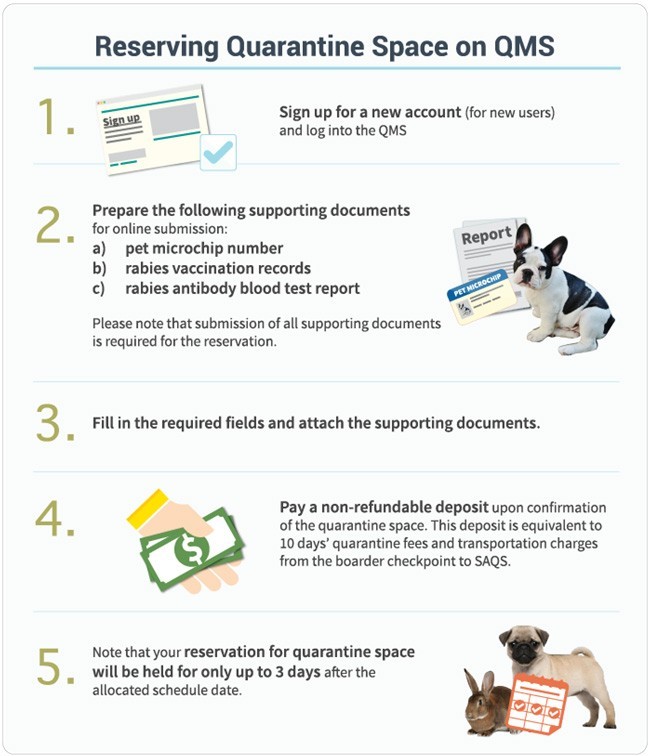 Changing reservation details
Make amendments to your confirmed reservation by logging into QMS and retrieving your reservation using your quarantine reservation code. All amendments are subject to our approval.
You can change various details in your booking. However, some amendments which affect the date of arrival or type of quarantine room may incur a S$65 amendment fee.
Fee schedule
More than 30 days before arrival date
Less than or equal to 30 days before arrival date
First amendment: Free.
All amendments: S$65 per amendment.
Subsequent amendments: S$65 per amendment.
Cancelling confirmed quarantine reservation
You can cancel your confirmed quarantine reservation by logging into QMS, retrieving your application using the quarantine reservation code, and then cancelling the reservation.
Your deposit will not be refunded if you cancel your confirmed reservation.