Changi Animal & Plant Quarantine Station
Changi Animal & Plant Quarantine Station (CAPQ)
All animals arriving at Changi International Airport must undergo inspection at the Changi Animal & Plant Quarantine Station (CAPQ). These include:
Animals entering Singapore, when Singapore is their destination country
Animals transiting Singapore for more than four hours. The maximum transit period allowed for each transshipment is 24 hours.
Directions to CAPQ are available here.
Before arriving
Make an appointment for your pet's inspection by submitting a request via our Intelligent Food Approval & Safety Tracking System (iFAST). Your request must be submitted at least five days before your pet's arrival.
Bringing your pet for inspection without making an appointment will subject you to an S$80 inspection fee.
Here are some frequently asked questions about the online inspection appointment booking process.
E-booking procedures:
Step 1: Create an account (for non-SingPass users and companies)
Step 2: Apply for e-booking appointment using the AVS licence number
Step 3: How to amend or cancel an appointment


Clearance procedure upon pet's arrival
Different import clearance procedures will be effected depending on whether your pet is imported as manifested cargo or excess baggage.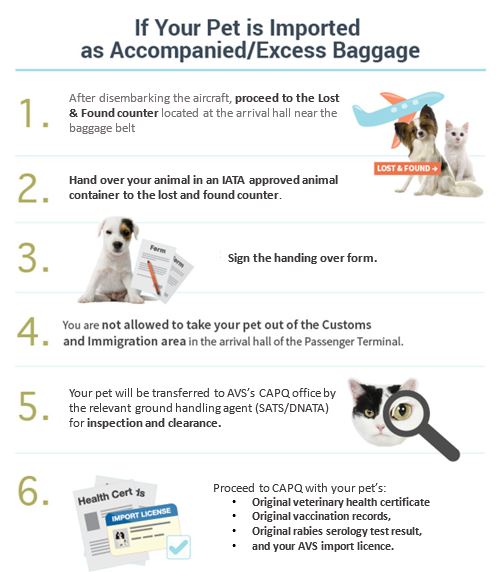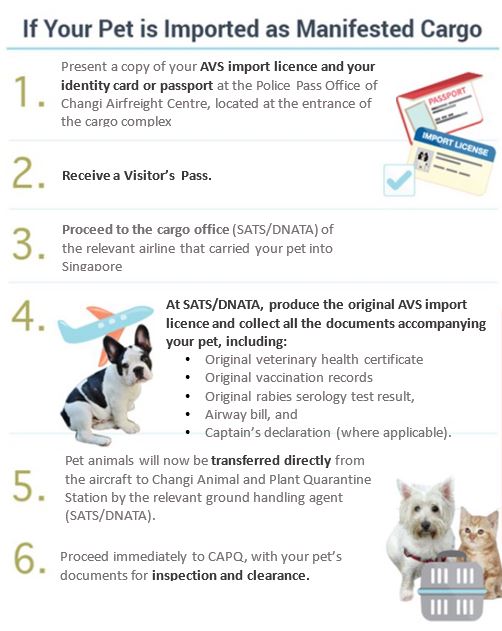 Detailed import clearance procedures are available here.
Inspection at CAPQ
At CAPQ, an officer will examine your pet and check the required accompanying documents. These documents include:
The AVS-issued import licence
Vaccination records
The animal's rabies antibody level laboratory report
The government-endorsed veterinary health certificate issued by the exporting country
Pets that do not need to be quarantined will be released if they are deemed clinically healthy, and all import requirements are met.
Animals subject to quarantine
Pets that need to be quarantined will be held at CAPQ after the inspection. An AVS-appointed transport service will be arranged to send your pet to Animal Quarantine Centre (AQC) for quarantine.
A transport fee of S$74 per dog and cat is applicable.
Location and contact details
Address
Operating Hours
Changi Animal & Plant Quarantine Station
Gate C7, Airport Cargo Road
Changi Airfreight Centre

Mondays – Saturdays:
8 am – 1 pm
2 pm – 10.30 pm
Closed on Sundays and Public Holidays.

Pet transfer hours (from CAPQ to AQC):
Mondays – Saturdays:
10.30 am – 11 am

Please be informed with effect on 25 April 2022, the operating hours of
Changi Animal & Plant Quarantine office will be advised as below:

Monday, Wednesday, Friday 0800H-2230H (no change)
Tuesday, Thursday 0900H – 2100H (adjusted)
Saturday 1000H - 2230H (adjusted)
Sunday and Public Holiday Closed

Contact
How to get there

Tel: (65) 65457523

Bus*: 9, 19, and 89 (alight at the third bus stop after the Police Pass Office, along Airline Road).
MRT*: Bedok (transfer to bus 9), Tampines (transfer to bus 19).

*This travel information is meant for commuters without pets, as animals are not allowed on buses and MRT trains.

Download the detailed directions to CAPQ here.