Food and Beverages
Eating in Ubin

There are four restaurants operating in Pulau Ubin.
Just next to the Ubin Jetty, Encik Hassan's shop has been around for more than 30 years. The shop was not operating for a while and resume operation on weekends recently. The shop sells homemade malay dishes like mee rebus, mee siam and nasi lemak.

'Cheong Lian Yuen' is the another food establishment that is near to the Ubin jetty. It serves seafood and has a small alfresco dining area in front of the restaurant.

Opposite the Wayang stage, there is a small restaurant, 'Sin Nam Huat', which features snapshots of Ubin history all over the wall. run by two sisters, it serves seafood and traditional 'Kopi' (coffee) and 'Teh' (tea).

Along the road towards Ubin Volunteer Hub is another seafood restaurant. 'Season Live Seafood Restaurant'. It has an alfresco dining area which offers a sea view facing the Ubin Jetty and mainland Singapore.

Shops at the Ubin Village centre sell refreshments like snacks, drinks and desserts like chendol, ice kacang and ice cream. Seasonal fruits like durian, rambutan, mangosteens, chempedak are also sold at the provision stores on an ad hoc basis.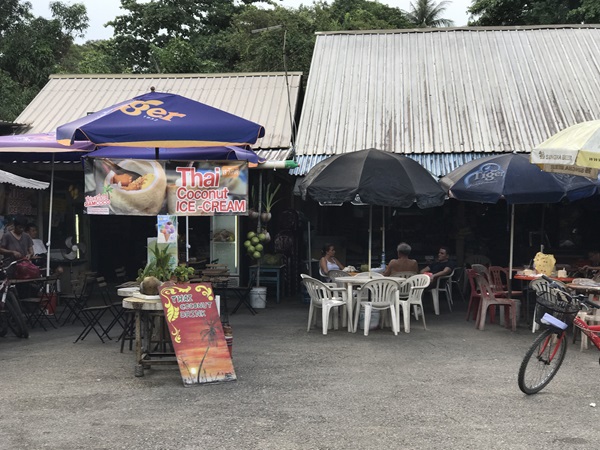 Other drinks stall around Ubin
Ah Ma Drink Stall
Situated just before the Jelutong Bridge, a former sluice gate for a prawn farm, the "Ah Ma Drink Stall" stall is managed by Madam Ong Ang Kui and her daughter. Ong was born and raised in Ubin and still lives in a house with more than 90 durian trees that were planted by her late husband. Today, she sells drinks and fruit from these trees at her stall.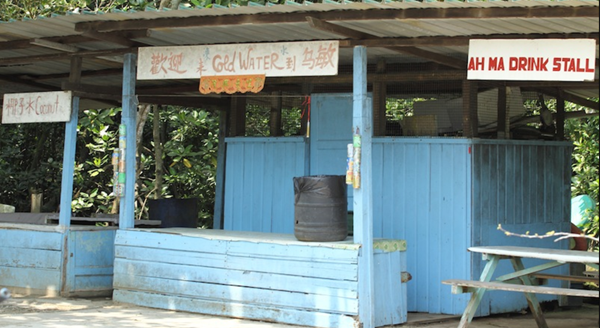 Medicine Man (Y U So Like That)
The owner of this landmark is a 'medicine man' who sells drinks and products like insect repellent, made using natural ingredients such as Citronella. You can also find herbal gardens around his home, and just across the road, a lovely view of the Ubin Quarry.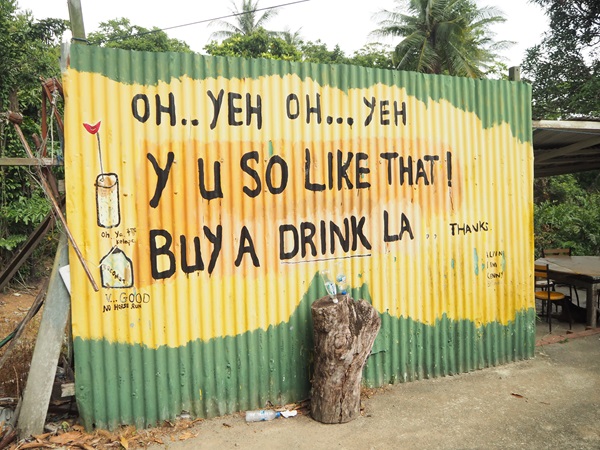 Kampong Durian
You can find traditional Malay kampung houses on the eastern part of the island. During the 1880s, Encik Endun Senin initiated a major migration project to resettle inhabitants from the Kallang River area on the mainland to Pulau Ubin. About 50 families settled around the South-eastern coast of the island at Kampung (Kg) Durian, Kg Melayu, Kg Sungei Durian and Kg Surau. Most of them were fishermen.
The Malay houses were either built on raised platforms, which allows for greater ventilation, or on the ground, or a combination of both. The houses are built on timber posts and have timber walls. Attap-thatched roofs (made from Nipah palm leaves) used to be common but have since been converted to corrugated zinc roofs or clip-lock metal roofs. Elevated, these houses avoid contact with the dirt from the ground and flooding from the adjacent mangrove. The veranda is ideal for neighbourly social gathering.
The casement windows have timber railings. Often, colourful curtains are parted at the centre and are secured at mid-length. The timber panel wall tops are also laced with decorative timber grilles.The master bedrooms are usually on raised platforms while the dining rooms, kitchens, and toilets are built on the ground.
You can stop here for a break and have a drink from one the houses. The owner usually operates during weekend.
Open fire cooking
If you are camping at Ubin, you can bring your own food and cook your catch at the campsite's designated campfire area.
Find out more info about camping in Ubin. Click here