Event Highlights
27 February 2016
Launch of the Phase 1 of the Ubin Living Lab and 1st FUN Meeting of 2016

Back in 2014, members of the Friends of Ubin Network (FUN) had an idea to establish an educational and research centre on Pulau Ubin for heritage and biodiversity conservation as well as green, sustainable practices. The idea was also echoed during our public consultations with Singaporeans. A few months later, a team of FUN members made a presentation on the idea and got the support of all stakeholders.
And today, we launched the Phase 1 of the Ubin Living Lab! It was certainly a heart-warming gathering with all those involved in making the development of the Ubin Living Lab a reality!
With this, school students, researchers and the nature and heritage community will have a space they can call their own to study the heritage and rich biodiversity on Ubin and conduct research on sustainable technology, exchange ideas with one another and actively participate in conservation initiatives.
Over the next few months, several exciting plans, including Community in Nature programmes such as coastal clean-ups, field studies, and nature workshops will also be rolled out. A mangrove arboretum will be set up by NParks and the community within the Lab, near Sungei Puaka!
Right after the launch of the Phase 1 of the Ubin Living Lab, members of the Friends of Ubin Network held the first FUN meeting of 2016, to get updates on the rest of the work under the Ubin Project, and to discuss upcoming plans for the island.
Do keep a lookout of the many activities coming your way; we promise it will be fun!
17 January 2016
Launch of the Pulau Ubin Safety & Security Team

The Singapore Police Force, Singapore Civil Defence Force, Siglap Citizen's Consultative Committee and National Parks Board have launched the "Pulau Ubin Safety & Security Team" at Pulau Ubin!
The initiative is part of the Home Team's community engagement efforts conducted at Pulau Ubin to enhance the safety and security of residents as well as visitors on Pulau Ubin. Made up of volunteers from Changi Point – Ubin Area Sub Committee, Siglap Community Emergency & Engagement Committee (Siglap C2E) - the team aims to promote safe cycling habits, provide fire safety advice and will serve as the Police's "eyes and ears" on the ground.
Here's to a safer Ubin for all of us!
13 June 2015
Ubin Day 2015

Did you join us at the Ubin Day 2015 held from 13-14 June? If you did, you would have known that by the end of this year, visitors to the island can expect new installations to aid with species recovery, such as floating wetlands to attract new bird species, and new bat houses! A new Ubin Living Lab with facilities for students and researchers, will also be ready. Situated at the former Celestial Resort, the Living Lab will consist of seminar rooms, classrooms, a field laboratory and a 12-bed facility and will be opened to schools, community groups and researchers. Find out more about the exciting developments for Ubin here.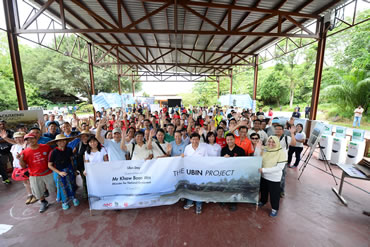 30 November 2014
Ubin Day

Last Sunday, Prime Minister Lee dropped in on Pulau Ubin for a morning of old-world, rustic fun! Launching Ubin Day, a community event organised by about 20 community groups and supported by MND, NParks, URA and NHB, PM also met with many members of the Friends of Ubin Network (FUN) at various iconic spots of the island.
Ubin Day also saw the unveiling of several new initiatives proposed by and refined in consultation with the public through The Ubin Project. They include shoreline restoration, habitat enhancement, species recovery, enhancements to trails and amenities, cultural mapping, and a new centre for research and education at Pulau Ubin. Find out more here!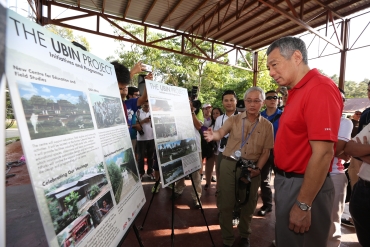 31 October 2014
3rd Friends of Ubin Network (FUN) Meeting

Friday always calls for some FUN! This afternoon, MOS Desmond Lee and members of the Friends of Ubin Network (FUN) gathered for another enthusiastic session of brainstorming and in-depth discussions on how we can bring The Ubin Project forward. Through the friendly banters and exchange of views, the group successfully narrowed down some of the projects that could be implemented in the short to medium term. Apart from the FUN members, students from Republic Polytechnic as well as an 11-year-old student from Catholic High School also joined in and presented their respective projects on Pulau Ubin! It was truly a FUN and fruitful session!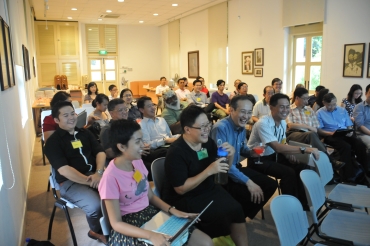 18 October 2014
Pulau Ubin Symposium – Honouring the Past, Treasuring the Present, Shaping the Future

"Honouring the past, Treasuring the present, Shaping the future" - this was the theme for this morning's Pulau Ubin Symposium, which saw an encouraging turnout of about 150 enthusiastic participants. Hosted by Minister of State for National Development, Mr Desmond Lee, the symposium saw a lively exchange of insights and views about the rich biodiversity and heritage of Ubin, and its potential for recreational and environmental sustainability initiatives. The participants also heard presentations by a panel comprising Dr Chua Ee Kiam, Mr N. Sivasothi, Mr Tan Beng Chiak, Mr Colin Koh and Mr Masa Chiu.
Heartened by the large community who care deeply about the island, MOS Lee assured that the many ideas received would guide us in shaping Ubin's future, so that it remains an enjoyable destination for all Singaporeans!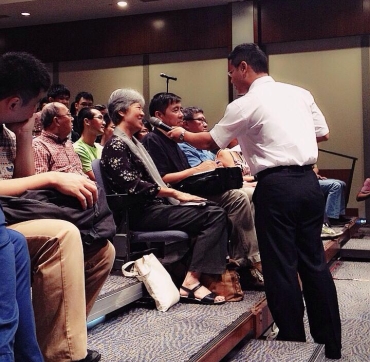 18 October 2014
Pulau Ubin Symposium – Honouring the Past, Treasuring the Present, Shaping the Future

Want to do something fun yet educational over the weekend? As part of the on-going The Ubin Project, URA is organising a Pulau Ubin Symposium – "Honouring the Past, Treasuring the Present, Shaping the Future". Learn more about the island through the symposium - from its rich biodiversity and heritage, to its recreational aspects and potential for environmental sustainability initiatives.
An exciting line-up of speakers from various fields will be sharing at the symposium:
DR CHUA EE KIAM | Author of two books on Pulau Ubin
COLIN KOH | Director, Asian Detours Pte Ltd
MARKSON TANG | Director, Daily Life Renewable Energy Pte Ltd
N. SIVASOTHI | Lecturer, National University of Singapore
TAN BENG CHIAK | Environmental Educator
Admission is free, so sign up now! Registration closes on 12 Oct 2014. Limited seats are available.
Date: 18 Oct 2014 (Sat)
Time: 10am – 1pm, Registration starts at 9.30am
Venue: The URA Centre, Function Hall, Level 5
Guest-Of-Honour: Minister of State for National Development, Desmond Lee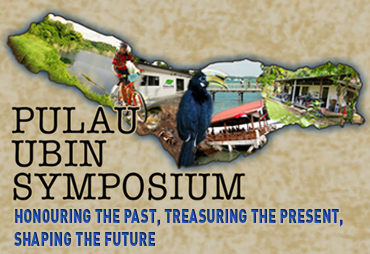 16 October 2014
ITE Eco-Conference @ ITE West

The annual ITE Eco-Conference was held this morning at ITE College West. Themed "Protecting our Biodiversity, Preserving our Heritage", the conference sought to foster collaborations across relevant government agencies, industry and community interest groups through the sharing and exchanging of eco knowledge and practices.
Mr Wong Tuan Wah, Director/Conservation, NParks, was invited to share on Singapore's journey in nature and biodiversity conservation. NParks had also set up an exhibition booth on The Ubin Project at the event! Indeed, there is no better way to educate the young on biodiversity protection and heritage conservation than through an exhibition on Pulau Ubin, an island rich in history and biodiversity! Many of the students who came by our booth shared with us candidly on their Ubin experience. Some of the students who have not visited the island before were left amazed at hidden gems the island has to offer.
While we were there, we also gathered ideas from the students on how we can further enhance Ubin. It was truly an insightful conference!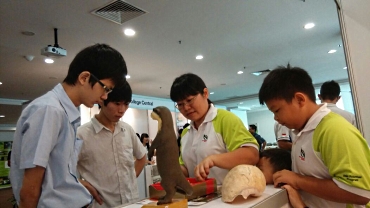 25 July 2014
2nd Friends of Ubin Network (FUN) Meeting

Following our inaugural meeting in May, FUN members from various heritage and nature groups, volunteers, youths, and interested members of the public met up again to discuss and brainstorm for more ideas on how to enhance and preserve Pulau Ubin.
Some of the proposals discussed included habitat enhancement and species recovery to preserve the biodiversity on Ubin, the feasibility of a Field Science Centre for field research and citizen science, as well as an Environmental Education Centre for an immersive educational experience. Mapping of areas of cultural/historical significance and exploring nature-based recreational activities were other ideas that were discussed. FUN members also looked at how we could develop a set of principles and guidelines for environmentally responsible behaviour on Ubin.
The participants provided valuable inputs that will be actively studied to see how they can be refined and realised. Their passion, energy and enthusiasm were evident in their exchanges, making it a truly FUN session!
If you have ideas, tell us at https://ideas.ecitizen.gov.sg/a/pages/ubin!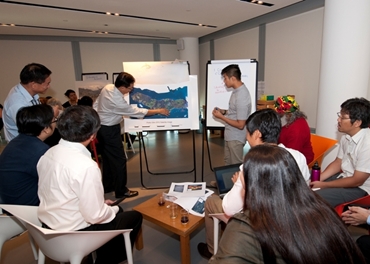 20 July 2014
Pulau Ubin on film this Heritage Festival

This year's Singapore Heritage Festival, saw the screening of a film on Pulau Ubin! The 45-minute feature film, Moving Gods (2005), was adapted from a play and explores the mystery around a German girl who is worshipped at a temple on the island today.
More than 200 people signed up for the film screening which was followed by a discussion with its director, Ho Choon Hiong, on the landscape, folklore and people of Pulau Ubin. Hope some of you caught the screening too!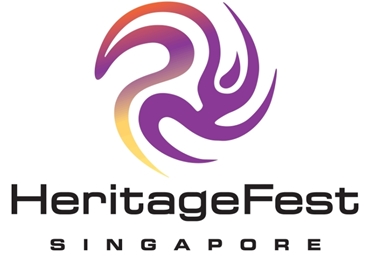 18 July 2014
Pulau Ubin now on stamps

The National Heritage Board (NHB) and SingPost have launched a series of stamps highlighting Pulau Ubin's rustic charm and precious heritage. Called the "Islands of Singapore - Pulau Ubin", the series features some of Ubin's most iconic landmarks, such as the main jetty, Check Jawa, the wayang stage and the quarry.
The memorabilia are available at all post offices, the Singapore Philatelic Museum and online at www.stampdelight.com. Read more about the series here.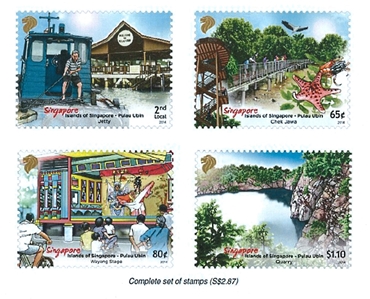 12 July 2014
The Ubin Project exhibition @ Festival of Biodiversity 2014

The Festival of Biodiversity is back for the third year running! Organised by National Parks Board and the Biodiversity Roundtable, the Festival celebrates and raises awareness on Singapore's diverse flora and fauna.
This year's Festival will also showcase Pulau Ubin's rich biodiversity and invite members of the public to share their memories of the island and ideas on how we can sensitively enhance its natural environment.
Save the date and see you at the Festival of Biodiversity!

Date: 12 & 13 July 2014 (Saturday and Sunday)
Venue: VivoCity, Level 1, Central Court A & B
Time: 10am to 10pm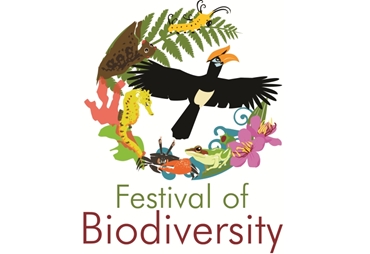 8 July 2014
Reaching out to Ubin lovers

On 8 July 2014, nature and recreation lovers gathered at the URA Centre to explore ideas on nature-based recreation on Pulau Ubin. 24 individuals from more than 10 organisations attended the event, including nature groups, schools, cyclists, adventure groups and artists.
The participants spoke candidly about their experiences and personal memories of the island. The artists shared that the views from Puaka Hill (Pulau Ubin's highest point) brought them much inspiration, while nature lovers spoke enthused about the rare and wonderful biodiversity that Pulau Ubin has. The cyclists and adventure groups also shared with excitement the unique adventure activities the island had to offer (mountain biking and mangrove kayaking).
It was clear that Pulau Ubin is a special place to each and every one of the participants!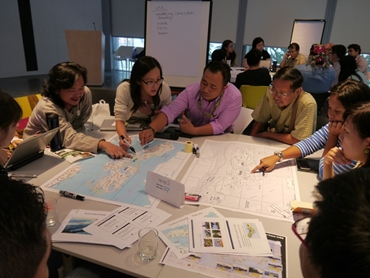 26 June 2014
URA reaching out to Ubin lovers

Some 15 youth volunteers, environmentalists and nature lovers gathered over a simple dinner at URA to brainstorm ideas on Pulau Ubin. Organised on 26 June as a follow up to an earlier "Imagine Ubin Workshop" by The Leafmonkey Workshop, the session explored ideas on biodiversity conservation, heritage & history, nature-based recreation, research & education, as well as sustainable design & practices. Some interesting ideas that emerged include homestays to experiencing kampung life and thematic maps (which could double up as souvenirs) for better signposting. We will certainly consider them! If you have ideas to share on Ubin, do drop by our portal at https://ideas.ecitizen.gov.sg/a/pages/ubin!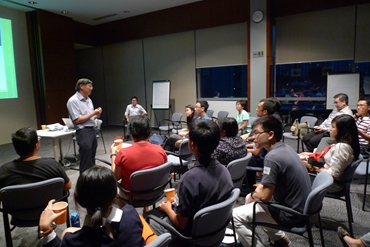 7 June 2014
Plant-A-Tree on Pulau Ubin

On 7 June, 90 employees (and their families) from Bureau Veritas Marine Singapore took part in a Plant-A-Tree (PAT) programme on Pulau Ubin and planted a total of 50 native trees.
The PAT programme was organised by the Garden City Fund, a registered charity established in 2002. The Garden City Fund works with corporations, organisations and individuals to cultivate a love for the environment, promote a sense of ownership, and encourage the community to play its part in preserving Singapore's legacy as a lush and vibrant garden city. Pulau Ubin is their latest planting site!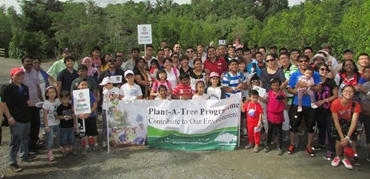 24 May 2014
Biodiversity Research Symposium

In celebration of International Day of Biodiversity, NParks organised its inaugural Biodiversity Research Symposium on 24th of May 2014 and sought views on Pulau Ubin, a sanctuary for wildlife. Check out the word cloud for the common buzzwords!
Other than gleaning valuable views on what they would like to see in Pulau Ubin, researchers from different institutions also shared their recent findings on biodiversity in Singapore. Bringing together 8 guest speakers and 40 presenters, the symposium was attended by almost 200 attendees from various universities, secondary and tertiary schools, consultancies and non-governmental organisations.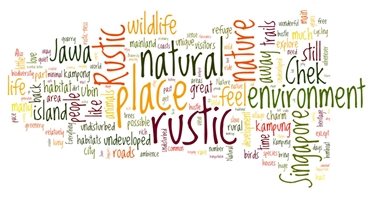 9 May 2014
Inaugural Friends of Ubin Network (FUN) Meeting

On 9 May 2014, members of various heritage and nature groups, volunteers, youths, and interested members of the public gathered together for the inaugural Friends of Ubin Network (FUN) Meeting. As the name suggests, the group had much fun brainstorming for ideas on how we can further enhance the island and the ways to get more Singaporeans involved in the project.
The participants also discussed many exciting ideas submitted by members of the public. The passion these participants have for the island was clearly evident, as they shared with the group their memories, common vision and aspirations for the island.
See some pictures from the meeting here.
31 March 2014
Visit to Pulau Ubin

On 31 March 2014, Mr Desmond Lee, Minister of State for National Development, together with Dr Maliki Bin Osman (Minister of State for National Development and Defence and Mayor of South East District) who is also the Member of Parliament for Ubin), visited Pulau Ubin with a group of heritage and nature advocates as well as experts in various fields such as architecture, education and design.
The visit was part of the wider plan to initiate a conversation with Singaporeans on how we can all play a part to sensitively enhance the natural environment of Pulau Ubin, which was announced by Mr Desmond Lee in Parliament in March 2014. The group visited many of the places of interest on the island - the kampong houses near the jetty, the shophouses and the bicycle shacks. They also had the opportunity to visit areas that may be less familiar to the public such as the sheltered basketball court where the shelter is made entirely of solar panels, the butterfly hill and the quarry lake.
Many thoughtful ideas and insights were shared by the group contributing to the Ubin conversation which revolved around themes such as heritage, nature, education, adventure, sustainability, etc.
See some pictures from the visit here.