Education and Research
The Ubin Project
Started in 2014, The Ubin Project aims to reach out to as many Singaporeans as possible to collect ideas and suggestions on how we can build on existing efforts to sensitively enhance the rustic charm and natural environment of Pulau Ubin so that the island can continue to be enjoyed by Singaporeans for generations to come.
To help achieve this, the Friends of Ubin Network (FUN) was formed in 2014. It comprises youths, residents, volunteers, researchers and members from the heritage and nature communities.
With the collective support of FUN, many of the ideas received have been implemented. One example is Pesta Ubin, an annual "open house" to bring together groups and individuals who are passionate about Pulau Ubin. With support from the National Parks Board (NParks), this ground-up initiative sees various stakeholders organising activities to share their favourite aspect of the island with the public.
Another idea supported by FUN was to have a single government agency managing Pulau Ubin. Pulau Ubin was then managed by 12 agencies with technical and land ownership responsibilities. It was a challenge to holistically address concerns such as coastal erosion, biodiversity conservation, waste dumping and ageing infrastructure.
In 2016, NParks was designated as the central managing agency for Pulau Ubin. The new approach allows NParks to have greater oversight of Pulau Ubin, to better manage it to achieve The Ubin Project's vision, and preserve the island's rustic charm, natural environment, biodiversity and cultural heritage. This approach also facilitates better community engagement as NParks is now the one-stop agency to address stakeholder interests and public feedback.
Public Outreach
Activities for the public to appreciate and enjoy Pulau Ubin's natural and cultural heritage are also organised throughout the year. These include events to commemorate Earth Day and International Day for Biological Diversity, as well as regular public tours by NParks and groups like the Naked Hermit Crabs.
Corporate Partners
The corporate community has also lent their support towards the vision to keep Pulau Ubin's rustic charm for our future generations. Many companies have stepped forward to provide funding through the Garden City Fund to further conservation and outreach projects, and even mobilised their staff to help out in activities like reforestation, mangrove restoration, coastal clean-up and nature guiding.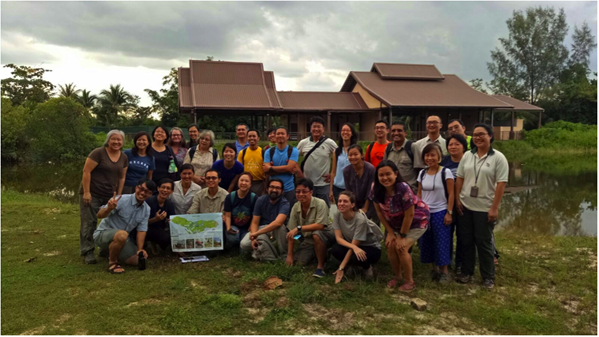 Educators and vendors at the Education and Research stake-holder meeting
Nurturing the Next Generation
---
Pulau Ubin is an ideal place to train the next generation to become our cultural and natural heritage stewards. A programme is in place to proactively engage schools and tertiary institutions on various projects.
Students from Ngee Ann Polytechnic planted up the Ubin Fruit Orchard, an arboretum of local fruit trees, and contributed to freshwater wetlands restoration at the Sensory Trail Pond, from landscape design to planting. Republic Polytechnic students designed three out of six models of bat boxes which serve as artificial roosts for bats. ITE College East took part in species recovery projects, where students fabricated bat boxes and bee- eater nest boxes, as well as planting of trees for nesting by the Baya Weaver.
Outward Bound Singapore (OBS) also partners the National Parks Board in the care of Pulau Ubin. Project Island-a-Hand sees OBS student participants and alumni involved in reforestation projects to restore habitats for wildlife, as well as clean-up of the island's shores.
Schools have also come aboard as partners for other programmes, including the design and fabrication of informative signs, painting of rubbish bins, wildlife monitoring, reforestation and nature camps.
Schools can email us at nparks_pulau_ubin@nparks.gov.sg to find out what partnership opportunities are available.
| | |
| --- | --- |
| | |
| Ngee Ann Polytechnic students planting at the Sensory Trail Pond to improve habitats to attract waterfowl and other wildlife | Students from Paya Lebar Methodist Girls' School (Secondary) fabricating interpretive signs for plants. |
Ubin Living Lab
---
The Ubin Living Lab (ULL) serves as an integrated facility for field studies, education and research, and community outreach. It is an outdoor learning classroom where activities are held to encourage visitors to learn about the biodiversity, heritage and culture of Pulau Ubin.

Sited at a former resort, the ULL was first announced in November 2014 as one of the initiatives under The Ubin Project. During the planning stage, different stakeholders gave suggestions on the development of ULL and its facilities, and their inputs were incorporated into the design.

Phase 1 of the project saw the refurbishment of two buildings from the former resort, to house two laboratories, a multi-purpose hall, meeting and seminar rooms as well as two dormitories and a basic first-aid post. There is also a campsite that can accommodate up to 100 campers, and a mangrove arboretum that will eventually showcase all 35 mangrove species that can be found in Singapore.

Future phases of the ULL will include the provision of a potable water supply system, as well as the test-bedding of technologies in sustainable design and practices in waste management, electrical power supply, and green buildings.

Organised groups interested in using the facility can send an email to nparks_pulau_ubin@nparks.gov.sg.
Field Studies
---
Singapore Hornbill Project

Initiated in 2004 by French researcher Marc Cremades, and avid naturalist Professor Ng Soon Chye, the Singapore Hornbill Project studied the nesting ecology of the Oriental Pied Hornbill (Anthracoceros albirostris), such as the growth progression of nestlings, food requirements, and sensitivity to external disturbances. This was the first project in the world to document the breeding ecology of wild hornbills within the nest. The key objective was to enhance the population and distribution of this locally endangered bird in Singapore.

The bird's breeding behaviour was monitored to better understand the factors behind nesting success and failure. Infrared video cameras were installed in both natural and artificial nests to capture what happens after a female seals herself in to raise her brood of chicks. Cameras outside the nests also recorded the activities of the males as they bring food to the nests.

Modern technology was also utilised to study the species. A Global Positioning System (GPS) transmitter was attached to a hornbill to obtain information on its movement, distribution and breeding territory.
Survey of Medium-sized Mammals

From September 2008 to March 2009, National University of Singapore undergraduate Marcus Chua conducted a survey to get an updated status of medium-sized mammals on Pulau Ubin. Line transects and camera trapping were deployed in forested areas in the eastern and western parts of the island.

The study produced distribution maps for four species of medium-sized mammals – the Common Palm Civet (Paradoxurus hermaphroditus), Greater Mousedeer (Tragulus napu), Long-tailed Macaque (Macaca fascicularis) and Wild Pig (Sus scrofa). The Long-tailed Macaque was recorded only in the east, while the other three species were found in forests in both the east and west.

The survey also resulted in the rediscovery of the Greater Mousedeer, which was last recorded from Singapore in 1923. It was found to be well distributed in the study sites and have an existing breeding population.

Survey results also suggested the recreational use of the island which mainly takes place during the day does not interfere with the activity of the three largely nocturnal species, the Common Palm Civet, Greater Mousedeer and Wild Pig.
Seagrass Monitoring

Started in 2007 by Dr Siti Maryam Yaakub, TeamSeaGrass is a collaboration between the National Parks Board and Seagrass-Watch. The group carries out regular monitoring of seagrasses on Singapore's shores.

Seagrasses are the only flowering plants adapted to living entirely immersed in seawater. They provide homes for many marine organisms and their underground stems and roots form a mat which stabilises the sediments. Seagrasses are also an important food source for marine animals such as turtles and dugongs.

Out of the 12 species of seagrasses found in Singapore, at least seven can be found at Chek Jawa Wetlands. The southern end of the seagrass lagoon at the wetlands is dominated by Ribbon Seagrass (Cymodocea rotundata) while the rest of the seagrass meadow there comprises a mix of species, including Spoon Seagrass (Halophila ovalis) and Needle Seagrass (Halodule uninervis).
Survey of Mangrove Insects

In 2012, Dr Patrick Grootaert of the Royal Belgian Institute of Natural Sciences embarked on a two-year survey of insects at four mangrove sites in Singapore, in collaboration with the National University of Singapore and National Parks Board. The number and diversity of insects serve as an indicator of the mangrove habitat quality.

The survey revealed that the mangroves at Chek Jawa Wetlands, Pulau Semakau (two sites) and Sungei Buloh Wetland Reserve host a diverse assemblage of insects, many of which are confined to the mangrove habitat. Chek Jawa Wetlands alone is home to 77 species of long-legged flies, 36 fast-running flies, 14 termites, and 53 bees and wasps. There is a high percentage of long-legged flies and fast-running flies that are found in only one of the sites, and this highlights the importance of conserving multiple areas of mangrove habitats.
Biodiversity Surveys
---
To properly manage Pulau Ubin's natural heritage, biodiversity surveys have been conducted to establish baseline inventories of plants and animals and provide insights about how a species is doing over time. The findings help in developing suitable strategies for conserving habitats and species, and maintaining a healthy ecosystem.

Baseline surveys of plants, mammals, birds, reptiles, amphibians, butterflies, fireflies and marine biodiversity have been carried out with the help of volunteers. A comprehensive survey will commence in late 2017 to update these inventories and establish new ones for other groups of wildlife like dragonflies and damselflies, bees and wasps, ants, moths and spiders.

BioBlitz

The first BioBlitz@Ubin was conducted in December 2016 to provide an updated snapshot of Pulau Ubin's biodiversity. It was also the first 24-hour biodiversity survey in Singapore. About 100 citizen scientists worked alongside experts and to survey a total of 15 different biodiversity groups, recording over 450 species.
Wildlife Monitoring

Transect and point count surveys are also regularly conducted for wildlife like birds and butterflies, as rapid indicators of the health of biodiversity and their habitats. During these surveys, volunteers conduct visual observations, listen for bird calls and record the number of species they encounter while walking specific routes. Schools are also roped in to help monitor the progress of habitat enhancement and species recovery projects on the island.

To supplement bird surveys, bird ringing sessions are also conducted. During these sessions, mist nets are put up to catch birds, and basic measurements and observations are recorded. A small ring with a unique number is then fitted around each bird's leg before release. This allows researchers to identify and track the bird's movement if it is recaptured in future surveys. Data collected from bird ringing surveys provide useful information on migratory patterns, life history, population, distribution and habitat use of different bird species.
Be a Volunteer
---
The Ubin Volunteer Programme offers opportunities to share your knowledge, skills and time to care for our natural and cultural heritage.
Nature and Heritage Guide
New volunteers will get to learn about the rich flora and fauna as well as the history and heritage of Pulau Ubin. You will have the opportunity to shadow more experienced guides and eventually share what you have learnt with the public on guided tours such as the Chek Jawa Wetlands Tour, Kampong Tour and Rustic Reflections Tour.
Nature Defender
Participate in our Forest and Boat Patrols to protect our natural heritage from activities like trapping and the use of drift nets.
Alien Warrior
Invasive species refer to non-native plants and animals that are able to survive and spread, negatively impacting our local biodiversity. Through the Invasive Species Management programme, volunteers help remove invasive species like exotic climbers and creepers from our reforestation sites, and apple snails from freshwater wetlands.
Operation Deadline
Help us keep Pulau Ubin safe for our wildlife! Volunteers will be involved in removing fishing lines, hooks and nets left behind by fishermen from mangroves and the shoreline. Such fishing tackles and nets that are irresponsibly discarded can entangle and harm animals like birds, otters and turtles.
Mangrove Restorer
Mangroves are nurseries for marine animals and provide important ecosystem services like shoreline protection and carbon sequestration. You can do your part to conserve our mangroves by collecting mangrove propagules for restoration efforts, and at the same time, learn about the different species of mangrove plants.
Wildlife Surveyor
Documentation of biodiversity is an important aspect of nature conservation. Volunteers can pick from a buffet of inventory surveys and monitoring projects to contribute to. Get a chance to go off the beaten trail and encounter our amazing wildlife!
To join us as a volunteer, register online at this page.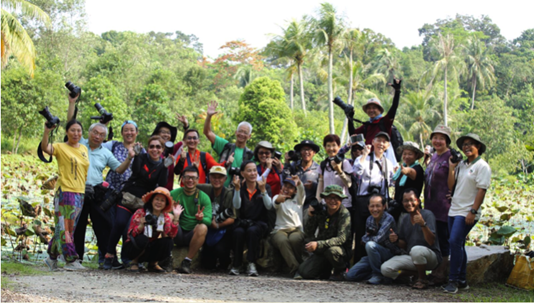 Members from the Photographic Society of Singapore during a two-day photography outing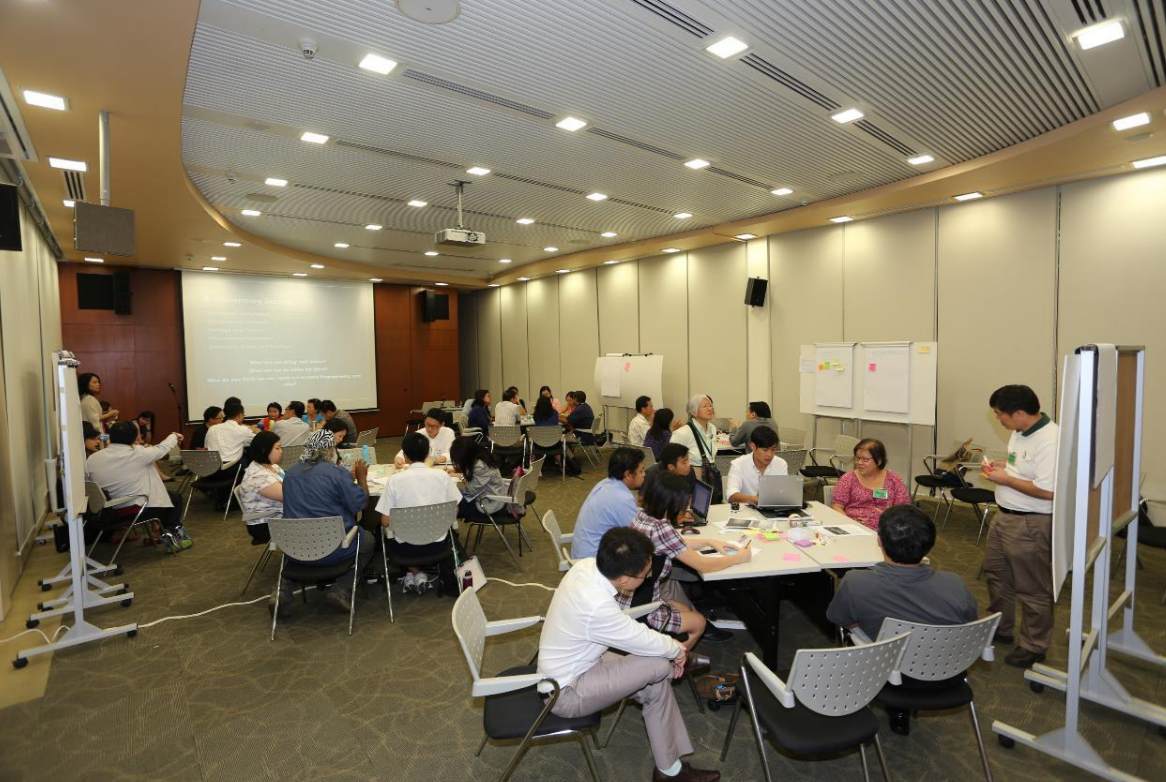 Over 40 stakeholders from different walks of life are part of FUN, which meets regularly to deliberate on ideas gathered from the community.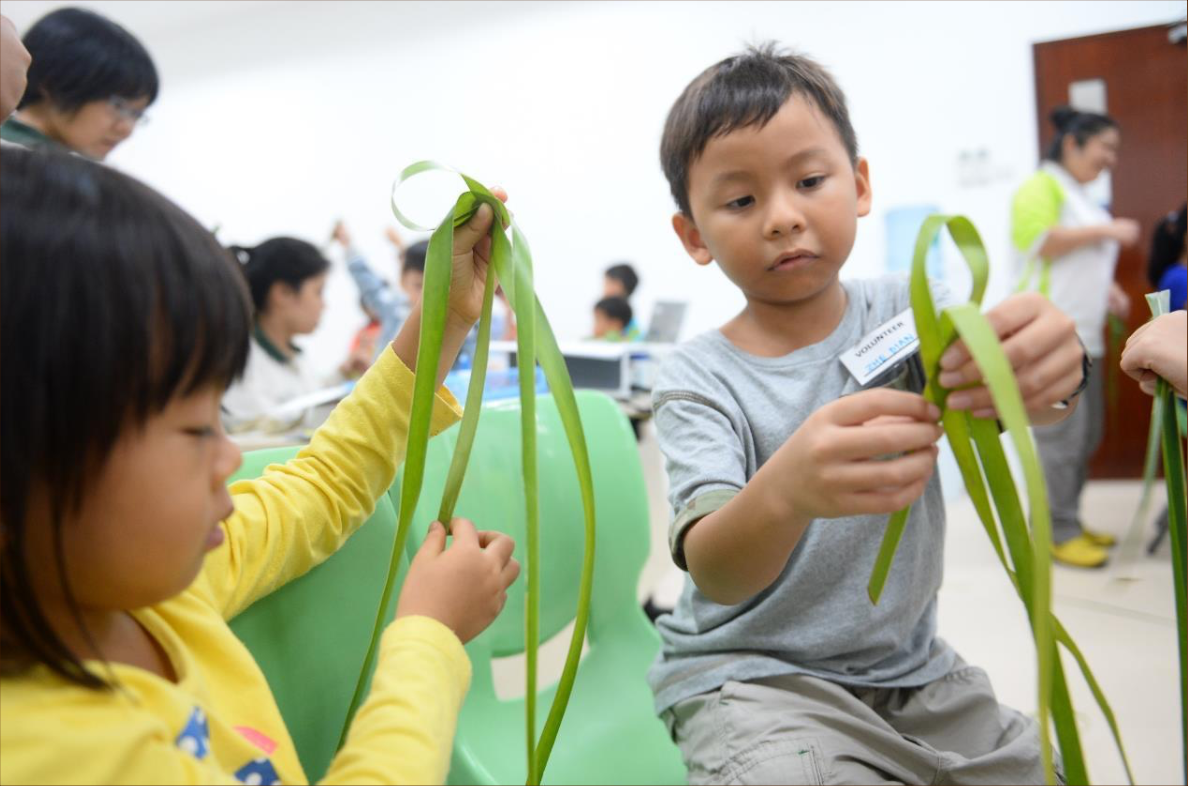 A young NParks volunteer showed his friend how to make a crab out of coconut fronds, as part of a series of activities held to celebrate the International Day for Biological Diversity.
Participants were eager to answer questions during a storytelling session held during Ubin Day 2016.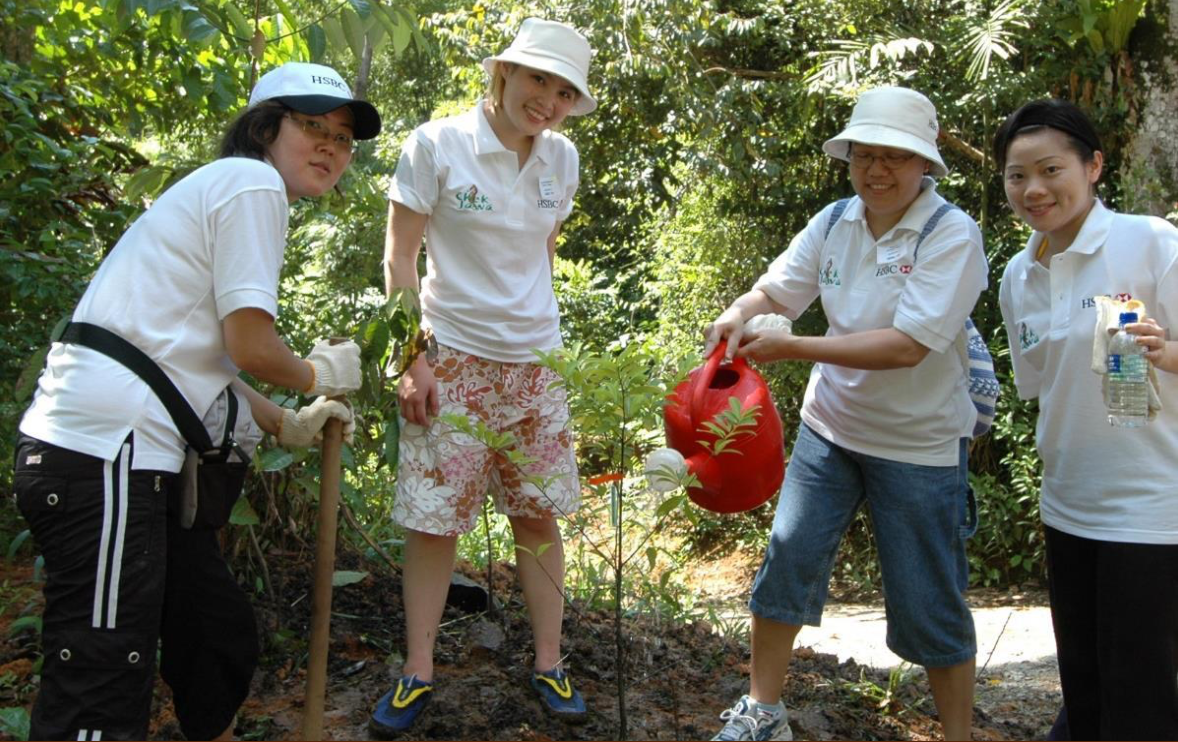 HSBC staff plant a tree at Chek Jawa Wetlands.