Fo Shan Ting Da Bo Gong Temple
Fo Shan Ting Da Bo Gong Temple
Located near Pekan Quarry, this temple was built to serve and provide convenient access for residents living in the centre, especially those who have difficulties moving around. Between the 1950s and early 1970s, the population of the island was about 2,000 when quarrying activity was at its peak. Three quarters of the residents were Chinese, one quarter were Malay and the rest were Indian.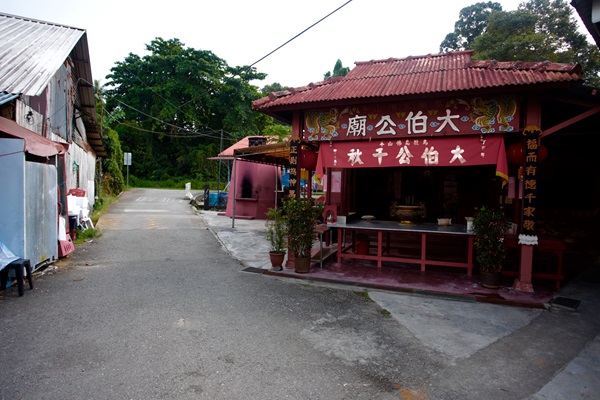 This temple and the stage were where all festivities took place. All the villagers would gather here for prayers and celebrations, according to the lunar calendar. These include Chinese New Year in the first month, the God's birthday in the fifth month, the Hungry Ghost Festival in the seventh month, and the Mid-autumn (Lantern) Festival in the eighth month.
During such festivities, hawkers would set up street stalls, and traditional wayang or opera were performed on the stage. These were opportunities for villagers to meet and catch up with one another. Children also enjoyed the celebrations as they get to snacks on tidbits that they would not usually eat and stay out with their friends till late.

The temple and wayang stage continue to host festival celebrations for the villagers even now. One of the biggest festivities on the island is the celebration of the deity Tua Peh Kong's birthday, a 5-day event of Chinese opera performances, which culminate in a modern "Getai" performance on the last night! Many old villagers often return, some bringing their grandchildren, to join in the celebrations and pass on this tradition.