About Pulau Ubin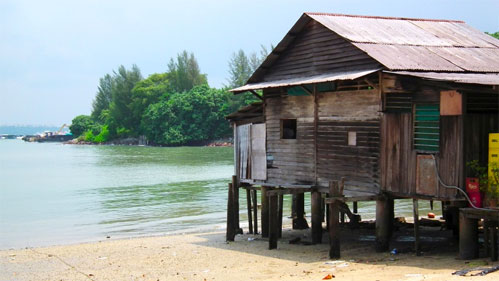 About the island
Shaped like a boomerang, Pulau Ubin is situated just off the north-eastern corner of mainland Singapore. Once a cluster of five smaller islets separated by tidal rivers, it has since been united by the building of bunds for prawn farming to become a single 1,020-hectare island. Two other islets, Pulau Ketam (Crab Island) and Pulau Sekudu (Frog Island), lie to its south.
In the early days, granite mining supported a few thousand settlers. Much of the original vegetation was cleared for the cultivation of rubber and crops like coffee, pineapple, coconut and jasmine. Today, abandoned granite quarries remain as picturesque relics of Ubin's history, while forests and grasslands have regenerated to cover up the ravages of the past.
Life on Ubin
Be transported back in time to 1960s Singapore as you embark on a trip to nearby Pulau Ubin. Home to one of Singapore's last villages or kampongs, the island still retains the rustic beauty and simplicity of a bygone era. Learn more about this kampong community through the Cultural Mapping by National Heritage Board
Wander along the many trails and see how the local residents live. With no access to modern and efficient public utilities on mainland Singapore, the villagers rely on wells for water and noisy diesel generators for electricity. For subsistence, they depend on traditional farming and fishing.
Adrenaline junkies and thrill seekers can rent mountain bikes from the many rental shops at the main village, near the jetty, and embark on a thrilling and exhilarating ride across the island's rugged terrain. Don't forget to stop by the quarry to enjoy the mesmerising beauty of the undulating granite hills and stunning views of the aqua-coloured lake.
Before you head back to mainland Singapore, stop by the provision stores or eateries and tuck into some scrumptious kampong cuisine.
Chek Jawa Wetlands
A trip to Pulau Ubin is not complete without a visit to Chek Jawa Wetlands, one of Singapore's richest ecosystems, that was officially launched on 7 July 2007. Visitors can either walk, cycle or hire a vehicle to get to Chek Jawa Wetlands. Click here for more information on Chek Jawa.
Ubin Living Lab
Ubin Living Lab (ULL) is an integrated facility for field studies, education and research, and community outreach. Located at the south-west of Pulau Ubin, it features facilities to support activities, research and programmes for organised groups.
Future phases of the ULL will include the planning and implementation of pilot projects for sustainable design and practices in potable water supply, waste management, electrical power supply, as well as green buildings.
To book facilities at ULL, please read and fill in the application form. For general enquiries, please call 6543 8373 (Mondays to Sundays, including public holidays, from 9am to 5pm).