Sustainable Design and Practices
To maintain and conserve Pulau Ubin's rich cultural and natural heritage, development on the island need to be sustainable with minimal impact on the environment. Old kampong needing refurbishment would be restored sustainably to conserve Ubin's history and cultural heritage. Visitors are also encouraged to be ecologically and socially responsible through the Ubin Way's code of conduct. Through the various initiatives by NParks working with Friends of Ubin Network (FUN), we hope for Pulau Ubin to retain its cultural and natural heritage, and rustic character of the island - from introducing visitors to the Ubin Way to having sustainable architecture built and restoration works done.
Ubin Way
Initiated and drawn up by the FUN, the Ubin Way is a code of conduct guiding ecologically and socially responsible behaviour on Pulau Ubin, so that the island can continue to be enjoyed by all. Signs advocating the Ubin Way have been installed at several locations around the island, and a video promoting it is screened at the Changi Point Ferry Terminal, and available on the National Parks Board's website as well. In support of the Ubin Way, many event organisers also bring the trash generated from their activities out of the island. Others have even pledged their commitment towards "zero waste" activities through actions like not providing disposable plastic bottles of water and requiring participants to bring their own reusable bottles which can be filled with water from water dispensers. Collectively, stakeholders have also promoted the appreciation of our cultural and natural heritage by organising guided tours for the public.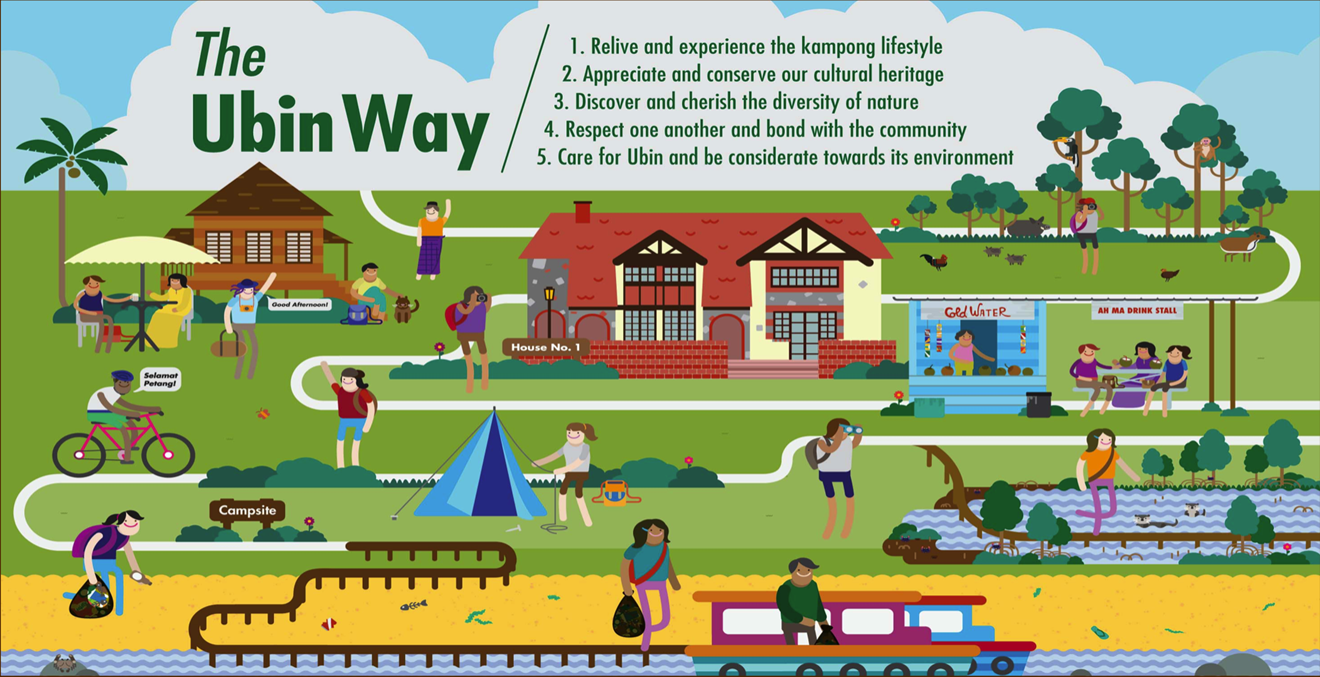 Pulau Ubin Micro-grid Test-bed
The Energy Market Authority launched a micro-grid test-bed at the jetty area of Pulau Ubin in October 2013. Useful information such as the reliability of an electricity supply within a micro-grid infrastructure using solar photovoltaic (PV) technology can be obtained through this test-bed. As solar energy remains the most viable source of renewable energy for Singapore, these insights will prepare Singapore when solar energy forms a significant part of our renewable energy mix.
The test-bed benefits more than 30 residents and businesses around the jetty area who previously used diesel generators to supply electricity. These generators were noisy, expensive to maintain and prone to frequent breakdowns. With the micro-grid, Pulau Ubin residents and businesses now enjoy a cheaper, cleaner and more reliable supply of electricity, and they have less worries about an unstable power source.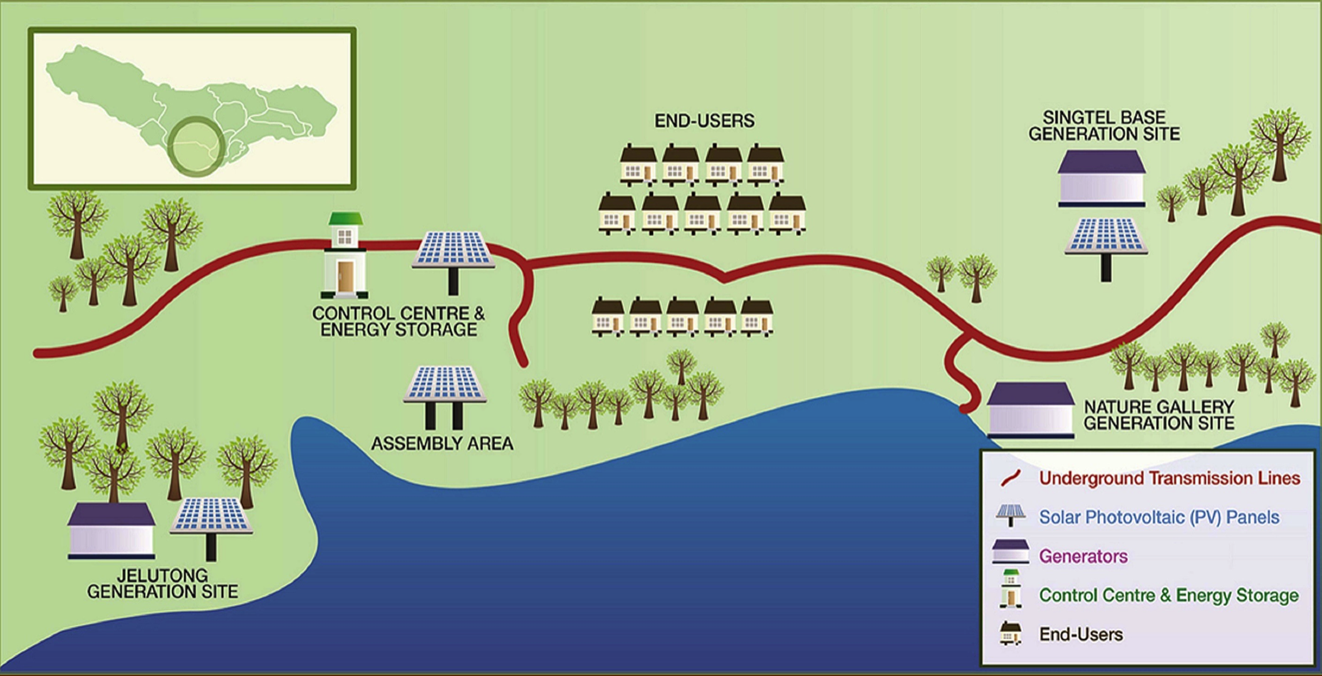 Restoration of kampong houses on Pulau Ubin
NParks will help interested groups connect with experts in architecture, heritage and related fields as well as volunteer networks through FUN to work on this project. Enhancements will be done sensitively, using sustainable design and practices.
Ah Ma Drink Stall Project is a timber design and build reconstruction project on Pulau Ubin, a small island off mainland Singapore. This project is a collective effort of multiple stakeholders, including NUS Architecture, PH consulting, Singapore Heritage Society, Sea Angel, National Parks Board and Ministry of National Development. This pilot project aims to ease the future restoration in Ubin and the preservation and revitalization of the last kampong in Singapore.
The 25-year-old original drink stall was a makeshift construction by Ah Ma's late husband and family, but slowly deteriorated into a structurally unsafe building due to ground settlement. The reconstruction helps the 80-year old Ubin resident, Ah Ma, to continue her resilient and independent lifestyle on Pulau Ubin.
The design was through a participatory process and the construction involved local villagers transferring vernacular construction knowledge of interlocking timber joinery to students. Sentimental values are well respected. Original spatial arrangement and architectural language of columns and pitched roof are adopted. Some original timber planks are reused in the new construction to keep traces of the past. Signboards written by the late husband are hung on prominent locations.
The drink stall is located next to a tidal river, resulted in occasional super tides which would flood the stall. Raised platform at seat height is incorporated to address this issue. Based on the meeting with kayakers, we understand that this drink stall is an important pit stop for them. For easier maintenance of timber platform from muddy footprints, and also for different experiences, the platform spans across 3 bays, instead of all 5 bays. A ramp is built for universal design. The storeroom is centralized as a result of Ah Ma's feedback on design proposals. People tend to have more personal space in a kampong setting, than in an urban one, dividing the sitting area gives patrons more sitting options.


Makeover of Ah Ma's Drink Stall at Pulau Ubin and the team behind it.