Nature-based Recreation
Pulau Ubin offers a variety of nature-based activities including guided tours and camping, as well as interesting places to visit such as the Sensory Trail, Ubin Fruit Orchard, Butterfly Hill, and quarries. Highlights include Bukit Puaka, which is the highest point of Ubin where visitors can hike up for a great view of the Ubin Quarry, and the Chek Jawa visitors' centre and Nature Gallery, which are newly refurbished with educational displays. The Nature Gallery also has an interactive touchscreen to enhance visitors' experience.
Join a Guided Tour
---
Chek Jawa Wetlands Tour
Located at the eastern tip of the island, Chek Jawa Wetlands is a unique natural environment that boasts six ecosystems unmatched anywhere else in Singapore. Nature guides will be on hand to spot and talk about the plants and animals along the boardwalk. You will also get to walk on a sandbar and appreciate the diversity of inter-tidal marine life. Take the challenge to climb the 21 metre Jejawi Tower to take in the scenic view!
Click here to find out more about Chek Jawa Wetlands.
Kampong Tour
This short tour gives a glimpse of life on Pulau Ubin in the early days. Guides will bring you to several landmarks and reconnect you with the past when granite mining was a key industry and the island supported a few thousand residents. Learn to identify trees commonly found in the kampong, and encounter birds and butterflies along the way. You will also get to visit Teck Seng's Place, a restored Chinese kampong house.
Click here to find out more about the Kampong Tour.
Rustic Reflections Tour
Take a walk down memory lane and discover Pulau Ubin's cultural heritage. You will visit the Sensory Trail Pond where our guides will share about the history of the area and habitat enhancement efforts to transform the pond into a haven for wildlife. You will also have the opportunity to visit the homes of villagers and interact with them. Included in the itinerary are visits to a rubber plantation that once supplied Singapore with latex, and the Ubin Fruit Orchard, where you can get acquainted with local fruit trees. The last stop of the tour is Teck Seng's Place.
Click here to find out more about the Rustic Reflections Tour.
Enjoying the Great Outdoors!
---
Camping
For a unique escape from the hustle and bustle of city life, camp out at Jelutong Campsite, Mamam Campsite or Endut Senin Campsite. All campsites have basic toilet amenities and campfire pits.
Click here to find out more about the camp sites and application.
Cycling
Rent a bicycle or bring your own to visit villages scattered round the island. Ride through coconut and rubber plantations, or pause at fruit orchards... perhaps you will chance upon a few durians or mangosteens!
For an adrenaline rush, experienced mountain bikers can head out to the 45-ha Ketam Mountain Bike Park. Designed to meet international competition standards, it has about 10 km of tracks around the fringes of Ketam Quarry, offering exhilarating and challenging rides.
Click here to find out more about the cycling routes.
Interesting Places to Visit!
---
Sensory Trail
This trail was developed to showcase the cultural heritage of Pulau Ubin and engage the five senses through the plants that the villagers grew. It offers a glimpse into the early days of Singapore, when such plants were widely used in village life. The 1.5 km trail also leads you through mangroves and ends at the freshwater Sensory Trail Pond which offers scenic views and wonderful photo opportunities.
Click here to find out more about the Sensory Trail.
Teck Seng's Place
On the hill above the Sensory Trail Pond sits Teck Seng's Place, which was owned by Chew Teck Seng, a local provision shop owner. When you visit this kampong house, be immersed in the story of the Chew family who lived on Pulau Ubin in the 1970s. The family resettled to the main island of Singapore when poultry farming on Pulau Ubin was phased out.
In 2008, the house was refurbished by the National Parks Board to serve as a demonstration Chinese kampong house on the Pulau Ubin. The original architecture was retained and changes were kept to a minimum to conserve its rustic charm. Many of the items in the house, including furniture, electrical appliances, kitchen utensils, and photographs, were donated by past and present residents, as well as friends of Pulau Ubin.
Teck Seng's Place is open for public visits on the second and fourth weekends each month, as well as during public holidays. Participants of the Kampong Tour and Rustic Reflections Tour will also get to visit the house.
Click here to find out more about Teck Seng's Place.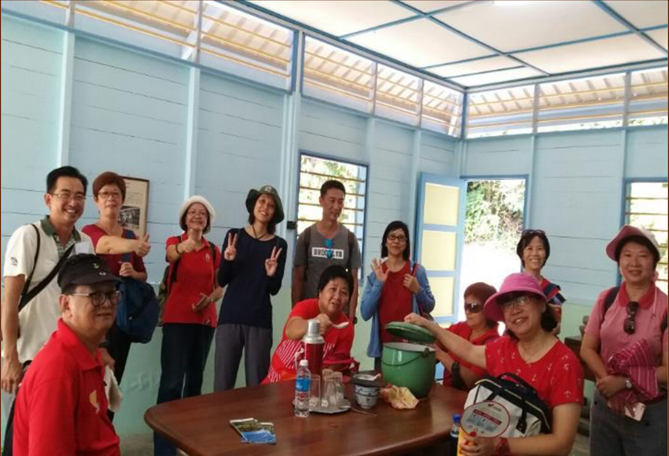 Ubin Fruit Orchard (UFO)
This arboretum of local fruit trees showcases well-known favourites like Durian, Rambutan and Mango, but also has the less familiar Rambai and Pulasan. UFO is spread over a 1-ha site and includes about 350 fruit trees of over 30 species. This was formerly the site of a fruit orchard belonging to a villager who has since left the island.
Click here to find out more about the UFO.
Students from Nanyang Girls' High School sharing information on the tress at Ubin Fruit Orchard
Chek Jawa Wetlands
Located at the eastern end of Pulau Ubin, Chek Jawa Wetlands is 3 km from the public jetty. To get there, you can hire a van or rent a bicycle from the main village. For the more adventurous, a walk from the jetty would take about 40 minutes. Covering an area of about 100 ha, Chek Jawa Wetlands is unique in that several ecosystems can be seen in one area – sandy beach, rocky beach, seagrass lagoon, coral rubble, mangroves and coastal forest. Visit the Tudor-style House No. 1, which has been adapted for use as the Chek Jawa Visitor Centre. Take a stroll along 1.1 km of boardwalks to look out for wildlife, and climb the 21 m Jejawi Tower to take in the scenery.
Click here to find out more about Chek Jawa Wetlands.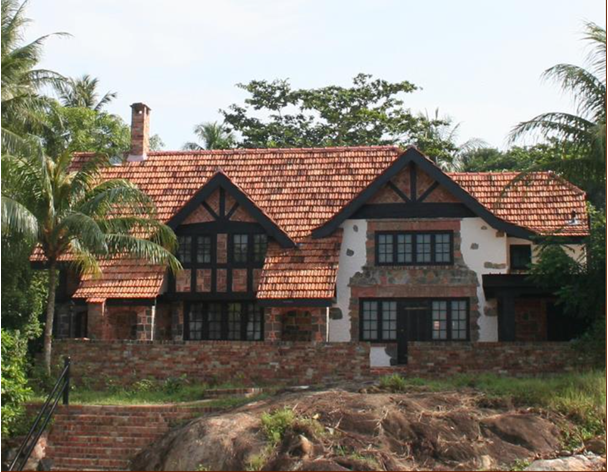 The coastal boardwalk loop at Chek Jawa (House 1)
Butterfly Hill
Get up close with winged beauties! The Butterfly Hill was specially created to conserve and showcase butterflies. Located within Jelutong Campsite, it was developed in 2005 on a piece of quarry wasteland reclaimed from the sea during past granite quarrying operations. About a football field in size, the knoll attracts approximately 140 species of butterflies – you need to spend only half an hour on a sunny day to encounter more than 20 species fluttering around. More than 50 butterfly-attracting plant species have been included in the landscape. Today, Butterfly Hill serves as a successful model to both conserve and increase public appreciation of butterflies.
Click here to find out more about the Butterfly Hill.
Puaka Hill
At 74 m, Puaka Hill is the highest point on Pulau Ubin. Hike up the hill and tackle the winding path which pass through Tembusu (Cyrtophyllum fragrans) trees and Resam (Dicranopteris linearis) ferns. At the peak, take in the breathtaking views of Ubin Quarry, mainland Singapore and even Malaysia.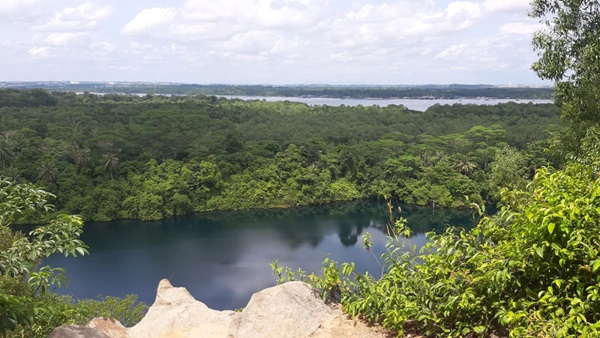 Pulau Ubin Tree Trail
Print out or download the guide to this DIY trail and follow the markers on site. The trail will bring you from the Ubin Volunteer Hub to Chek Jawa Wetlands and has 14 stops in between, including old coconut and rubber plantations, the house of the late village head and several interesting trees.