Biodiversity Conservation
Pulau Ubin is a 1,000-hectare boomerang-shaped island situated northeast of mainland Singapore. It comprises different habitat types: mangroves, rocky and sandy shores, coastal and secondary forests, abandoned fruit plantations, scrubland and freshwater ponds. These habitats support a rich diversity of wildlife.
In March 2014, the government launched the plan to sensitively enhance and conserve Pulau Ubin, which gave rise to The Ubin Project. Some of the ideas under The Ubin Project were contributed by the public and reviewed through FUN members. Among these ideas, initiatives such as species recovery projects and habitat enhancement were put forth and implemented.
Species recovery projects
---
Bats
Pulau Ubin is home to several bat species, including the Critically Endangered Ashy Roundleaf Bat (Hipposideros cineraceus) and the Lesser False Vampire (Megaderma spasma), which are currently not found in mainland Singapore.
Bat houses have been constructed to supplement their available roosting sites. These bat houses were designed as tower-like structures with rough interior surfaces that bats can grip on.
Bat boxes of six different designs have been placed around different habitats around Pulau Ubin to attract different bat species. Three of these bat boxes were designed by students from Republic Polytechnic and one of them was constructed by students from ITE College East.
Bat box and bat house installed in Pulau Ubin
Birds
Three bird species have been selected for species recovery in Pulau Ubin - the Baya Weaver (Ploceus philippinus), Blue-throated Bee-eater (Merops viridis) and Red-wattled Lapwing (Vanellus indicus).
Safeguarding nesting as well as roosting sites are important to increase the long term survival for these birds in Singapore. A site adjacent to Ketam Quarry has been converted into a bird nesting area with conditions suitable for all three species.
The male Baya Weaver builds distinctive hanging nests with a central bulbous chamber on drooping tree branches. This makes it difficult for predators to raid the nest for eggs or chicks. The provision of suitable trees for such nests is therefore essential.
The Blue-throated Bee-eater builds its nest on the ground or on a slope face. The bird burrows into a tunnel and creates a chamber at the end where it breeds. Mounds of sand have been built with artificial nest boxes inserted into them, creating more nesting sites for Bee-eaters. Built by ITE College East students, these nest boxes simulate the size and tilt of the natural bee-eater's nest.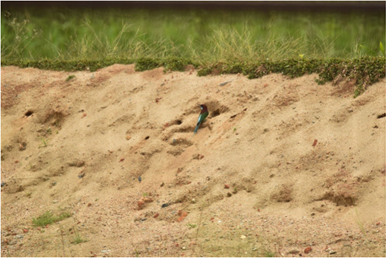 Blue-throated Bee-eater on the sand mound created by NParks and volunteers
Otters
The Asian Small-clawed Otter (Aonyx cinereus) lives in small groups, inhabiting small rivers ad mangrove streams. Its diet comprises mainly of crustaceans such as crabs and shrimps. This Critically Endangered species is rarely seen unlike the more frequently encountered Smooth-coated Otter (Lutra perspicillata).
In November 2016, artificial holts or dens have been installed in areas where the Asian Small-clawed Otter is known to occur so as to aid the recovery of its numbers. These holts are designed to resemble natural holts and placed above the high tide mark. The holt also has more than one means of entry and exit, allowing the otter to escape if it feels threatened.
In early 2018, an Asian Small-clawed Otter family was spotted using the holts! Click here to watch the video on NParks Facebook.

Diagram showing the sectional view of an artificial holt for the otters
Orchids
Pulau Ubin is one of the many sites chosen for the reintroduction of Critically Endangered native orchids. Epiphytic species that have been planted include Phalaenopsis cornu-cervi and Bulbophyllum medusae. The establishment and growth of the orchids are closely monitored regularly.
Mangrove Trees
The Eye of the Crocodile (Bruguiera hainesii) is one of the rarest mangrove trees, with only about 200 left worldwide. A total of 13 trees are found and over 20 saplings have been planted on the island.
Habitat enhancement projects
---
In the past, Pulau Ubin was used for agriculture and granite quarrying, which affected the quality of existing habitats and led to the creation of new environments (namely granite quarries) that were less conducive for native wildlife. Habitat enhancement is employed to modify sites to increase the quality of the site or to produce conditions that did not use to exist so that biodiversity can thrive. Habitat enhancement projects include shoreline restoration, reforestation and freshwater habitat enrichment.
Click here to find out more about the quarries of Pulau Ubin.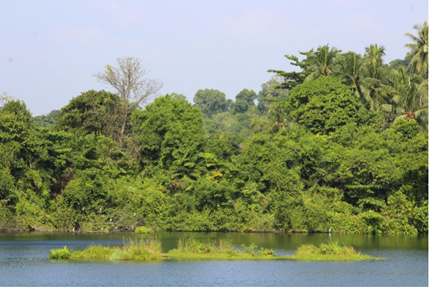 Floating wetland habitats at Pekan Quarry
Four former fish farming ponds at the Sensory Trail were combined into a single waterbody, where floating wetlands were installed, attracting various birds and animals such as waterhens, crakes, herons, kingfishers, dragonfilies, and damselflies.
Click here to find out more about the Sensory Trail Pond.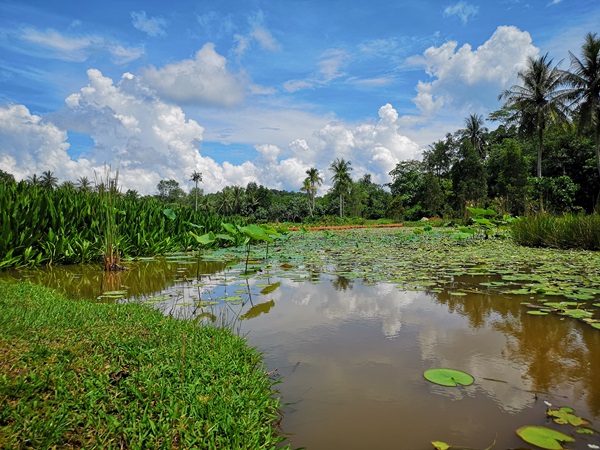 Sensory Trail Pond