Cycling
Ketam Mountain Bike Park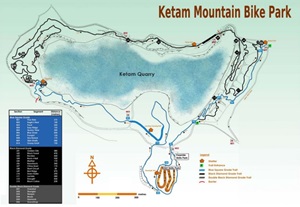 The Ketam Mountain Bike Park is the first in Singapore to meet international standards for mountain biking competitions. This 45-ha park features 10km of mountain bike trails catering to both leisure cycling and international competitions. Located around the fringe of Ketam Quarry, this re-landscaped mountain bike park also helps in nature rehabilitation and conservation, attracting wildlife such as the Red-wattled Lapwing (Vanellus indicus) and Baya Weaver (Ploceus philippinus).

The site has been reforested with over 2,000 native shrubs and trees, creating habitats for biodiversity like other birds, butterflies and dragonflies.

Ketam Mountain Bike Park consists of three tracks with different International Mountain Bicycling Association (IMBA) ratings to cater to cyclists of different skill levels.
- Blue Square: for beginners; trail has steep slopes as well as narrow tracks with poor traction
- Black Diamond: for middle-skilled cyclists; consists of long step climbs, drop-offs and challenging obstacles
- Double Black Diamond: for the pros; these trails have a variety of extra steep climbs and drop-offs, sharp corners and tricky obstacles
Recreational Cycling
A great way to get around the island would be by cycling. Rent a bicycle from the local shops at the Village and visit various points of interest in Pulau Ubin. While cycling, stay on the left of the designated roads and trails, and do watch out for vehicles.