Pesta Ubin and Ubin Day 2021
About the Event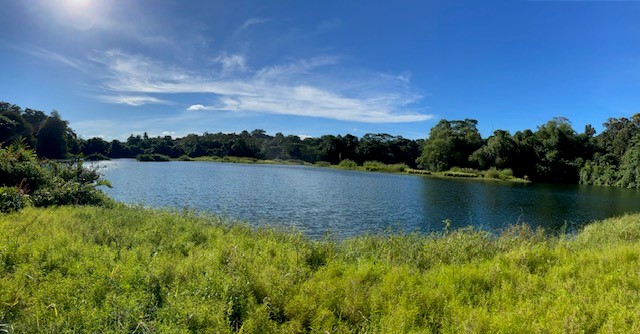 Pesta Ubin and Ubin Day are here again!

Pesta Ubin is a festival for all who love Pulau Ubin to share with the public their favourite cultural and environmental aspects of the island. Its activities are heartfelt, organic and community-led. Most activities are free-of-charge and are planned in strict adherence to the prevailing Covid-19 guidelines to ensure safety for Ubin villagers and participants. Ubin Day is the last hoorah of the festival, with all the fun and excitement at its peak.

Pesta Ubin is made possible by the passionate members from the Friends of Ubin Network (FUN) and with support from the National Parks Board (NParks).

Pesta Ubin 2021 logo (chosen from public voting)
Pesta Ubin Theme - Ubin, Future of the Past
This year, the chosen theme for Pesta Ubin is "Ubin, Future of the Past".
With the tightened travel restrictions and growing public interest in Pulau Ubin due to the ongoing Covid-19 pandemic, the theme highlights the ongoing efforts by FUN to engage various stakeholders, including the public, in collective envisioning of the future of Pulau Ubin. Organisers are encouraged to reflect with their participants on how their activity taps on the unique aspects of Pulau Ubin and can further build upon them in the future.
Calendar of Events
Ubin Day 2021 Webinar
[Talk]: Shorebirds of Ubin
Date: 11 Sep 2021
Time: 1:30pm to 2:30pm
Join Mr David Li in his fascinating talk to learn more about how our shorebirds make their annual long-distance journey in search for warmer places to spend their winter. Ubin is one important area for these migrants and is a stopover location for some of them.

Speaker: Mr David Li, Manager/ Conservation, Sungei Buloh Wetland Reserve
Watch it on YouTube here.
[Talk]: Pekan Quarry: Then and Now
Date: 11 Sep 2021
Time: 4pm to 5pm
Learn about the history of quarries on Ubin and how they have now been transformed into wildlife habitats where biodiversity thrives.

Speaker: Mr Noel Jason Thomas, Senior Manager/ Conservation, Pulau Ubin
Watch it on YouTube here.
Activities Organised by Partners

Theatre at Ubin: From Then to Now by Sourcing Within
Date: 5 Sep 2021
Time: 8.30am to 9.30pm
Platform: Zoom
Join us for this talk on theatre and performer training in Pulau Ubin in the '90s, and see how the search for performer training continues with current practitioners through a work-in-progress showing. This will culminate with a short Q&A at the end of the session.
Pesta Ubin x Latip Hussain: Pottery Demonstration & Ubin Artworks

Date: 5 Sep 2021
Time: 2pm to 5pm
Platform: Microsoft Teams
Join Latip Hussain, a potter with two decades of experience, as he shares about Pulau Ubin through a pottery demonstration and artwork display. Many of his artworks are inspired by the island – its nature, sand, sea and sky.

Register from now till 4 Sep.

Find out more at https://pestaubin2021.wordpress.com/
In Search of the Leopard Cat by Singapore Wildcat Action Group
Date: 11 Sep 2021
Time: 8pm <release of the video on YouTube>
Platform: YouTube
<Virtual night walk>
OBS Virtual Adventure Heritage & Environmental Tour by Outward Bound Singapore
Date: 11 Sep 2021
Time: 10am to 11.30am
Platform: Zoom
Join OBS to gain exclusive access to heritage finds in western Pulau Ubin and discover how our past can shape our future.
What makes a community? A look at Pulau Ubin's cultural heritage through photo-voice by Singapore Heritage Society
Date: 11 Sep 2021
Time: 8pm to 9.30pm
Platform: Zoom
In this webinar, volunteers from the Singapore Heritage Society will share about "Ubin Voices", a recent project that utilises photo-voice to allow former and current residents to record their memories, concerns and aspirations for Pulau Ubin through personal photographs. Learn about the Ubin community and what makes a community, including its intersection with spaces, livelihood and values.
For more information, please check out all the activities on the Pesta Ubin 2021 blog here.

Pulau Ubin Virtual Tours

Want to visit Pulau Ubin from the comforts of your home? Check out the Ubin Day 2020 playlist here.