1875: Superintendents from Kew
A request was made from the colonial government to the Royal Botanic Gardens, Kew for a qualified superintendent with a strong background in botany to manage the expanding Gardens. In 1875, Henry James Murton, a skilled and avid horticulturist, became the first of the many Kew-trained men to devote years of professional and personal service to convert the Agri-Horticultural Society's park into a working botanic garden.
Murton can be credited with laying the foundations for a botanical institution. He set up a system of plant exchange with other botanical institutions worldwide, introduced a herbarium and library, and in 1879, obtained an additional 41.3 hectare for an Economic Garden to the north of the Gardens. His experimentation with economic plants saw the establishment of coffee as the first major agricultural industry in Malaya.
Nathaniel Cantley, who was also trained at Kew, subsequently replaced Murton in 1880. Cantley continued to improve on the Gardens, and was responsible for building new facilities such as the office (now Ridley Hall), the Plant House, an arboretum in the Economic Garden and plant nurseries. An avid botanist, Cantley placed the Gardens on a firm systematic footing and made an extensive collection of herbarium specimens from Singapore and the region, many of which can be found in the SING herbarium today. Cantley was also appointed as the first Superintendent of the Forest Department, and was responsible for surveying and gazetting the first forest reserves in Singapore and the Straits Settlements.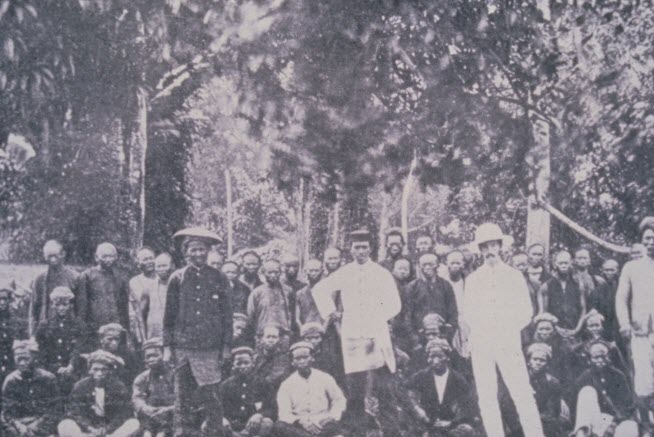 James Murton, Superintendent 1875-1880, with his gardening staff