Singapore's First UNESCO World Heritage Site
The Singapore Botanic Gardens (the Gardens) was inscribed as a UNESCO World Heritage Site on 4th July 2015, at the 39th session of the World Heritage Committee (WHC) in Bonn, Germany.
The Gardens is the first and only tropical botanic garden on the UNESCO's World Heritage List. It is the first in Asia and the third botanic gardens inscribed in the world following Orto botanico di Padova and the Royal Botanic Gardens, Kew.
The inscription bid process started in 2010 following a feasibility study commissioned by the then-Ministry of Information, Communications and the Arts, in consultation with experts, academics and other stakeholders, like the Singapore Heritage Society. The study then showed that there was a case for the Botanic Gardens to be put up as cultural site based on the UNESCO criteria, and there was broad consensus to proceed with the bid.
In January 2014, Singapore formally submitted the official Nomination Dossier for the bid, following an extensive four-month long public consultation process.
On 15 May, the International Council on Monuments and Sites (ICOMOS) released a recommendation for the Gardens to be inscribed as a UNESCO World Heritage Site. Its evaluation guided the discussion of Singapore's bid at the 39th session of the World Heritage Committee (WHC).

Click here to download the submitted Nomination Dossier (147MB).

Click here to find out more from the media release.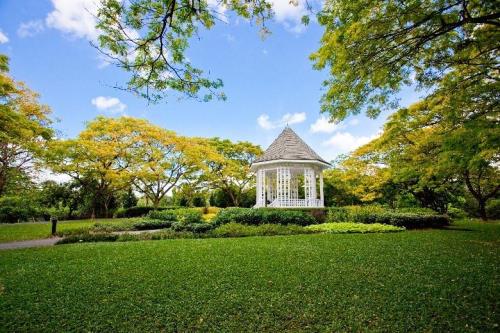 The Bandstand on Lawrence Niven's parade ground.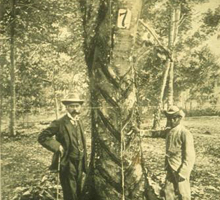 Henry Ridley with an original Pará rubber in the Economic Garden. One of the Gardens' earliest and most important successes was the introduction, experimentation and promotion of Pará Rubber. This became a major crop that transformed the economic and social landscape of the region.
One of 59 Heritage Trees in the Gardens, the Cyrtophyllum fragrans (Tembusu) is thought to antedate the foundation of SBG.