The Gallop Extension is an 8-hectare addition to the Singapore Botanic Gardens, bringing the total area of the Gardens to 82 hectares. It comprises two conserved buildings that have been refurbished into the Botanical Art Gallery and Forest Discovery Centre @ OCBC Arboretum, the COMO Adventure Grove, Mingxin Rambler's Ridge and OCBC Arboretum.
From the Gallop Extension, the HPL Canopy Link crosses over Tyersall Avenue, connecting the ridgetop forest habitats at Mingxin Foundation Rambler's Ridge to the Learning Forest.
On the HPL Canopy Link, visitors can get up close and personal with a variety of species that are characteristic of lowland deciduous forests, a common forest type in Continental Southeast Asia, a region encompassing Thailand, Laos, Cambodia, Vietnam and Myanmar. these include species such as Yang Na (Dipterocarpus alatus), Malayan Crape Myrtle (Lagerstroemia floribunda) and the giant Lan Palm (Corpha lecomtei)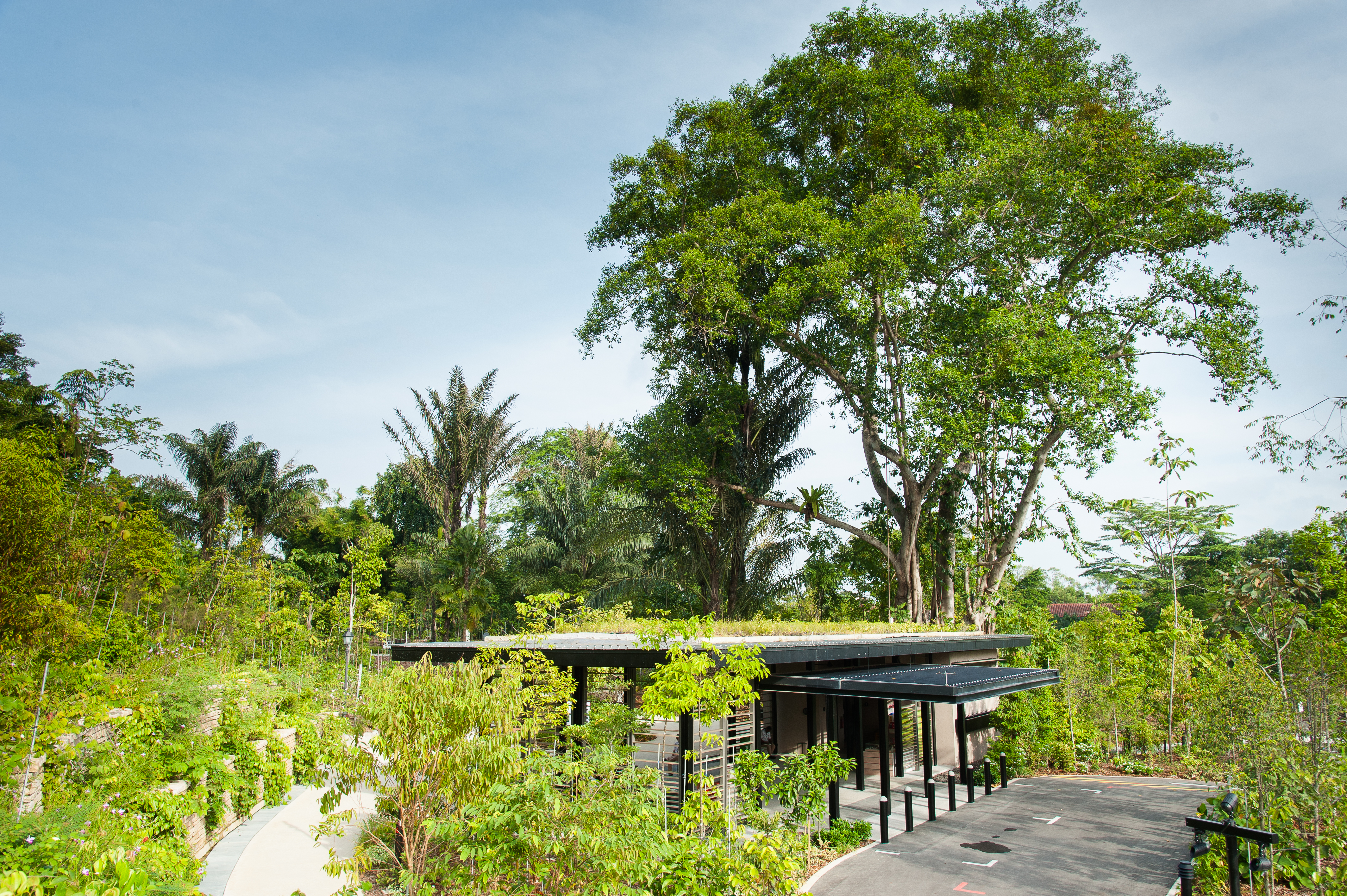 Getting Here
Nearest entrance
Gallop Gate
By Taxi
Pick-up & drop-off point at Gallop Gate
By MRT / Bus

Nearest station (About 25-minute walk) : Botanic Gardens MRT Station

Tanglin entrance (About 20-minute walk) : Buses 7, 77, 77, 105, 106, 123, 174, 174E or NR8

Bukit Timah entrance (About 30-minute walk) : Buses 48, 66, 67, 151, 153, 154, 156, 170)

Follow this little video to find out how to get to the Gallop Extension

By Car

Nearest parking available at Gallop Gate and Tyersall Gate

Please only enter via Holland Road and Tyersall Avenue.

From Holland Road (Towards City):
• Turn left into Tyersall Avenue
• Turn left into Gallop Gate entrance OR Turn right into Tyersall Gate entrance

From Holland Road (Towards Ulu Pandan Road):
• Turn right into Tyersall Avenue
• Turn left into Gallop Gate entrance OR Turn right into Tyersall Gate entrance

Note: No access via Cluny Park Road / Tyersall Road / Bukit Timah Road
Attractions - Opening Hours
Botanical Art Gallery
The Botanical Art Gallery is housed within the second refurbished conserved building, Gallop House No. 7 (Inverturret), which was built in 1906. The gallery highlights the vital role that art plays in the scientific documentation of plants in Singapore and the region, as well as how art can inspire renewed appreciation of the natural world around us. This will be Singapore's first permanent display of botanical art, where visitors will be able to see a selection of the Singapore Botanic Gardens' collection that includes more than 2,000 botanical paintings, as well as hundreds of sketches, line drawings and photographs.
COMO Adventure Grove
Inspired by the distinctive parts of trees found within the Gardens, this is a modern interpretation of the timeless experience of climbing and playing in trees. Children can swing, slide and climb on structures resembling the aerial roots of the Weeping Fig (Ficus benjamina), scramble over the warty surface of a giant Cempedak (Artocarpus integer) or roll and hop around the pod and seeds of a Saga tree (Adenanthera pavonina). These adaptive components will help introduce children to nature through play.
Forest Discovery Centre @ OCBC Arboretum
Gallop House No.5 (Atbara) is Singapore's oldest surviving colonial era or black-and-white bungalow. Built in 1898, it now houses the Forest Discovery Centre @ OCBC Arboretum, which showcases Singapore's forest ecosystems, and highlights the importance of conserving them. Through a series of interpretive and interactive displays, visitors can enjoy a bird's eye view of Singapore's diverse forests, and learn about the Gardens' historical role in conserving them. Highlights include a photographic installation of forests trees, family-friendly displays and videos featuring three distinctive forest habitats found in Singapore, and their unique flora and fauna.
Mingxin Foundation Rambler's Ridge
Ascend the ridge via a barrier-free path lined with trees such as the critically endangered Spike Oak (Lithocarpus elegans) and Braided Chestnut (Castanopsis inermis). Those looking for more of an adventure can then continue along the hiking trail, and then descend the rocky steps to return to the path.
It may be a little tricky to get here, so we hope this little video will be of help!
25-minute walk from Botanic Gardens MRT station
20-minute walk from bus stop at Napier/Holland Road
10-minute walk from bus stop along Holland Road (after Ministry of Foreign Affairs)