Ethnobotany Garden
The Ethnobotany Garden is located near the Eco Lake. It comprises of an outdoor garden showcasing over 300 species of plants that are deeply-seated into traditional cultures of Malay Archipelago, Indochina and South Asia; and a Centre for Ethnobotany. The outdoor garden comprises of 4 zones – Living, Craft and Construction, Symbolism and Medicinal, centered around a water-body. Visitors can learn about the various plants in each zone, and how they are used traditionally by indigenous communities of this region.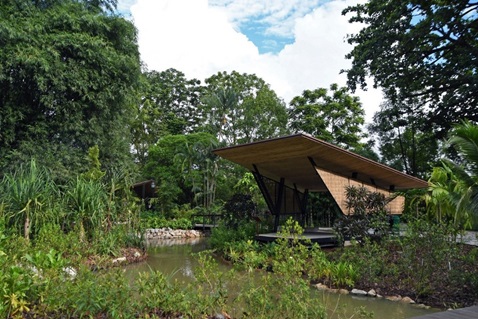 Forest fruits and vegetables
A collection of wild fruits and vegetables traditionally foraged by indigenous tribes of Peninsula Malaysia and Borneo can be seen in the Living zone. This includes species of Durio, Garcinia and Mangifera, and ferns such as Paku Midin (Stanochlaena palustris).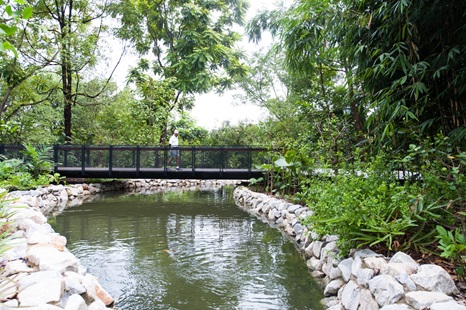 Timber, fibres and dyes
This collection features species heavily used by indigenous communities for craft and construction. Notable plants include Belian (Eusideroxylon zwageri), Terap (Artocarpus odoratissimus) and Rattan (Calamus sp.). Various mangrove species used for tanning are also planted here.
Plants of symbolism
This zone features plants of cultural significance such as the Banyan tree, and plants that produce aromatic resins used in cultural ceremonies.
Medicinal plants
More than 130 species of plants with medicinal properties can be seen in this zone. Apart from the familiar Tongkat Ali (Eurycoma longifolia) and Kacip Fatimah (Labisia pumila), visitors can view other lesser-known forest species such as the White Bat Lily (Tacca integrifolia), which is traditionally used for treating skin rashes.

Live stingless bees
Artificial hives containing stingless bees are featured in the Living zone. Visitors can safely observe bee activity in close proximity, offering school groups an educational opportunity on the importance of bees and pollination.
Centre for Ethnobotany (Closed on the last Wednesday of every month)
(Closed from 19 August till 2 September 2023)
The Centre for Ethnobotany explores the relationship between plants and people. Through interactive displays spanning over two levels, visitors can learn how plants shaped our cultures and the world history.
Operating Hours: Daily 9am - 6pm
Closed on the last Wednesday of every month