Forest Discovery Centre @ OCBC Arboretum
*Notice*
Updated Vaccination-Differentiated Safe Management Measures (VDS) 22 Nov 2021.
Vaccinated-Differentiated Safe Management Measures has been implemented for entry into the Forest Discovery Centre @ OCBC Arboretum since 13 October 2021:
a. Individuals can be allowed in group sizes of up to 5 persons if all are fully vaccinated, including recovered individuals, and unvaccinated individuals with a negative pre-event test (PET) result.
b. Unvaccinated children, aged 12 years and below, may be included in the group of 5. If there is more than one child aged 12 years and below in the group of 5 persons, all children must be from the same household.
Daily 9m - 6pm
Closed every last Monday of the Month
Gallop House No. 5 (Atbara) is Singapore's oldest surviving colonial era or black-and-white bungalow. Built in 1898, it now houses the Forest Discovery Centre @ OCBC Arboretum, which showcases Singapore's forest ecosystems, and highlights the importance of conserving them. Through a series of interpretive and interactive displays, visitors can enjoy a bird's eye view of Singapore's diverse forests, and learn about the Gardens' historical role in conserving them. Highlights include a photographic installation of forest trees, family-friendly displays and videos featuring three distinctive forest habitats found in Singapore, and their unique flora and fauna.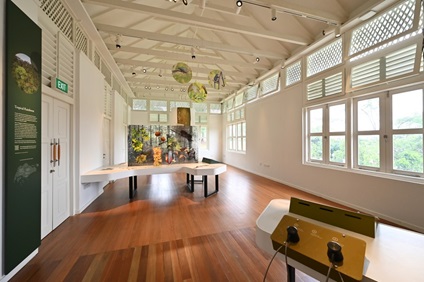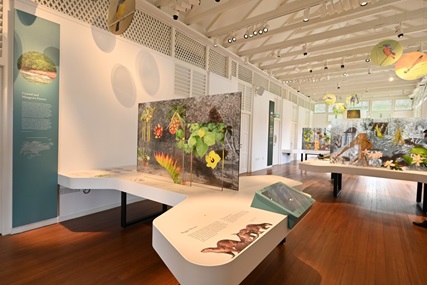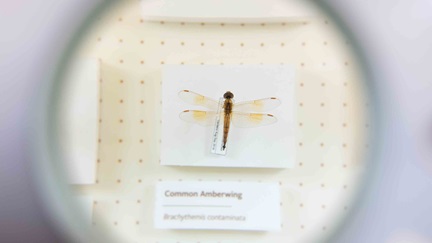 The Forest Discovery Centre @ OCBC Arboretum will also host the Singapore Botanic Gardens' Tropical Forest Ecology Research programme. This programme reprises a historical role for the Singapore Botanic Gardens, which dates back to the late 1800s. One of the Gardens' early superintendents, Nathaniel Cantley, was tasked to survey the forests in the Straits Settlement in 1882. His report led to the demarcation of the first forest reserves in Singapore in 1884, in order to prevent the ecology and climate from further deteriorating.
Complementing the Forest Discovery Centre is the OCBC Arboretum, which is a first-of-its-kind high-tech arboretum in Southeast Asia. Opened in October 2019, the arboretum plays an important role in the Gardens' conservation work, housing and displaying the Gardens' growing collection of rare dipterocarps.