For the safety and enjoyment of all visitors to the Singapore Botanic Gardens, and the protection and conservation of our greenery, please observe the Parks and Trees Act (Cap. 216) and the Parks and Trees Regulations (Cap. 216, RG), in particular:
1. Please do not smoke in the Gardens
2. Please do not feed the wildlife (fishes/swans/turtles/birds/ducks etc)
3. Do not cycle, scooter, skate or skateboard
4. Do not set up tents or furniture, nor obstruct any path or visitor access
5. Do not play ball/racquet games, frisbees, fly model aircraft/drones and kites
6. Do not sell or attempt to sell any article or service or otherwise conduct business, unless prior approval has been obtained.
7. Shelters shall not be used exclusively for private events, gatherings or exercise.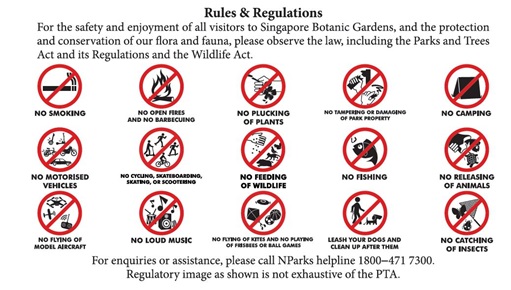 While pets are permitted in the Gardens, they are not permitted in certain attractions (Click here for more information).
For the safety of all, please leash your canine friends and muzzle them in accordance with the Animal and Birds (Dog Licensing & Control) Rules.
Be a considerate pet owner. Find out how you can be a responsible pet owner in public.